Blog
Step into La Boite – 95 Years Ago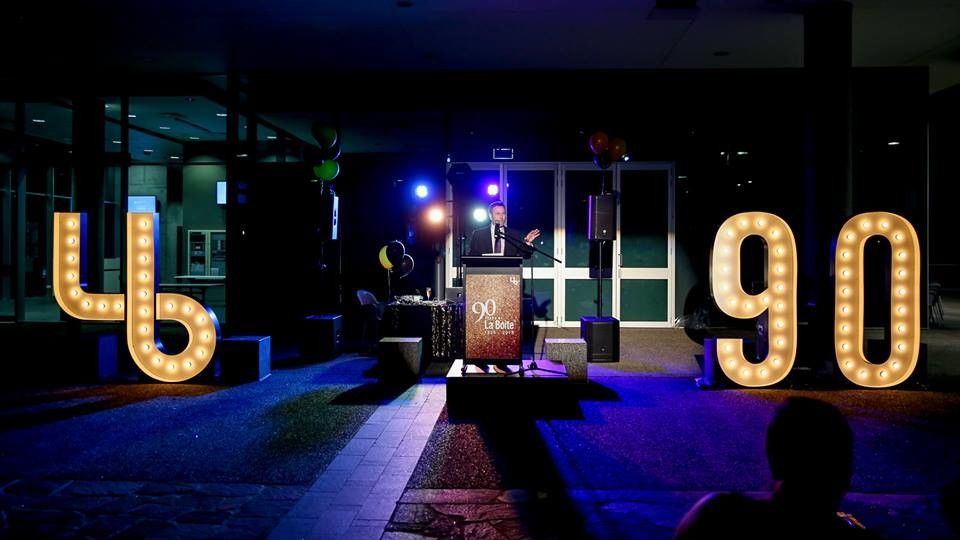 Over 95 years, La Boite has endured and survived many crippling setbacks. And it will again. This story of two remarkable people who began it all is one of optimism and hope, in a time of great uncertainty for our performing arts sector.
By Christine Comans
In 1925, the Brisbane Repertory Theatre Society (yes, that was the original grand name for our beloved La Boite) announced its arrival with a production of A.A.Milne's English comedy The Dover Road in the city's prestigious Theatre Royal. Brisbane's theatre history was in the making!
OK, so it was only a two-night season, but Barbara and J.J. (more about them later) wisely chose to tread cautiously, starting with a comedy and a super-short season. No need to worry though. It got rave reviews: the Daily Mail called it a 'Brilliant Success'. And the media reported large audiences. In a theatre space that seated over 1000, the 'large audiences' must have been very encouraging indeed.
And for the next 95 years, La Boite continued to be brilliant. Not that every production was a 'brilliant success' – how boring would that be? – but brilliant in its extraordinary capacity to survive anything that was thrown at it, be that the Great Depression, World War Two, the 1990s Global Recession, or its own controversies, crises and crippling set-backs on its long journey to now. And not once during any of these catastrophes did La Boite ever close its doors.
Until now. COVID-19 has out-smarted La Boite. It's forced the cancellation of its entire 2020 season. It's the right thing to do but oh, so difficult. Of course we're not alone. Every performing arts company in Australia is suffering. But as our nation's oldest theatre company (I'm pretty sure I can prove that if asked!), it begs a few minutes of reflection to ponder its amazing resilience, its unbroken line of theatrical activity.
So in this blog, I'm going to introduce you to Barbara (aka Miss Barbara Sisley) and J.J. (aka Professor Jeremiah Joseph Stable). Who are they? Well, suffice it to say that without them we wouldn't have the La Boite we know and love today. Yes, they started it all off. Here's their story.
Well, she wasn't a Brisbane-ite. Born in Surrey, England in 1878, Barbara Sisley arrived in Melbourne at the age of 11 with her parents and two sisters. Her interest in theatre and literature was sparked from a young age by her father Thomas, who taught elocution ('elocution', now that's a word we don't hear very often!) and she was one of his pupils. Her ambition to become an actress was realised and she played a variety of roles with Australian touring companies. Until, that is, the sudden disbanding of the theatrical company she was performing with in Brisbane in 1916.
What to do? She's stranded in Brisbane, down on her luck with no income, but with an enterprising spirit! She rented a house in Petrie Terrace, took in boarders, and set off by tram to Brisbane's prestigious girls' schools St. Margaret's Anglican Girls School at Clayfield and Somerville House at South Brisbane, offering her services as a speech and drama teacher. Let me state now that Miss Sisley was well suited to this private school milieu and impressively well qualified. So, very soon she was snapped up and teaching regularly in elite girls' schools in Brisbane and the Gold Coast. Financially secure, she decided to call Brisbane home.
Next she established a Speech Training and Dramatic Art private studio in the city and business flourished. And it was Sisley's studio and her many productions of plays featuring her students, which shaped the first generation of Brisbane actors and an outstanding set of speech and drama teachers such as Rhoda Felgate, Daphne Roemermann and Jean Trundle. These women and their students went on to influence successive generations of actors and speech and drama teachers.
In 1923, feeling the need for a sabbatical and urged on by a desire to keep up to date with what was new in teaching and theatre, Sisley returned to England. There, she furthered her professional studies at Central School of Speech and Drama in London. Whilst in England, she experienced the British repertory movement first hand, seeing productions at the leading repertory companies of the 1920's. It may well have been during this stimulating break that Sisley conceived the idea of setting up a repertory theatre in her adopted town. And of course she would have been well aware of amateur repertory societies already established in Australia's southern states.
Whatever the motivation, in 1925 she formed the Brisbane Repertory Theatre Society with herself as its Artistic Director (or 'Senior Producer' as it was then) and Professor Stable as its first President. Together they led the Society with great success for the next 20 years despite the setbacks of a depression and a world war.
But before we go to Prof Stable's story, let's dig a little deeper into Miss Sisley' character and personality. Here is what we know. She was willowy and strikingly elegant in appearance with beautiful brown eyes and a deep, resonant and commanding voice with oodles of drive, energy and charm. The professional artistic standards she demanded from her many productions gave her a reputation for the cutting remark, balanced thankfully by a sense of humour and a capacity to reserve critical comments for the rehearsal room. Her intelligence, independence of thought and strong sense of herself as a woman with much to offer were attractive qualities; and coupled with her desire to make a contribution to the cultural life of Brisbane, it is no wonder she soon found herself the respected friend and colleague of the Brisbane intelligentsia, and one in particular, J.J.Stable.
So, who was Stable? He was a fine-featured, athletic, sensitive, tall, calm and courteous man with a fine reading voice. He had a reputation as an initiator and innovator and had a great influence on the intellectual and cultural life of Queensland in the first half of the 20th century.
Born in 1883 in Gawler, South Australia, Stable spent the first few years of his life in Adelaide. He was only four when his father died, so he and his mother left Australia for Geneva, Switzerland. Why Switzerland? I'm afraid I don't know. However, his schooling there prepared him well for his next stage of education at Cambridge University.
When a teaching position was advertised at the very new University of Queensland, it was not all that surprising that he would apply. You see he had fallen in love and married an Australian girl, Irene Bingham Sheridan, whose family had strong Queensland ties. Her grandfather was Richard Bingham Sheridan, an early settler of Maryborough who became Postmaster General of Queensland and also, by the way, a descendant of the Irish playwright Richard Brinsley Sheridan.
In 1912, Stable was appointed Lecturer in Modern Languages at Queensland University where he quickly set up its first language courses in English, French and German. In his first year, this energetic young man moved just as swiftly to co-found the University Dramatic Society (later shortened to 'Dramsoc') and he was its inaugural President, directing a number of productions.
What else can I tell you about him? Well, he served in both world wars and was Queensland's Chief Communications Officer during World War Two. Interesting, but let's get back to his passion for nurturing Australian literature, and here's an important fact - he was responsible in 1923 for adding Australian literature to Queensland University studies, the first university in Australia to do so.
You can see I'm sure that Stable's academic background in literature, his love of theatre, and his championing of Australian writing made Stable an ideal co-founder with Barbara Sisley of the Brisbane Repertory Theatre Society. Its first President, he held the position for 20 years until his resignation in 1945. Sisley held her position for 20 years too. But she didn't resign; tragedy intervened, which we'll get to later.
Now, let's get down to the nitty-gritty. What kind of plays did Sisley favour? She wasn't interested in commercial or frivolous theatre, but favoured 'good' serious, comic or classic plays, interesting contemporary playwrights, and new emerging ones too. For the next 20 years she dominated directing, producing 57 of the 128 plays, and regularly claimed leading roles for herself, never finding it of any concern if she was also directing the play she was in!

After a conservative opening season of two comedies (J.M.Barrie's Alice Sit by the Fire as the second one) Sisley turned her next season up a notch, selecting three plays with more challenge, thankfully to the approval of their ever-growing audiences. The first was feminist writer Clemence Dane's contemporary play A Bill of Divorcement about marriage breakdown and mental illness; the second was George Bernard Shaw's Candida about 'modern' notions of love and marriage; and the third was the Society's first Australian play, a production of A Happy Family by Bundaberg-born Vance Palmer. This play marked the beginning of Brisbane Repertory's support for Queensland writing. Often difficult to sustain, Queensland plays would eventually become a powerful feature of La Boite's work.
The majority of plays in her repertoire were British, with a sprinkling of Irish, American, Russian, Norwegian, Spanish and Australian works and with a good balance between drama and comedy. The most popular Australian playwright was Brisbane's own George Landen Dann who had three of his major works produced, all directed by Sisley.
This balanced mix of plays seemed to have worked well for the audiences and was a key reason the Society thrived as a successful amateur company in its first 20 years. As audiences grew so did the seasons: the record was 10 productions in 1936. And it certainly didn't stint on the best of Brisbane's theatre spaces either (despite the heavy burden of leasing costs) producing its plays in the Theatre Royal, His Majesty's Theatre, the old Cremorne, The Princess Theatre and Albert Hall.
But don't for a minute think it was theatrical smooth sailing all the way in those first 20 years. There are many stories of tough times I could tell you. For example, there's George Landen Dann's traumatic story about the media's outraged response to his play In Beauty It Is Finished for daring to feature a relationship between an Aboriginal man and a non-Aboriginal woman.
Sisley's unexpected death on November 17, 1945 at the age of 67 stunned the entire Brisbane arts community. On a Saturday night, she was run over by a taxi and died the following day in the Brisbane General Hospital. The details of the accident, outside her private studio in the city, were recalled by speech and drama teacher Joan Massey Cook: "She was crossing Adelaide Street at dusk on the way to dinner on Wickham Terrace with her long-time friend Mamie Stokes. She must have recollected something she had forgotten, turned quickly to retrace her steps, and was struck by a car, which had no chance of avoiding her." The whole of Brisbane's cultural world of Brisbane was stunned by her death.
After a long career at Queensland University, the now Emeritus Professor Stable retired in 1952. In 1953 he died, having enjoyed not even one year of retirement.
Two decades of Sisley's authoritative and charismatic artistic presence and theatrical vision, coupled with Stable's steady and balanced executive leadership, ensured a rock-solid presence for the Society within the Brisbane arts community. How it has survived, developed, changed and transformed itself into the nationally acclaimed La Boite Theatre Company we know today is more than partly answered by recognising the lasting impact of Miss Barbara Sisley's and Professor J.J. Stable's remarkable leadership.