Blog
CASUS takes us BTS on their residency project; AMATAGA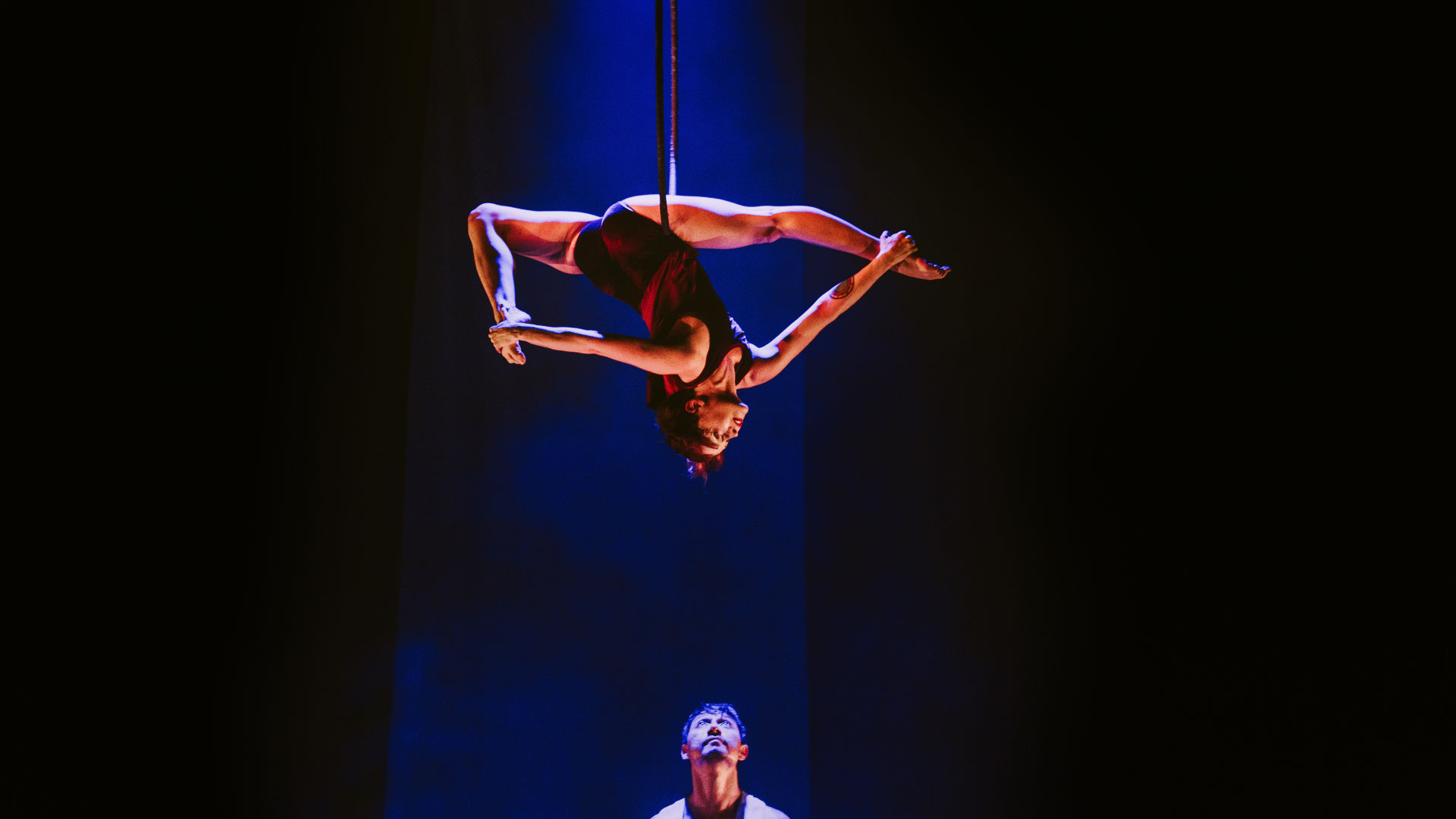 We love a good BTS, don't you?
This week, we shimmied down some silks and spoke with LB Artists In Residence, CASUS Circus. CASUS is an established touring company of 16 acrobats that originated in Brisbane, now performing contemporary circus to audiences around the world.
Each year, La Boite's Artists In Residence program welcomes a cohort of diverse theatre-markers that are embedded into La Boite's season, participate in HWY Festival, and are supported, guided and mentored as they develop new work.
As part of their residency at La Boite, CASUS is working on AMATAGA (meaning 'beginning' in Samoan); a beautiful contemporary circus production about ancient and enduring initiation practices across cultures.
Co-Founder, Natano Faanana, and Ensemble Member, Mayu Muto, took a break from their training session at La Boite's Studio, to garner some insights into their new work-in-development, how their ensemble is collaborating in a time of forced isolation, their influences, and advice for aspiring artists.
Can you explain how CASUS came to be and why this was an important foundation for you and your team?
Natano: We formed CASUS in 2011 and that came about by a bunch of friends and my housemates, in fact. Independently, we were working with different companies, Briefs and Circa (all Brisbane companies), and then we thought "Why don't we make a show together?". That first show was called Knee Deep.
Knee Deep turned out to be a bit of a hit, and that was nine years ago. Since then, we've created a bunch of other shows, which stick to a really basic formula of trying to keep content as real as possible. We display the humanity and realness of each individual in our ensemble and we make shows that are important to us that reflect societal issues within a contemporary circus context.
What inspired Knee Deep, since it was your first show?
Natano: Honestly, we discovered that you can balance on eggs while on each other, which was very fun. We thought "what's the correlation between balancing on eggs and balancing on humans", and quickly discovered these really cool themes about strength and fragility.
Fun fact – the more organic and browner they are, the better.
Truly, if you tilt the egg a certain way, they're not so strong. We found that parallel with human beings; there's certain ways that you can balance on each other and throw each other and catch each other certain ways, and it's fine. But with one slight move wrong, it's not so fine.
(Who knew eggs could be so versatile? PSA: Please don't try this at home... the only thing worth cracking is the egg itself.)
Given your art form is very intimate and involves human connection / interaction / touch, what's it like collaborating and creating art in a 'digital rehearsal room' or socially distanced space?
Mayu: Once a week we get together for a session, since self-isolation time. My interpretation of why we do it is to keep the ensemble together. Individually, it can feel isolating and quite far away from our usual creativity, so meeting once a week has been truly helpful in that regard. On another note, we're learning different aspects of each other and connecting differently with cast members. We often come together for rehearsals or creative developments, but not necessarily for personal development, so creative sharing and checking-in has been wonderful.
Has your creative process / average working day changed since COVID-19?
Natano: Absolutely. Prior to pandemic, let's say we have a creative development leading up to a tour. That would entail usually starting at 10AM and finishing at 4-5PM from Monday to Friday. For our normal daily routine, the ensemble will warm up, check in, commence skill development, and repeat that five to ten times. Outside of that, CASUS is doing admin and producing ahead of that tour, and then we fly to the other side of the world and do said tour for three to four months.
Now, our standard practice takes place in the ensemble's individual homes, doing daily exercises to maintain fitness as much as we can. However, there's certain elements we cannot maintain. As an ensemble we predominantly work with each other, and if you can't do that, you can't maintain that same fitness or regiment. It's been really hard in some cases, like Mayu pointed out about the connection.
In saying that, there's opportunities to focus on other skills that don't require the connection, such as circus elements like handstands and body / core strength needed to upkeep our acrobatic routines. It's also a good opportunity to research new projects that are coming up as well. Project research is really exciting, as we rarely have time to dedicate to this element, given we spend this time focusing on physicality and producing.
We do our best to keep motivated and remain as fit as possible, and prepare for future projects.
What has been your most prominent art inspiration over the past six to twelve months?
Natano: From my perspective, it's why we're at La Boite: AMATAGA. AMATAGA is Samoan for initiation, which is the production we're currently working on as Artists in Residence at La Boite this year.
This project has been ten years in the making for me, and I always wanted to expand on my initiation practices. My vision has always been to work with practicing contemporary circus artists, to explore initiation practices within their culture in a circus element. Being at home, I'm researching initiation practices and what it means for our ensemble individually, so that in itself has been an inspiration.
Mayu: That is true! AMATAGA has been one of the most exciting things I've been working on in the last few months.
This topic of initiation is interesting. My cultural identity is something that I'm interested in exploring. And, personally, through my art form, to be able to do that with like-minded artists is fantastic and a kind of bliss for me. To share the research across different cultures and have an open discussion about it is truly inspiring.
#About the Work-In-Development
How has this work changed (thematically, personally, etc.) since starting this residency at La Boite?
Natano: March was pretty much the starting point of this production AMATAGA. Teaming together was a seed project, as we were first trying to figure out if we could work together. Thankfully, after two days, we were like "yes, we can do this".
We met at La Boite's Roundhouse Theatre, to get to know each other's personalities, characteristics, cultures, and, from there, how to approach a project centred around initiation practices. But since then, a lot has happened to the world, so yes it has changed.
It's been really nice hearing everyone's developments in self-discovery. Some of us are really learning, in leaps and bounds, about themselves, their culture and the ceremony around initiation. That's the beauty of being in isolation, locked down and being stuck with my parents: I'm learning Samoan, the language.
One element that won't change, is that if we choose to speak as part of the project, we will only speak in our own tongues. CASUS has historically done shows that evoke emotion and messages with no spoken word, but maybe that's something we should explore for this project. Sanja Simic, La Boite's Creative Producer, is helping us find the vocal coach if we want to move forward with this element. Personally, I really like the idea of talking on stage, especially in our own languages, because it's a great way to explore so many rich cultures within one space.
Mayu: For me, having two days at La Boite's HWY Festival of New Work in March really kickstarted my eagerness, interest and passion for the project. If it wasn't for that two days of development and meeting everyone personally, it would have been totally different right now, in terms of how we approach the research and how we approach each other. It was such a wonderful kickstart for the project.
(Shameless plug: If you missed this year's HWY Festival, snoop our socials for some fabulous event snaps from the two-week work in development festival.)
Why is this a work that local, Brisbane and South-East Queensland audiences should see?
Natano: I grew up in Queensland, Australia, within a predominately white culture. I remember my friends always hanging out my house, because they had a yearning for culture. We're really lucky enough to have these stories, and I think there's always been a fascination about a culture that has stories extending thousands of years. I think people find that interesting, and I love telling it.
It's nice making a show about First Nations cultures on our terms. We're determining how we tell it, it's not like we're placed in the production as 'hired help' from a larger organisation. I think that culture is endangered in many ways. In this country, for example, the Indigenous culture has historically been one that has been treated so poorly, and even though we say that we're making leaps and bounds and improving that, there's more we can do.
Mayu: It's important to explore my cultural identity and connection to my ancestral culture on stage, and how we would physicalise, how we interpret that, and how the different cultures or ancient cultures can come together and find a way to connect us. It's interesting for people to see and important for people to see.
How do you want to make audiences feel when they see this project?
Natano: I'd like the audience to feel whatever is real. I don't like to force or oblige an audience member to feel anything; it's their own journey. Their whole life contributes to the experience they will have for that period of time, but I hope they learn something. Whether they enjoy it, don't really care, we just want audiences to feel something. Ultimately, I want them to respect and value culture. If they didn't already, I want them to respect it.
If you had to use three words to describe the project, what would they be?
Mayu: Discoveries, connection and resilience.
Resilience of the cultures and also the current time — we need to push through and make this happen.
Natano: Water, Mana and Knowledge.
Water is a theme we were playing with for AMATAGA. Our lands connect via water, and all of our cultures connect with water in one way or another – just a beautiful symmetry.
Mana is the spirit amongst all the people in Pacific Nations, but extends, I believe, and that's what keeps the harmony among our people.
Knowledge is exciting to me because, through this process of making AMATAGA, we're hungry for knowledge and we're fighting for it — some more than others. In order to make the show as sincere, real and have its integrity, we need to make sure the knowledge is there.
If you had to provide one piece of parting wisdom to aspiring artists or theatre makers, what would it be?
Natano: Make the work for you, not for anyone else.
Mayu: It's important to stay free, open and creative with your art.
In your own words, how would you describe your new work in development, in one sentence?
Modern interpretations of initiation practices, across four different cultures.
Want to hear more from this egg-cellent ensemble? Visit their website for production videos, events and more.
CASUS' current work-in-development, AMATAGA, had a work in development showing at this year's HWY Festival of New Work, and will continue to be developed in 2020. For more information about La Boite's 'Artist In Residence' program, or to stay up-to-date with the latest CASUS projects, please visit our website.
Developed by La Boite Theatre Company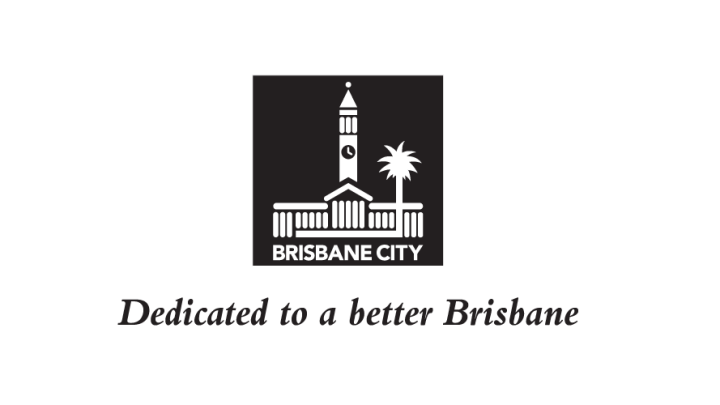 Special Thanks
La Boite Theatre's Artists in Residence Program is proudly supported by Brisbane City Council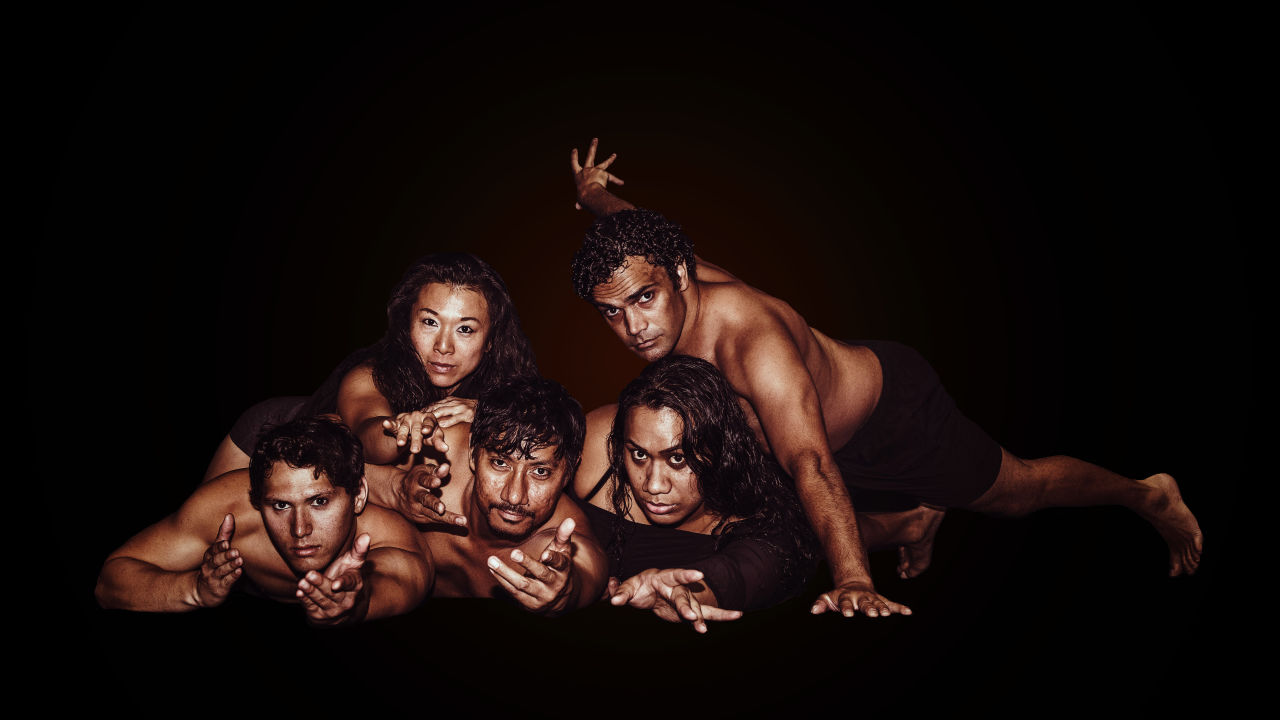 Renowned for their aesthetic of delicately human circus, Casus Circus' premiere work Knee Deep is an international sensation. Performed in over 15 countries in 2015 alone, Knee Deep won international accolades including Best Circus & Physical Theatre 2016 Adelaide Fringe and Best Circus & Physical Theatre Avignon 2015.
On the success of Knee Deep, Casus have grown to be an established touring company of 16 acrobats, making up of three casts of which tour internationally with the shows Knee Deep, Tolu, Driftwood, You & I and Chasing Smoke each earning multiple awards and nominations.
Originating in Brisbane Australia, the three co-founders Natano Fa'anana, Jesse Scott and Lachlan McAulay remain company members and close friends. Their home-town values of humanity, friendship and connection flow throughout the company and their performances. It is this that forms the backbone of Casus' signature style.
Casus Circus performances are rich in human connection, integrity, cultural diversity and precise, intelligent choreography. Acrobats fill the stage with momentum and stillness, with strength and fragility, and overwhelm audiences with breathless emotion that often leads to a silent theatre throughout the performance– followed by a standing ovation at the end.