Blog
La Boite's Creative Producer, Sanja Simić, Talks HWY
La Boite is excited to creatively engage an incredible group of local artists and companies who call Brisbane home. Through the brand-new HWY program, La Boite is offering six paid opportunities to seed a new work or idea with the company.
La Boite's Creative Producer, Sanja Simić, dishes on the latest offerings, what to expect from these programs now and in the future, and how artists can be on the front foot to apply.
Interested to apply and join La Boite's team of artists? Find out more below. 👇
What exactly does HWY (pronounced HIGH-WAY) mean?
HWY was born out of a desire to give artists a pathway to the La Boite mainstage and opportunities to work with the company. The HWY program is a trajectory, a platform, a stepping stone to future work and engagement with us as a producing house for new work.


Can you explain how HWY began and how it has evolved since your role as Creative Producer?
I was lucky enough to inherit the HWY program when I arrived at La Boite in 2017. Glyn, my predecessor, had delivered the inaugural HWY the year prior, so the Festival was very new to the city and artists were still getting their heads around the opportunities it presented. Fast-forward three years and four HWY festivals later, I am deeply excited and incredibly proud of the growth we have seen during this time.
From 2021, we're shifting the model – HWY will become a program of events throughout the year, intersecting with our Artist Development platforms and offering ongoing opportunities for audiences and the wider arts sector to engage with the development of new work and theatre practice, in Brisbane, in real time.


As a 'pipeline for new work and ideas', can you give us an idea of what type of work is trending right now?
Many a monologue about COVID-19! Virtual play-readings, some really fun/interesting experiments on Zoom… some artists really seized the moment and went hard on digital platforms. It was such a joy to consume so much art during a weird and unsettling time. As we pivot and start thinking about what theatre looks like in our spaces in both near and distant futures, it is becoming apparent that producers and programmers are looking for work that hits a range of interest areas. I'm not in a position to speak on behalf of other organisations, but we're certainly taking into consideration relevance and/or responsiveness, social and political engagement, scalability, form etc.


What influenced you to develop these new programs for HWY? Was this developed to fill a gap in the market or devised from a vision for La Boite's future programming?
A bit of both, really – we are leaning into the moment while we are in a holding pattern with our doors temporarily closed, focusing our efforts on research and development. We are lucky to be able to offer a suite of development opportunities for local artists to generate new ideas and works, as everyone recalibrates during this next phase of COVID-19. Every opportunity that we go out with takes future programming into consideration, but we were also conscious not to double-up on existing opportunities, while really honing in on the kind of work that aligns and has potential to land within (and outside) our walls in the future.


Given your background as an independent theatre-maker, what does HWY mean to you?
When I was freelancing, these were exactly the kind of opportunities we would throw our collective and individual hats in the ring for – paid gigs of this kind are few and far between. I absolutely would have jumped at the chance to work with a professional theatre company to develop a new work/project, and that hasn't changed, to be honest. It's an immense privilege to sit on the other side and engage with people's ideas in this way; I'm excited to see where this EOI process takes us over the coming weeks. HWY is such a necessary part of our output as a company and a critical pathway/platform within Brisbane's wider arts ecology.


How are you feeling as a producer trying to develop works and programs such as HWY in this time of uncertainty?
I swing between hopeful and unsettled daily – I know how lucky I am to keep doing the work that I am doing, and for that I am deeply grateful. It has been a wild three months of large-scale change within the organisation, from cancellations through to future plans, and the biggest thing we're learning is how to sit in this moment in a productive and focused way. Yes, things might change, but with every new bit of information we're getting better (and perhaps quicker) at responding to what the future might look like. COVID-19 forced us to take a step back and reconsider what we can do in an active and public facing capacity during this time.
HWY is at the forefront of our current offerings, and I am feeling optimistic and excited about the artists who'll come into the company over the coming months as a result of these programs.
#Are you a Brisbane playwright? Hear more about the Playwright Commission
HWY's Playwright Commission will engage one Brisbane playwright or group of Brisbane playwrights to develop a new work for La Boite. Why is it important to develop new work by Brisbane writers and audiences alike?
It goes without saying that 2020 is a critical year for focusing on supporting and developing new work by local playwrights – COVID-19 has devastated our sector, it would be remiss of us not to hone in on local work and writers, with opportunities like this one. There is a wealth of playwriting talent in this city, with a multitude of urgent voices and brilliant imaginations between them, and we are excited at the prospect of bringing some of these stories into the fold through HWY this year.


What kind of Australian voices are La Boite looking for?
This is difficult to answer without using the 'd' word, but diverse voices, ideas and approaches are exactly what we're looking for – work that speaks to the world as we know/are experiencing it right now. This is also an opportunity for writers who work collaboratively (in pairs or groups) to pitch in their ideas, which presents a host of possibilities for the kind of work we might be able to commission.
In 2020, La Boite will commission a new work (or works) by a Brisbane playwright or group of writers for development over a 12 month period.
#Want to collaborate with La Boite? Apply for the Artist Collaboration
The 1 x Artist Collaboration creates a partnership between an artist or group of artists and La Boite, working nationally or internationally. Why is La Boite investing in inter-cultural collaboration on this scale?
There is no doubt that La Boite, like many organisations, is focusing purposefully on local work and artists during this time – supporting the Brisbane/QLD arts ecology is imperative for the sustainability of the local sector. Alongside this, we're also conscious of the ever-evolving national ecology, which is where this opportunity came from. With the stipulation that one of the pair (or half of the partnership) must be Brisbane-based, the other collaborator(s) can be based anywhere in the country (or the world). This first phase of funded development is both a pilot of this kind of opportunity and an exciting invitation for some of our more nomadic artists to dive into a relationship with La Boite.
How do you see this collaboration unfolding with the successful applicant/s?
Look, we don't have COVID-19 to thank for much, but I'll wager a guess that most of us have emerged from isolation with a new appreciation for Zoom and its ability to connect people in times of crisis. This collaboration will unfold in whatever way suits the partnership, but what we know coming into it is that we have options. In short, I'll work with the artists to structure and deliver a development framework that suits their specific needs… I look forward to the challenge!
In 2020, La Boite will engage a pair of artists (or companies) working in partnership, interstate or internationally (with one half based in Brisbane), to develop or seed a new project.
#Be one of four artists / groups working with La Boite on new work generators
These New Work Generators will engage with 4 artists or companies/organisations to seed a new work with La Boite. How rough can ideas be at the application stage?
The short answer is: very rough. However, we're looking for ideas with strong potential and alignment with La Boite – the artists will have three months to flesh out the concept and develop ideas further, but the initial seed needs to hold promise of future brilliance (no pressure).


You've encouraged artists to use and explore a range of La Boite's spaces, including the Roundhouse Theatre, Studio, Foyer and Public Forecourt. How do you see this playing out?
I am so keen to see what comes through the call-out for these opportunities! Opening up our spaces to artists across art-forms offers a breadth of opportunities to engage with makers who respond to site/space in deeply imaginative and innovative ways. This is a step towards fulfilling a strong desire, which a lot of our team harbour, to fill every nook and cranny of La Boite with art.


Do you think global events will shake up how venues use spaces to present theatre?
This question reminds me of Kyle Chayka's article in the New Yorker earlier this month, which rightly points out that health concerns have shaped space(s) that we occupy for decades. Similarly, COVID-19 will shape the way we produce/present work in our venues and spaces over the coming years. Aside from social distancing restrictions, a crisis of this scale will have a significant impact on the kind of work we see produced in the latter half of the year and into the future, as well as informing the plethora of ways it is delivered/presented.
In 2020, La Boite will engaged four local artists/companies/organisations to seed a new work or idea with the company over a 3-month period.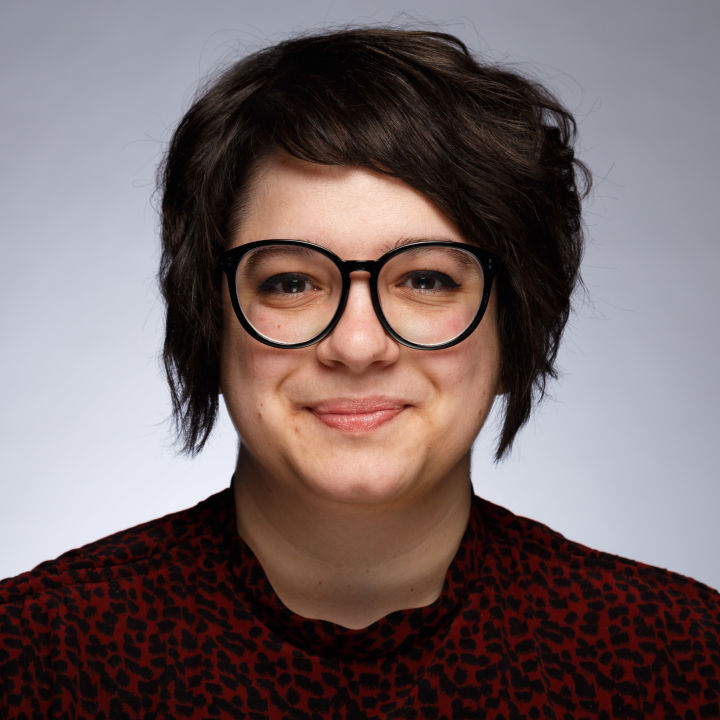 Creative Producer
Sanja Simić
Sanja Simić is the Creative Producer at La Boite Theatre Company, where she has worked across numerous projects including the programming and delivery of consecutive HWY Festivals (2017-present), Steven Oliver's From Darkness (2019), multiple seasons of Michelle Law's Single Asian Female (2018-20), the national tour of Future D Fidel's Prize Fighter (2018), and multiple seasons of The Village (2017, 2018). As a Director, she has created work for La Boite, Tamarama Rock Surfers, Brisbane Festival, Griffin Theatre Company, Merrigong Theatre Company, PACT Theatre, Sydney and Adelaide Fringe Festivals, and more. Other directing credits include Timberlake Wertenbakers' The Grace of Mary Traverse (2016), Bernard Marie Koltes/Martin Crimp's Roberto Zucco (2012), and Howard Barker's Wounds to the Face (2010).
Prior to La Boite, Sanja has held positions at the Australia Council for the Arts (International Projects) and Australia's leading organisation for interdisciplinary arts, Performance Space. Her most recent theatre directing includes Claire Christian's Lysa & The Freeborn Dames for La Boite's 2018 Season and Bodysnatchers' production of Mark Rogers' Plastic for the Old 505 in Sydney.