LB Riot Online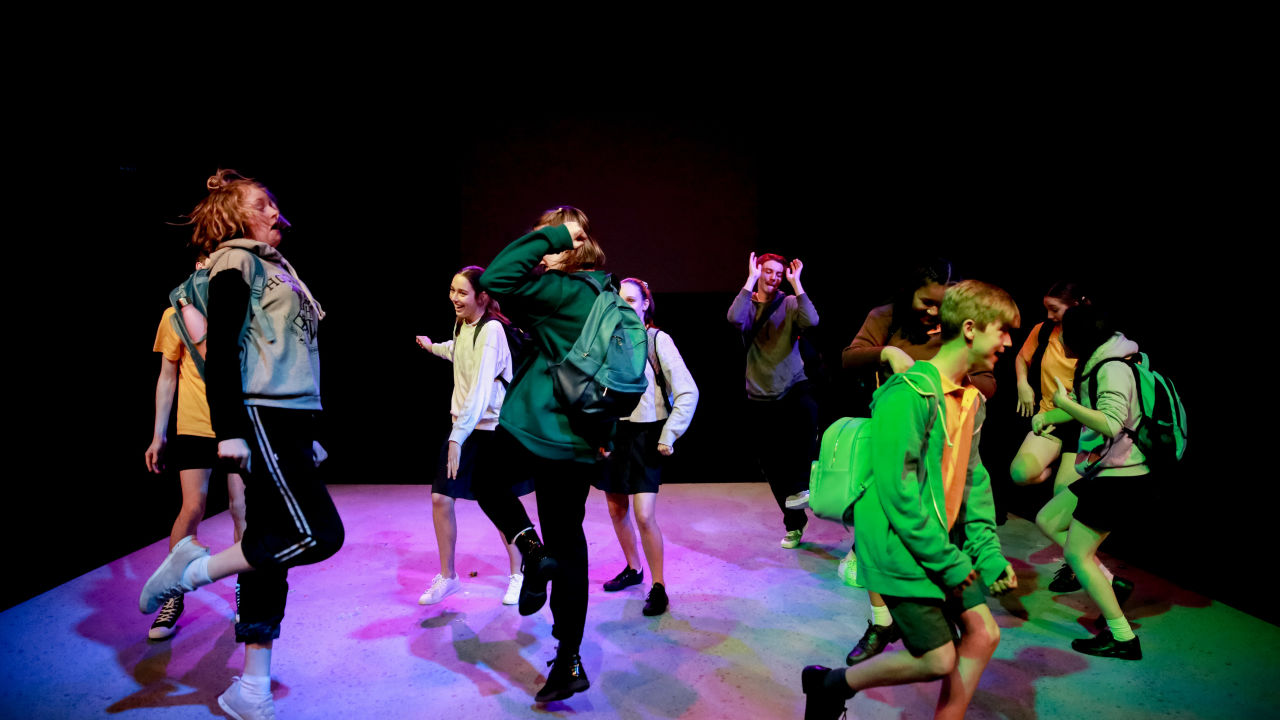 #NOW AVAILABLE ONLINE OR IN PERSON
LB RIOT, La Boite's annual program designed to support classroom learning and assessment, has moved online!
This resource is available for delivery in person, online learning at home, or as a digital resource for your classroom.

In 2020, LB RIOT will focus on Steve Pirie's 3 O'Clock, Flagpole, a work written specifically for high-school students. This program will deep-dive into Magical Realism and Contemporary Performance Conventions, Text and Character Analysis, and Devising and Performing Skills.
LB RIOT is flexible for your classrooms' needs – it can be used as a unit resource or extra-curricular text.
#Workshop Details Grades 7 - 12
Content
Style and Form: Magical Realism and Contemporary Performance.
Responding: Analysing themes (purpose), analysing character, identifying conventions and unpacking examples of Magical Realism and Contemporary Performance.
Forming: Devising using conventions style and form, monologue creation, filling gaps and silences, devising from stimulus.
Performing: Creating and presenting monologues and scene work.
Workshop Lengths:
Workshop One: Approx. 60 mins
Workshop Two: Approx. 70 mins
Resources Included
Access to the full script;
A 30-page unit of work for your classroom;
2x pre-recorded workshops, presented by Zachary Boulton and Helen Stephens.
Cost
$400 per class (up to 30 students).
Please note, you will be charged $200 per additional class.
#How To Book
To book via invoice, please follow the below process:
Step 3
Pay your invoice when received.
Step 4
Once your booking is confirmed, we will send you the video link and password.
Step 5
Access the online workshop/s via the link! Available for viewing from May 12 to the end of the 2020 school year.
Workshop Format
The online videos are pre-recorded, directly addressed to your students.
Zachary Boulton and Helen Stephens step through theory and activities in relation to 3 O'Clock, Flagpole, including Magical Realism and Contemporary Performance. This online program is a mixture of theory and prac, designed to be completed in the classroom or individually at home.
When it's time for your students to complete an activity, a pause slide comes up in the video with the instructions and the allocated time. Once completed, you can press play to resume watching the workshop.
Access
The online workshop will be accessible via Wistia.com, which our testing has shown can be used in classrooms and at home. Once you've confirmed your booking, we'll send you the video link and password. You will be able to access the video until the end of the 2020 school year.
If you are purchasing for this to viewed in your classroom as a group: You will need to put your name and school email in the video login.
If students are watching from home: They do not need to 'sign up' or 'register' to the website, however they will need to put in the password provided, their name and teacher's school email. This ensures we're protecting their privacy, while also keeping track of who is watching the video.