Young Artist Company is a specialised program for high-school students aged 12-17, designed to strengthen their performing skills, learn from industry mentors and meet other young performers.
The program includes acting, live performance, and ensemble training, through participation in a production from audition to rehearsal to performance, including a public facing outcome for an audience in The Roundhouse Theatre.
In 2021, Young Artist Company will work towards Congress: The Time Is Now with All The Queens Men, which features in La Boite's 2021 mainstage season line-up.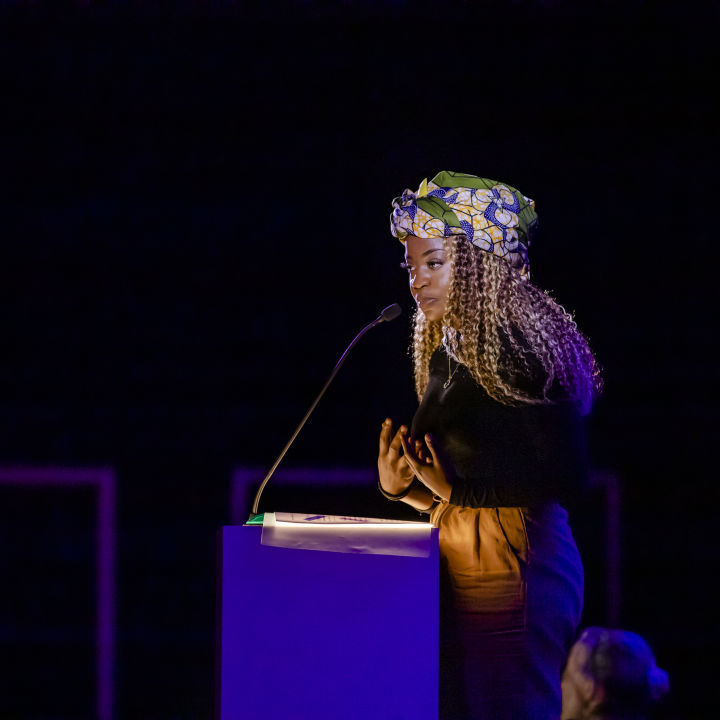 Discover more about La Boite's Season 2021 mainstage production, Congress: The Time Is Now.
Artists and storytellers between 12-17 years old
Congress: The Time Is Now provides a platform for some of our youngest voices, those often ignored in changemaking conversations, to have their say. The process will involve young people collaborating to write and present a first speech, which may be personal and political, as well as collaborating across movement and dance and exploring inclusive creative contemporary performance practice.

We are committed to gathering a diverse group of young people, who represent the broad and varying experiences of different young people. This includes those who identify as:
First Nations, Aboriginal and/or Torres Strait Islander
d/Deaf and/or Disabled
Culturally and Linguistically Diverse
Immigrant, Refugee or Asylum Seekers
Gender Diverse (including Trans, Intersex and Non-Binary peoples)
Regional and Remote Residents
If you have any questions, please contact La Boite's Youth & Education Producer.
Application Dates
Applications Open: Now
Applications Close: 10 February 2021
Auditions: 15 February 2021
Rehearsal Dates
Weekly Rehearsals: 1 March-23 May
Holiday Intensives: 12-16 April (2-3 day block in this week)
Production Week: 17-22 May
PRICE
$490 per participant
*Scholarships available. Further information can be located in the application form.
Step 1
Review the program requirements and application criteria.
Step 2
Complete the Google Form to apply.
Step 3
La Boite will be in touch to confirm your audition date and time.
Step 4
Prepare for the audition, per stipulations, and attend the interview. Good luck!