La Boite x Mad Dance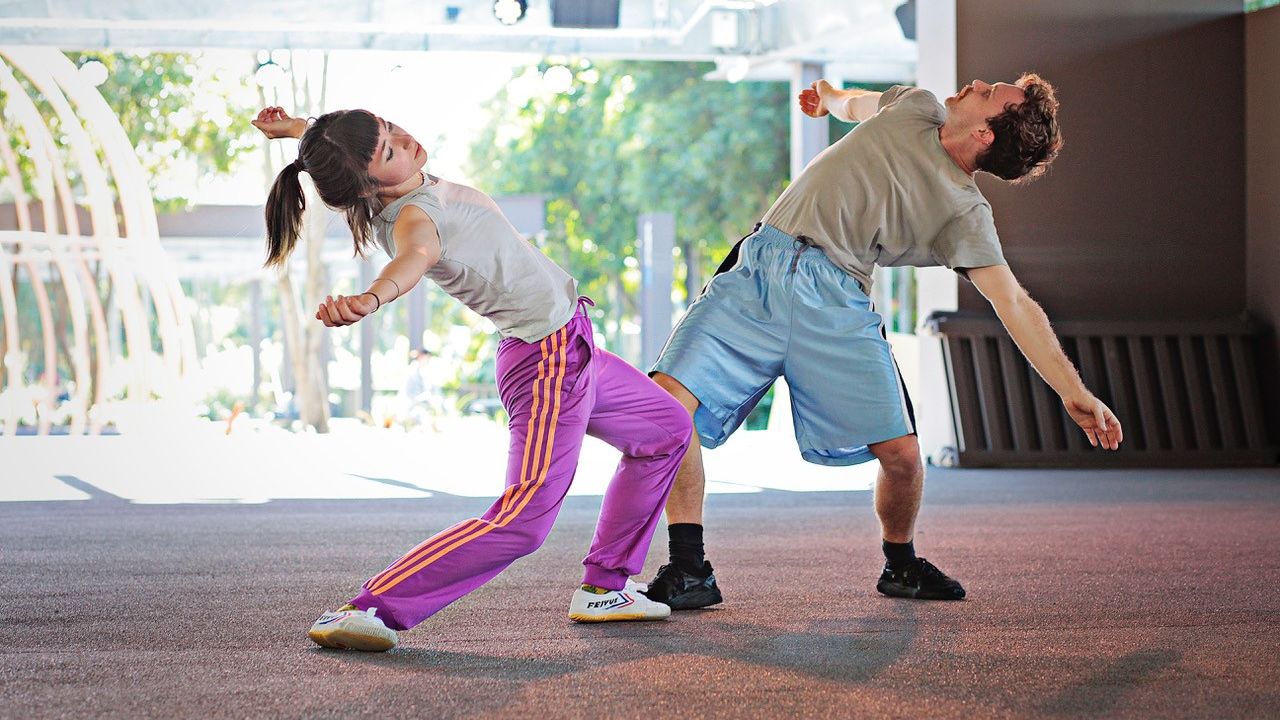 A unique annual funding opportunity for a Brisbane-based artist to develop a dance-theatre work, with the support of Mad Dance House (MDH) and La Boite.
This opportunity includes a residency period, with time divided between MDH studios and La Boite, as well as an opportunity to present a showing of the work, and a financial contribution towards fees and expenses. While developing the work, the artist will receive administrative, artistic and production support from the La Boite artistic team and Mad Dance House's Meg Cooper.
[Liesel Zink's Awe: A State of Wonder of Fear picture above]
#2020 Recipients
Daniele Constance with AHA Ensemble & Phluxus2 Dance Collective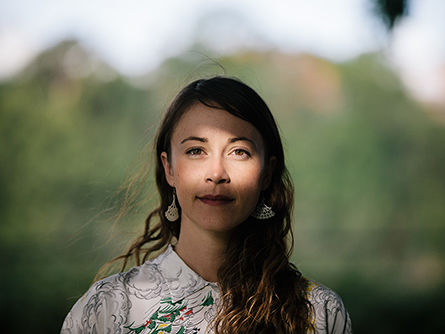 Daniele Constance - Director
Daniele Constance is a participatory artist, performance maker and director with a strong focus on socially engaged art making practices. She create artistic works that draw from direct experience and storytelling; using verbatim, documentary and contemporary performance practices.
Daniele has trained with artistic companies including: Rawcus (Melbourne), Force Majeure (Sydney), one step at a time like this (Melbourne), Ping Chong+Company (NYC), which has given her a strong and diverse embodied performance language, understanding of and continued practice with: dance theatre, physical theatre, participatory art, site specific performance, public art and engagement, large scale and long standing community arts projects. Her performance practice is adaptive, responsive, advocates for new thinking and celebrates difference.
Daniele has previously engaged in a formal mentorship (supported by Australia Council for the Arts) with Kate Sulan (Artistic Director, Rawcus) in inclusive performance practices, specifically supporting and developing her skills as a director and dance-theatre practitioner leading the Aha Ensemble.
Daniele has presented independent performance works with Footscray Community Arts Centre, Festival of Live Art, Melbourne Fringe Festival, Testing Grounds, La Boite Theatre HWY, Metro Arts, Supercell Festival of Contemporary Dance, Queensland Poetry Festival and Undercover Arts Festival.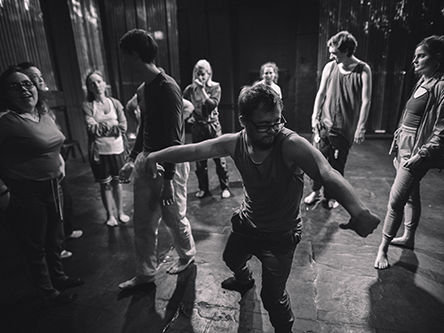 AHA Ensemble
Aha Ensemble is a Brisbane-based collective of diverse performance artists who value authentic, immersive, participatory and contemporary movement practices. This dance-theatre ensemble was initiated by Daniele Constance originally in partnership with Access Arts to aid in developing artists who identify with disability. Since its inception in 2015, ###i have presented performance works at: Supercell Dance Festival (Brisbane Powerhouse, 2019), Metro Arts (2019), Anywhere Theatre Festival (Metro Arts, 2016), Undercover Artist Festival (Queensland Theatre Company, 2015); and completed two artistic residencies supported by Metro Arts in collaboration with Phluxus2 Dance Collective. Recently premiered new work, Explain Normal (presented by Metro Arts and Daniele Constance in collaboration with Phluxus2 Dance Collective) was very well received by audiences across a 10 day performance season. This work was supported by Brisbane City Council Creative Sparks, Arts Queensland and Metro Arts.
Aha Ensemble explore the diverse uses, values and representations of the body; and challenge the norms of creating performance based works with differently abled bodies. The key focus of this ensemble is to develop artists who experience disadvantage and disability within a professional arts context. Director, Daniele Constance, believes that true integration and inclusive practices comes with collaboration from a diverse range of artists, is disability-led; and truly employs collaborative practices with a non hierarchical model. Together, we as diverse artists delve into a rigorous collaborative and artistic process to re-contextualise the boundaries of performance practice.
Aha performers' individual practices include training and creating work across South East Queensland, nationally; and internationally, including New York, Portugal, Hong Kong, Malaysia and Korea. Ensemble members include: Kayah Guenther, Allycia Staples, Mitchell Runcie, Megan West, Tara Heard, Rebecca Dostal and Ruby Donohoe.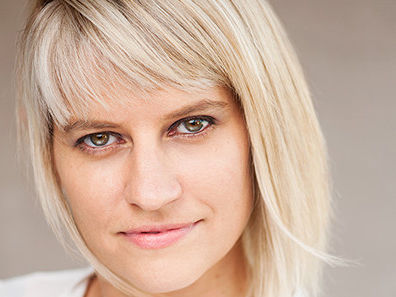 DR Nerida Matthaei - Choreographer
Nerida Matthaei is an award-winning choreographer, performer and the Artistic Director of Phluxus2 Dance Collective. Nerida is a much sought-after collaborator across the dance and performance sectors internationally. Nerida works with companies and artists such as Myths Made Here, Briefs Factory, The
Good Room, The Crackup Sisters, Queensland Theatre, Red Leap Theatre and GOMA. Her works for Phluxus2 Dance Collective include: Don'ts For Dancers, Boiling Point, de- generator, The Paratrooper Project, angel-monster and the annual THE indepenDANCE PROJECT.
Her work has been nominated and awarded numerous accolades including Critics Choice for Best Choreography 2007 Short and Sweet Dance Festival, Runner Up for Best Performance in Dance and Movement 2006 The Age Melbourne Fringe Festival, nominations in The Helpmann Awards, The Matilda Awards and over 13 Australian Dance Awards long list nominations. In 2016 Nerida received the World Dance Alliance Lin Chin Award for Best Emerging Researcher. Nerida's most recent work angel-monster sold out in Brisbane and was reviewed as 'a monster hit!'. Recent highlights include creating new stadium size performance work in Saudi Arabia and Italy within the Balich Worldwide team, joining the 2018 Jack Morton Worldwide Ceremonies Choreographic Team for the Gold Coast Commonwealth Games Opening Ceremony, choreographing the 2018 Australian Dance Awards finale, performing in the
award-winning Dali After Dark by Briefs Factory at Perth Fringe Festival, and self-producing a three-state Australian tour. Nerida completed a Doctor of Creative Industries (QUT) that sought to recontextualise the choreographic self through practice-led experimentation in 2018.
Nerida is currently creating a new work in development for Phluxus2 Dance Collective and collaborating with Queensland Young Playwright Nominee Anna Loren a new work, Comfort.
PHLUXUS2 Dance Collective
The award-winning Phluxus2 Dance Collective creates boundary bashing and beautifully abstract stories
through the transforming complexities of contemporary dance and dance theatre. "I left with an altered view of gravity: the performance awoke in me the ability to defy the odds: the dancers were the metaphor." – Arts Hub
Phluxus2 works include the multi-award winning the machine that carries the soul, chinese whisper/broken
telephone, The Opposite of Prompt, Boiling Point, de-generator, The Paratrooper Project, angel-monster and Explain Normal. Led by Artistic Director Dr Nerida Matthaei the company encompasses a vast collective of Brisbane's most exciting dance artists and is committed to continuing to create unique and inspired performance work and invest in community through exceptional bespoke programs in education and sector development including the annual choreographic incubator THE indepenDANCE PROJECT.