July 2021
| Mo | Tu | We | Th | Fr | Sa | Su |
| --- | --- | --- | --- | --- | --- | --- |
| | | | | | | |
| | | | | | | |
| | | | | | | |
| | | | | | | |
| | | | | | | |
August 2021
| Mo | Tu | We | Th | Fr | Sa | Su |
| --- | --- | --- | --- | --- | --- | --- |
| | | | | | | |
| | | | | | | |
| | | | | | | |
| | | | | | | |
| | | | | | | |
| | | | | | | |
Special Performances
Auslan Interpreted: July 30, 7:30pm
power, loyalty, & political struc-tures that fail us
William Shakespeare's Julius Caesar makes a revitalised comeback in 2021 with La Boite's adaptation, which tackles political conspiracy, the assassination of a dictator, and societal divisions that incite large-scale violence.
Adapted for a single voice, CAESAR is a tragedy about a self-absorbed populist and the men who conspire to impeach him. This is a sharp and playful re-imagining of Shakespeare's iconic history play for contemporary audiences.
Dive into this classic with fresh eyes, coming to La Boite in July.
Due to ongoing COVID-19 restrictions, La Boite has limited the performances and capacity available to school groups. If you require a performance not listed above, please let us know and we will do our best to accomodate you.

SUITABLE FOR
Grade 11-12
WARNINGS
Mild Course Language
Mild Adult Themes
THEMES
Power and Legacy
Fate vs Free Will
Politics and Leadership
CURRICULUM LINKS
Unit Four
Elizabethan Theatre
Contemporary Performance

FORM, STYLE AND CONVENTIONS
Classic Elizabethan and Contemporary Text
Intertextuality, Hypertextuality and Fragmentation
Political Theatre
Adaptation
Your COVID-Safe Visit to La Boite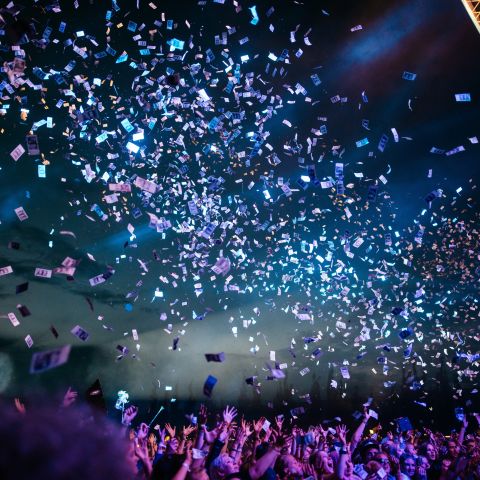 La Boite's Block Party & Exhibition Opening, unveilling three new visual art commissions in the Forecourt