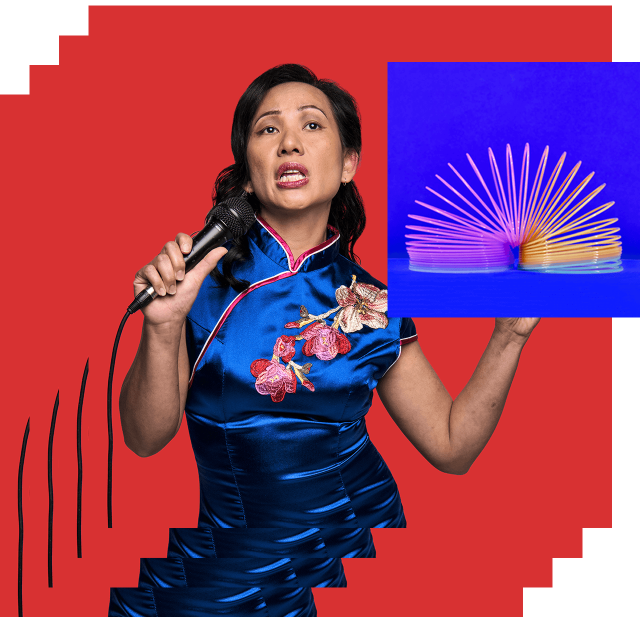 February 2019
| Mo | Tu | We | Th | Fr | Sa | Su |
| --- | --- | --- | --- | --- | --- | --- |
| | | | | | | |
| | | | | | | |
| | | | | | | |
| | | | | | | |
| | | | | | | |
March 2019
| Mo | Tu | We | Th | Fr | Sa | Su |
| --- | --- | --- | --- | --- | --- | --- |
| | | | | | | |
| | | | | | | |
| | | | | | | |
| | | | | | | |
| | | | | | | |
Special Performances
Preview: February 16, 7:30pm,
February 18, 6:30pm,
February 19, 6:30pm
Opening Night: February 20, 7:30pm
Chatterbox: March 5, 6:30pm
Auslan Interpreted: March 5, 6:30pm
---
Runtime
150 Minutes
---
Warnings
Recommended 13yrs+. Minimal drug references, sexual references and adult content.
---
Accessibility
---
#LBSINGLEASIANFEMALE
A Heartfelt Comedy About Family, Culture and the Strength of Women
Presented by La Boite
Michelle Law's (Homecoming Queens, Bloomers) incisive and hilarious comedy, tackling race and gender in contemporary Australia, is back.

Single Asian Female follows the story of the Wong family as they deal with some of life's big questions and explore what it means to be an Asian woman in Australia. Step into the afterhours of a suburban Chinese restaurant and meet the whip smart women who are definitely talking about you in their native tongue.
With two sisters at odds with each other and a mother harbouring a secret that threatens to tear her family apart, Single Asian Female is Australian domesticity like you've never seen it before.
Catch the Wong family in their return to the La Boite stage, following a sold out 2018 season in Sydney at Belvoir.
Melbourne Season
Single Asian Female will also be touring to Melbourne for the Melbourne Comedy Festival in 2019 in April. Click here for more details.
This work was developed with the assistance of the Lotus Playwriting Project, an initiative of Playwriting Australia and Contemporary Asian Australian Performance (formerly Performance 4a).
Cast
Emily Burton, Patrick Jhanur, Michelle Law, Tatum Mottin, Courtney Stewart, Hsiao-Ling Tang
Creatives
Writer Michelle Law, Director Claire Christian, Set and Costume Design Moe Assaad, Lighting Design Keith Clark, Sound Design Wil Hughes, Assistant Creative Emma Black, Fight Choreographer NJ Price and Choreographer Courtney Stewart
Joyful, and laugh-out-loud funny from start to end...
Suzy Wong
Sweet and sour comedy/drama is a little revolution.
Sydney Morning Herald
no topic is taboo in Michelle Law's impressive debut
The Guardian