Visual Art

A Dickensian Country Show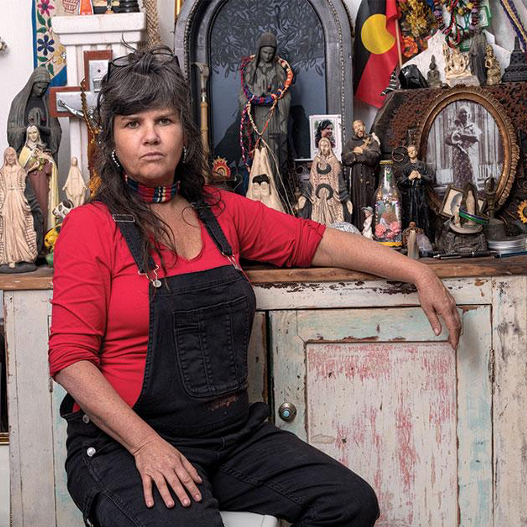 About the artist
Karla Dickens is an artist of Wiradjuri, Irish and German heritage, who has participated in numerous solo and group exhibitions. Her work is about politics, identity and the environment. Dickens' important group exhibitions include Defying Empire: 3rd National Indigenous Art Triennial at the National Gallery of Australia (2017); The National 2017: New Australian Art, Carriageworks, Sydney and Grounded: Contemporary Australian Art at the National Art School Gallery, Sydney (2017). Her work is held in major collections including the National Gallery of Australia; National Museum of Australia, Canberra; Australian National Maritime Museum, Sydney; and Artbank, Sydney.
Karla is represented by Andrew Baker Art Dealer, Brisbane.
A dark side of the circus behind the lights and make-up of the show is the hard reality of artists and show-people who are glued together with blood, sweat and tears, searching for hope, for a home-away-from-home.

A tribe of misfits, outsiders, freaks and no-fits, the throw-aways, the shunned, the rejected and the shamed gathering and nurturing each other with a sense of belonging, entertaining and warming the hearts of those who abandoned them, healing the cruel while enforcing their own existence.
There are those who love to watch horror movies and car accidents unfold, excited by the energy and horrifying misfortunes; the thrill of potential death waiting for the acrobat to lose her footing, the fat man to explode. They feel beautiful as they cringe at the bearded lady, the snake-man and any other human with unusual differences.
As a source of inspiration they please the crowds, delivering soul-food to the outwardly whole, arriving in the shadows to embrace theirs; the boxing tent is raised, mobs punch the air as they watch black fellas bruise and knock each other across the canvas.
They watch their dreams unfold as carnies scratch to feed themselves,
shovelling popcorn, and dressed in their Sunday best; making memories and dancing with deep desires. Sad clowns tie the truths together as they mock themselves teasing them with playful tomfoolery.
#You might be interested in...