Our History
Miss Barbara Sisley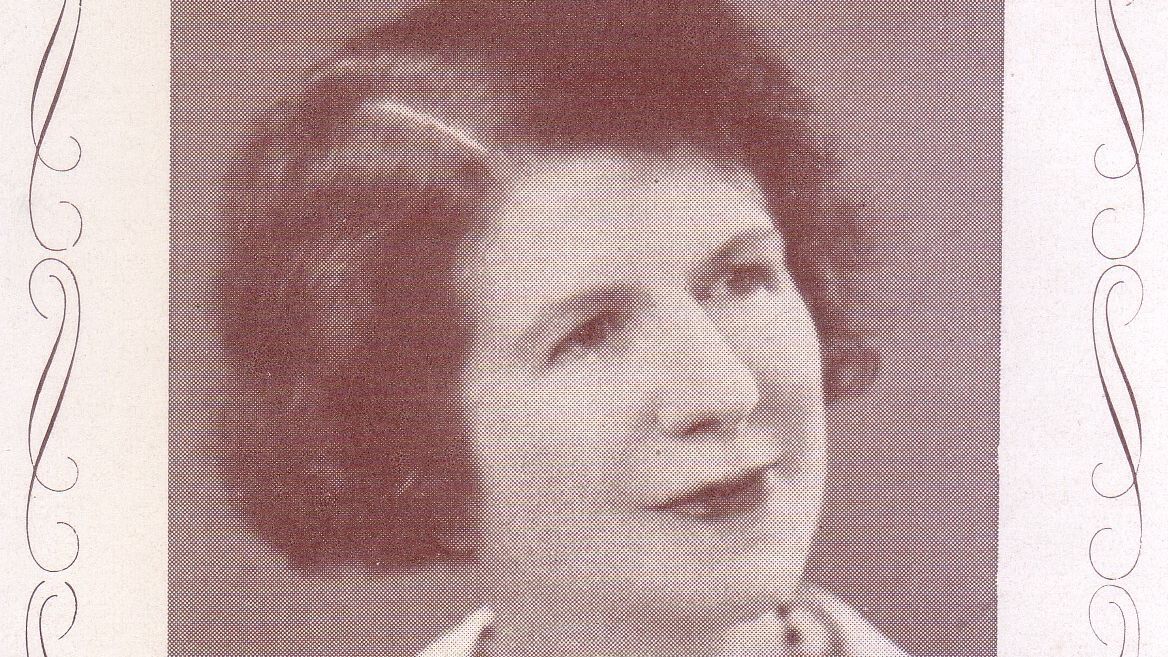 Willowy and strikingly elegant in appearance with beautiful brown eyes and a deep, resonant and commanding voice, Barbara Sisley had drive and energy.
She never married and soon after arriving in Brisbane supported herself entirely by pursuing a successful career in speech and drama teaching, later supplementing her modest income from fees earned for her direction of Repertory productions.
For many years after her death she was remembered with awe as the original, passionate, artistic presence who created the 'idea' of the Brisbane Repertory Theatre Society and who went on to devote much of her life to it. Sadly, as the decades rolled by, her name and significance faded from the collective memory of Brisbane theatre-lovers. Now, through this digital archive, she can be remembered and celebrated.
Although tantalisingly little is now known about her character and personality, enough snippets have been recorded by people who knew her well such as the Queensland playwright George Landen Dann and her star pupil and later fellow speech teacher Rhoda Felgate for a picture to emerge. The professional artistic standards she demanded from her many performance projects gave her a reputation for the cutting remark, but equally her sharpness was balanced by a sense of humour and a capacity to reserve critical comments for the rehearsal room. Her intelligence, independence of thought and strong sense of herself as a woman with much to offer were attractive qualities; and coupled with her desire to make a contribution to the cultural life of Brisbane it is no wonder she soon found herself the respected friend and colleague of the Brisbane intelligentsia, and one in particular, J.J.Stable.
Born in Surrey, England in 1878, Barbara Sisley arrived in Melbourne at the age of 11 with her parents and two sisters. Her interest in theatre and literature was sparked from a young age by her father, Thomas Sisley. A civil service clerk who had qualified as a teacher of speech in England, he taught elocution in Melbourne; included amongst his pupils was his daughter Barbara. After attending Melbourne's Manuel College she succeeded in her ambition to become an actress, playing a variety of roles for actor/manager George Rignold and also the Brough Comedy Company.
As neither of these entities lasted after 1906, how her career progressed over the next ten years remains a mystery. We pick up her story again in 1916 when history records that a touring company she was performing with disbanded in Brisbane for reasons unknown. Down on her luck and a single woman in need of an income, she displayed an enterprising spirit by renting a house in Petrie Terrace and taking in boarders.With some money coming in, she set about seeking employment opportunities that could make best use of her skills. Travelling by tram, she visited prestigious girls' schools such as St Margatet's Anglican Girls School in Clayfield and Somerville House at South Brisbane offering her services as a speech and drama teacher; well suited to this milieu and impressively well-qualified, she was soon teaching regularly in a number of elite girls' schools in Brisbane and the Gold Coast. She also accepted a position teaching speech and drama for the Brisbane Young Women's Christian Association (YWCA). With a small but steady income, perhaps that was enticement enough for her to decide to call Brisbane home.
Sensing that she had a future in Brisbane, it was not long before she had established her Speech Training and Dramatic Art private studio in the city and business flourished. It was Sisley's studio and her many productions featuring her students which trained an outstanding set of speech and drama teachers and the first generation of Brisbane actors. Under her demanding tutelage those who went on to have eminent teaching career and who, in turn, influenced successive generations of speech and drama teachers and actors included Clare Clarke, Rhoda Felgate, Nell Douglas Graham, Hilda Hastie, Kathleen Hirst, Ruby Massey, Daphne Roemermann, Jean Trundle, Una Vowles and Dorothy Wheller.
During the final years of World War One she formed the Barbara Sisley Players to give her students opportunities to perform in plays for an audience. Large-scale projects included her productions of Othello in 1918 and The Taming of the Shrew in 1919 at the Exhibition Building (then home of the Queensland Museum and Concert Hall on Gregory Terrace). Proceeds from these amateur productions always benefited worthy causes. Sisley was also the prime mover behind the formation of the Brisbane Shakespeare Society in 1920. In their first year, the group ambitiously mounted three productions: Sisley directed As You Like It with Rhoda Felgate as Rosalind, and Harry Borradale (another well known speech and drama teacher) directed The Merchant of Venice and Othello. The Shakespeare Society gave yet another opportunity for Sisley's senior students to perform, including her former student Leo Guyatt who, under her tutelage, became a highly regarded Brisbane actor, performing in more than fifteen Repertory plays in the decade after its establishment.
In 1923, feeling the need for a sabbatical and urged on by a desire to keep up to date with what was new in teaching and theatre, Sisley returned to England. There, she furthered her professional studies, most notably with Elsie Fogarty, the renowned teacher of the dramatic arts at Central School of Speech and Drama in London. Whilst in England, she experienced the British repertory movement first hand, seeing productions at the leading repertory companies of the 1920s. It may well have been during this stimulating break that Sisley conceived the idea of setting up a repertory theatre in her adopted town. And of course she would have been well aware of repertory societies already established in southern states of Australia. Whatever the motivation, in 1925 she formed the Brisbane Repertory Theatre Society with Professor Stable and took a leading role in its artistic and organisational development for the next twenty years.
Sisley's main role was to provide artistic leadership as Senior Producer. Although there was no such position as Theatre Director or Artistic Director at this time, Sisley as 'Senior Producer' operated as a 'de-facto' Artistic Director. She directed an extraordinary fifty-seven productions, played many major roles, mentored Queensland playwright George Landen Dann and every year served as a dynamic and influential General Committee member.
Sisley's unexpected, tragic death on November 17, 1945 at the age of sixty-seven stunned the entire Brisbane arts community. Knocked down by a taxi in the centre of Brisbane on a Saturday night, she died the following day in the Brisbane General Hospital. At the time her loss was intensely felt by all those associated with Brisbane Repertory. Some years later, George Landen Dann in a tribute to his mentor, colleague and friend, positioned Barbara Sisley as one of the great women of Australian theatre, responsible alongside many other women for significantly influencing the development of theatre in this country:
She, for many years, was the very soul of Repertory. Everything pertaining to it hinged on her – as is the case with many other theatre groups not only in Australia but in many other countries. There always seems to be a woman at the bottom of each of them. Even the Old Vic, The Abbey Theatre, The Birmingham Repertory and, coming nearer home, The Independent Theatre of Sydney, the Twelfth Night Theatre, the Brisbane Arts Theatre – nearly all of them has or has had the enthusiasm of a woman to foster them through their growing pangs and guide them along the paths they should go. Barbara Sisley was so much a part of the repertory that it was excusable if many people thought that the letter 'S' in the Theatre's initials – BRTS – stood not for 'Society' but for 'Sisley' and whenever she was seen – and it was quite frequently – receiving with immense dignity the applause due to a producer at the end of a play, there was always the feeling that tribute was not only being paid to her for that particular effort, but for the good fortune that had guided her to Brisbane and made her so enthusiastically and inseparably a part of the Repertory.[i]
Writer: Christine Comans
---
[i] Repertory Ramblings (GLD Collection, Fryer Library).
#Have any photos to share?
We'd love to see your photos and publish them in our archive.
Send us photos