Accessibility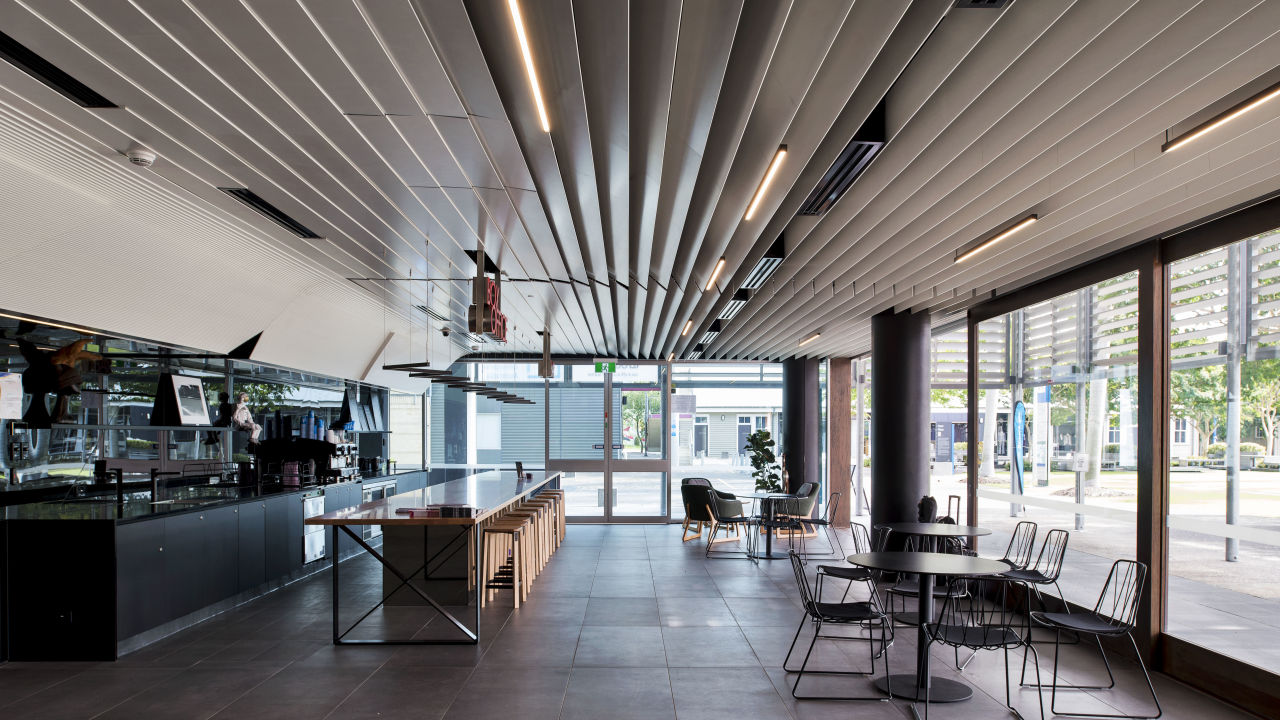 PHYSICAL ACCESS
DROP-OFF ZONE
There is a level access drop-off point next to the theatre on Gona Pde.
PARKING
The nearest designated accessible parking spaces are:
In the QUT open-air carpark on the corner of Musk Ave and Gona Parade (across the road from the Roundhouse)
Along Musk Ave on the street. Please note that the spaces are on an incline and access to the theatre may be difficult from this point.
Opposite the restaurants on Carraway St in the Kelvin Grove Village. From there, simply cross at the pedestrian crossing and take the glass elevator up to the top level, then make your way through the courtyard to get to La Boite.
SEATING
The Roundhouse Theatre has a raised platform at the top of the theatre for wheelchair users (75mm high, raised over 730mm). Additional seats can be added to accommodate guests (space permitting). Wheelchair users may transfer to fixed theatre seats if they choose, provided that permission is granted for La Boite staff to store their wheelchairs during the performance, where possible.
Fixed seats in the Roundhouse Theatre are accessed via aisle stairs with railings (16.5cm high, 27.5cm deep). Patrons who wish to avoid stairs may request seating to be added at the top of the theatre, or may request reserved seating at the top or the bottom of the theatre to minimise the number of stairs navigated.
Patrons may request extra time to enter the theatre and navigate stairs/aisle prior to the doors being opened to the general public to assist with safety and comfort.
RESTROOM
An accessible restroom is available on Level 1 of the building, approximately 10m from the theatre doors.
AUSLAN INTERPRETING
Auslan (Australian Sign Language) interpreted performances are available on the dates below. The performances will be followed by a HWY Artist Talk (a complimentary post-show Q&A), both show and Q&A will be interpreted.
A section of seating will be reserved in the theatre to ensure optimal sightlines to the interpreters. Prior booking is recommended as La Boite is now an allocated seat theatre. We happily accept calls via the National Relay Service. Or alternatively, you can book online. To access the reserved seats within the theatre, please use the following booking link: tickets.laboite.com.au/events?promo=AUSLAN
The Last Five Years Friday 10 June 2022, 7.30pm
An Ideal Husband Friday 29 July 2022, 7:30pm
Tiddas Friday 16 September 2022, 7:30pm

seven methods of killing kylie jenner will be close-captioned on Friday 4 March 2022, 7.30pm. Patrons accessing this service will need to download the GoTheatrical App on a smart device with access to mobile data. A QR code will be located at the Box Office for access to the captioning stream. Please call 07) 3007 8600 or email ticketing@laboite.com.au for any further information.

HEARING LOOP
The Roundhouse Theatre is equipped with a Hearing Loop for patrons sitting in designated seats. These seats are available in Row A, seats 22-27. If you would like to sit here and access the Hearing Loop, please select these seats during your online checkout. Otherwise please call on 07) 3007 8600 and our ticketing team will book them for you.
BOOKING TICKETS
Tickets may be booked in person, online, by post, by email or via the phone.
We happily accept calls via the National Relay Service and can process your booking over the phone. d/Deaf and Hard of Hearing Patrons may also book tickets online or by emailing us to reserve tickets ahead of time and paying in person at box office on the night.
COMPANION CARDS
Companion Card holders qualify for a complimentary second ticket to bring along a companion. Contact our La Boite ticketing team to book (07 3007 8600 or ticketing@laboite.com.au).
SPECIFIC PERFORMANCE INFORMATION/ WARNINGS
La Boite will attempt to make as much information about shows available as it comes to light, however please free to get in touch to find out specific information for each production (eg, the extent of special effects). Contact our ticketing team on 07 3007 8600 or ticketing@laboite.com.au.
QUIET SPACES
Our venues have indoor and outdoor quiet spaces for those with sensory sensitivities. Please make our venue staff or volunteers aware (they will have La Boite t-shirts on) if you would like to access these spaces.
ASSISTANCE ANIMALS
Assistance animals (qualified and in-training) are welcome in the Roundhouse Theatre, the La Boite Studio, the Espresso Bar and the La Boite Administration Office.