Our History
The Touch of Silk
8 – 10 Nov 1929
---
Venue
Bohemia Theatre, South Brisbane
Producer
Brisbane Repertory Theatre Society
Playwright
Betty M. Davies (Roland)
Cast
Ruth Simpson
Edgar Smith
Neville Raymond
Irene Silvester
Cecil Carson
P.J. Mrs Symes
Billie Kelly
Jim Felgate
R. Mrs Scott
George Eaton
Douglas Henderson
Bob Risson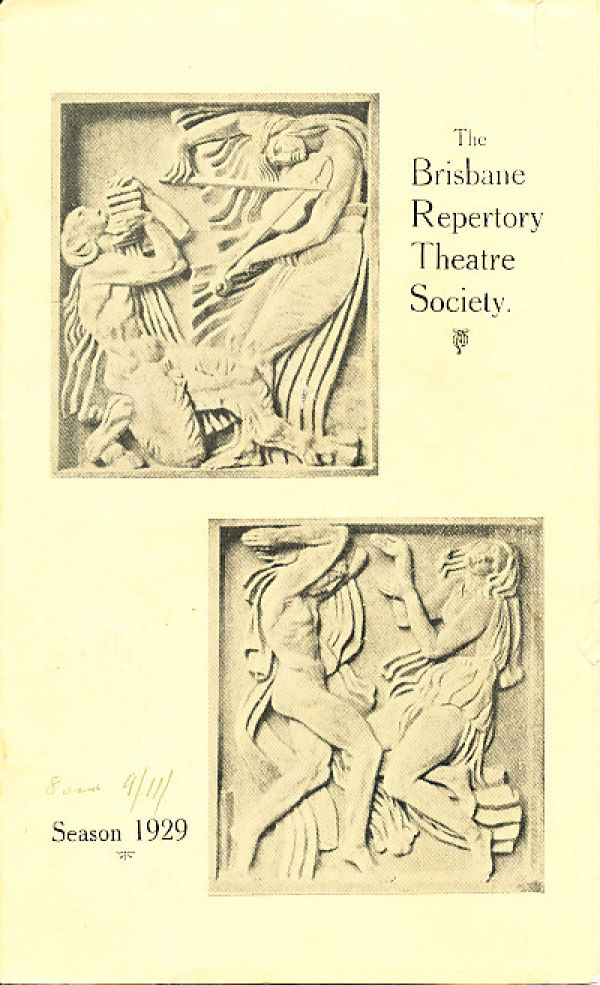 The Touch of Silk by Betty Roland (1929)
Betty Roland's The Touch of Silk is a sensitive portrayal of the troubled relationship between an Australian World War One veteran and his French wife set against the background of drought-stricken rural Australia.
Just the year before it had premiered with the Melbourne Repertory Theatre Company, so to acquire such a new and important play was a coup for Barbara Sisley and her Play Selection Committee. The Executive Committee had agreed that the talented Rhoda Felgate should direct it and Sisley recommended that George Eaton be assistant director, an offer which he indignantly refused. In the minuted flare up, Eaton (who had a reputation for out-spokenness) was recorded as saying he didn't believe in co-production and protested the young Miss Felgate's appointment "as producer of any play and more particularly the Australian play which should have the best possible attention".[1] Adding to the dissention may also have been the perception that yet another woman was being promoted in an already female-dominated circle of directors.
Infighting aside, Betty Roland was interested enough in Felgate's production to send her newspaper critiques of other productions and to accept an invitation to the opening night at the Bohemia Theatre in South Brisbane. She liked the production and a letter of congratulations arrived soon after. Dulcie Scott, a favourite with Repertory audiences, was praised as "magnificent" for her performance as Jeanne.
Writer: Christine Comans
[1] Committee Minutes, Sept. 20 & Oct. 1, 1929 (Fryer Library, UQ Brisbane Repertory Theatre Collection)
Notes: Rhoda Felgate (1901-1990) was a prominent founding member of the Brisbane Repertory Theatre Society, directing her first main-house play - A Happy family by Vance Palmer - in 1925. During the next ten years she directed 15 plays for the society, three of them Australian. She was a distinguished Brisbane speech and drama teacher and founded Twelfth Night Theatre in 1936.
George Eaton (1886-1955) a teacher and eventually Principal of the Industrial High School in Brisbane, had a long association with BRTS as a director and actor.
#Have any photos to share?
We'd love to see your photos of this show and publish them in our archive.
Send us photos