Our History
Quiet Night
19 – 20 Mar 1942
---
Venue
Albert Hall, Brisbane
Producer
Brisbane Repertory Theatre
Playwright
Dorothy Blewett
Cast
Joan Clouston
Marie Dickinson
Daphne Roemermann
Jean Jarott
Lorna Watt
Mavis Busch
Rosemary Stevenson
Merle Dinning
Dick Englart
Ruth Snars
Tom Stephens
Muriel Burton
Nell Galley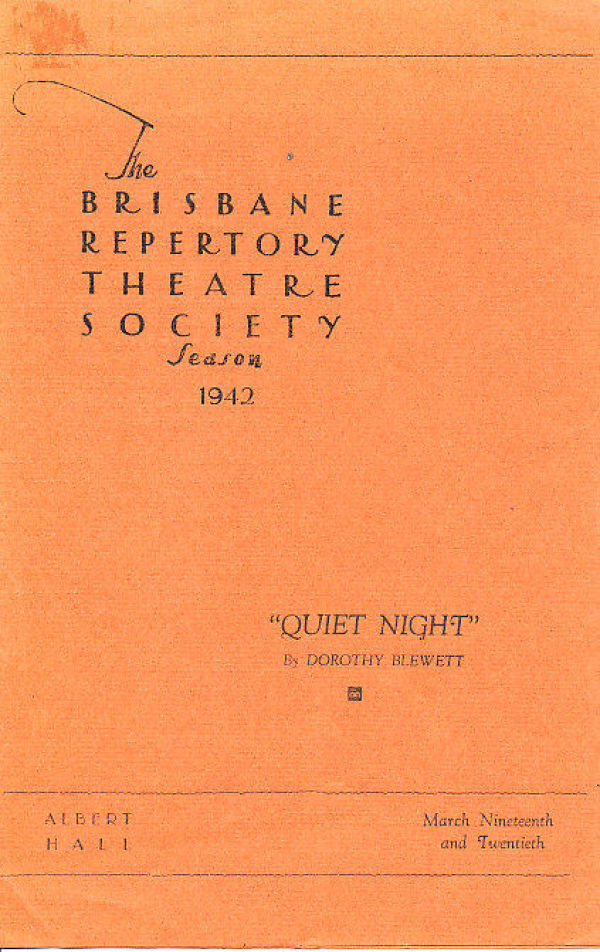 Quiet Night by Dorothy Blewett (1942)
Australian playwright Dorothy Blewett's ironically titled new play Quiet Night was directed by Barbara Sisley.A comedy set in a hospital with a cast of eight women and one man playing an array of nurses and doctors as the main characters, it became a very popular choice with amateur groups throughout Australia and England.
Writer: Christine Comans
#Have any photos to share?
We'd love to see your photos of this show and publish them in our archive.
Send us photos