Our History
The Imaginary Invalid
27 – 29 Apr 1949
---
Producer
The Brisbane Repertory Theatre Society
Director
Daphne Roemermann
Playwright
Moliere adapted by F.Anstey
Cast
Ralph Taylor
Beryl Peake
Shirley Burrows
Maureen McGann
Alan Denby
Blair Hefferan
Eric Lewin
Cliff Bailey
Joseph Holt
Bill Williams
Ian Roemermann
Don Troedson
Terry Paltridge
Costume Designer
Constance Hall
Set Designer
Joy Palmer and Gerry Greet
Lighting Designer
Cecil Booth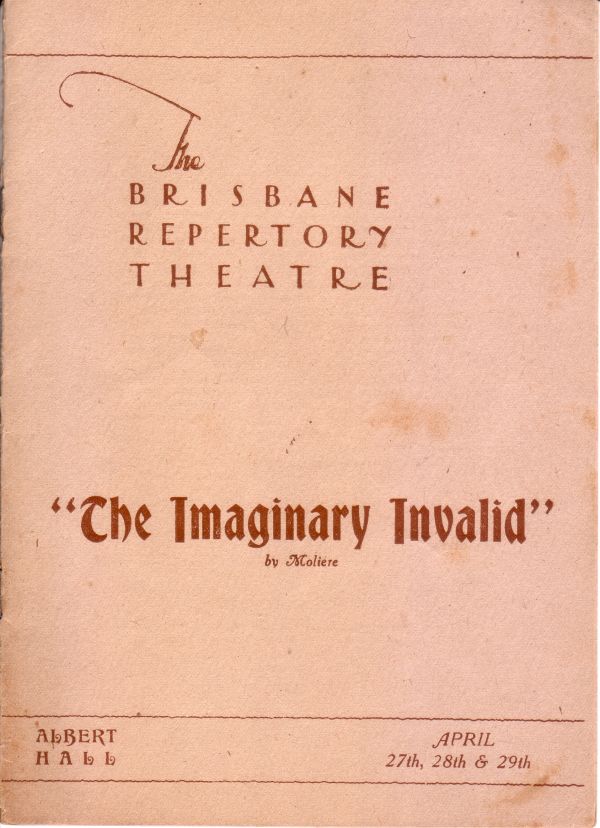 The Imaginary Invalid - Satire In Play About Doctors
Review by 'Te Pana'
The Imaginary Invalid, a play from the French of Moliere by the English humourist P. Ansty, is a fine piece of satire against the medical profession.
Although it is period in its setting, overweighted with words, and employs the ancient theatrical device of the 'aside', Brisbane Repertory Theatre players in Albert Hall last night nevertheless gave it a certain credibility.
Lack of dramatic highlights was compensated for by the good playing of Blair Hefferan, the pert, and pretty lady's maid, and by Alan Denby, her co conspirator. Sound assistance was given by Beryl Peake, Shirley Burrows, Joseph Holt, and little Maureen McGann. Ralph Taylor, in the lead, was a bit out of his depth.
The Courier Mail, 28 April 1949
#Have any photos to share?
We'd love to see your photos of this show and publish them in our archive.
Send us photos