Our History
The Importance of Being Earnest
6 – 8 Aug 1947
---
Venue
Albert Hall, Brisbane
Producer
Brisbane Repertory Theatre
Cast
Franklyn Evans
Mervyn Eadie
Graham Webster
Marjorie Mant
Gwen Wheeler
Elsie Brooks
Patricia Sampey
Harold Cox
David Castle
Estelle Cormack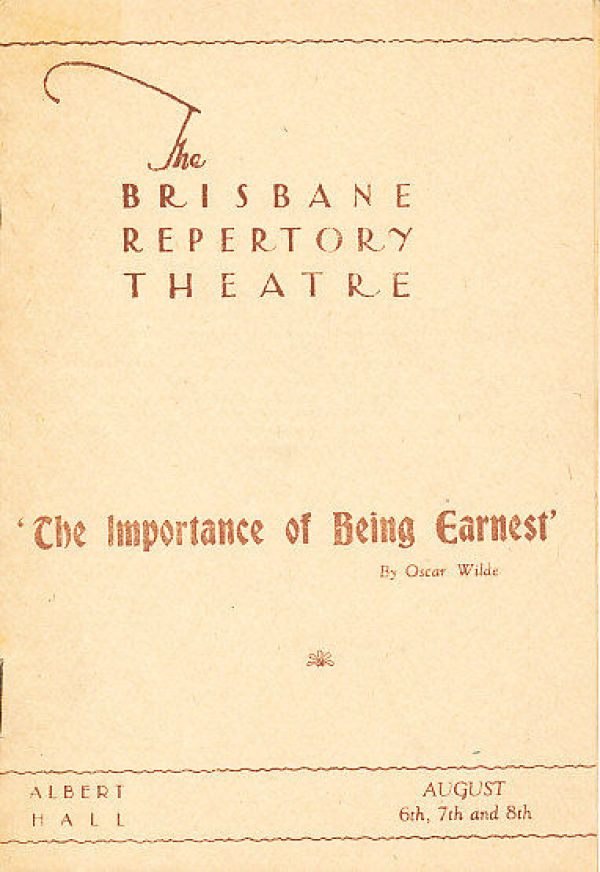 The Importance of Being Earnest by Oscar Wilde (1947)
Theatre critic Doris Waraker wrote in The Telegraph of Repertory's production of The Importance of Being Earnest, "On the whole Alex Foster [director] and his cast were very successful with the artificiality of this difficult piece, and the audience obviously enjoyed the production".
But then proposed these refinements for subsequent performances – really notes for the director! She suggested that "Mr Webster and Mr Cox learn from Miss Brooks and Mr Eadie the difficult art of allowing for laughs; that Marjorie Mant tone down considerably her very exaggerated portrait of Lady Bracknell; and that David Castle and Mervyn Eadie (whose work is outstanding) should refrain from glancing into the stalls" (August 7,1947).
Writer: Christine Comans
#Have any photos to share?
We'd love to see your photos of this show and publish them in our archive.
Send us photos