Our History
A safe place in which to be dangerous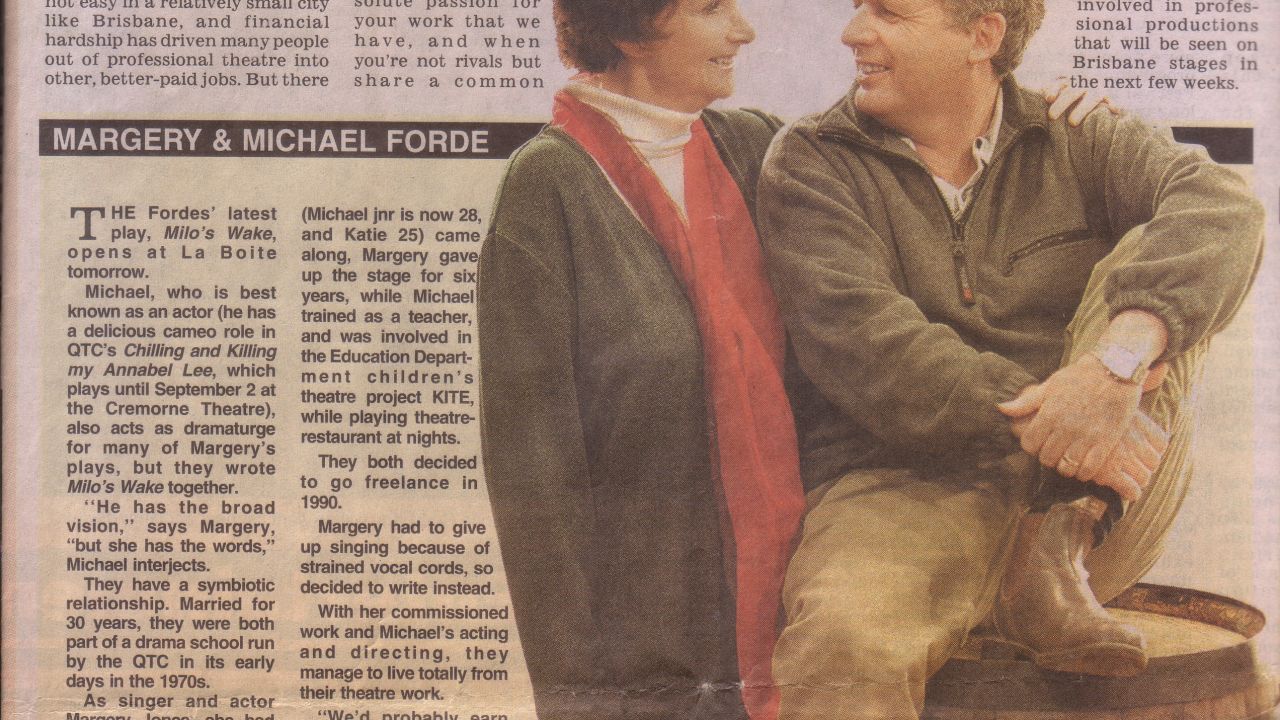 A safe place in which to be dangerous
by Margery And Michael Forde
We remember La Boite as giving the audience, actors and writers a safe place in which to be dangerous. Some of our fondest memories are of those moments where the audience fully participated in what was happening on stage. Suddenly something would occur, (maybe a resonance of all those mirror neurons, who knows?) and the whole house slipped into the reality of the play. The audience became deeply part of the event.
Here are two examples from our own experience.
One night during the run of Milo's Wake, in the scene immediately after interval, Sean Mee as Milo was lying on his coffin. The Irish band, the Wren Boys, began to sing an Irish ballad called Steal Away. Margery happened to be in the audience that night, sitting with Sue Rider, who was then the Artistic Director of La Boite. Gradually, Marge and Sue became aware that they were being surrounded by a beautiful sound. The whole theatre was singing, softly, in harmony with the band. The audience was playing the game – enrolling themselves into Milo's friends gathered together in an Irish pub. They were inhabiting the world of the play. Much theatre participation relies on whipping the audience up into a state of frenetic excitement. This moment was voluntary. It had extraordinary gentleness and beauty. It was a gift to the actors from the audience. It was unforgettable.
Another similar event happened at the closing night of Still Standing. It also involved music. In the final scene of the play, the characters in the play, a rock band, launched into the old rock classic, Friday On My Mind. Suddenly, the whole audience stood and began to dance. Many of them invaded the stage. People were literally dancing in the aisles. Of course, that song has its own power to move people, but we like to think that something else happened. We like to think that the audience, for that moment, were part of the story and that along with the characters in the play, they were celebrating and affirming something about their lives.
La Boite was a beautifully designed space that allowed an intimate connection between the audience - and the actor with a story to tell. It allowed walls to be broken, and became a place where humanity could be shared.
Margery and Michael Forde are playwrights who had their plays performed or toured by La Boite for twelve consecutive years. They have received a number of awards for their work in theatre including AWGIE and Matilda Awards, the Playlab Award for Services to New Writing in Queensland, Australian Writers Guild Awards and nominations, the NSW Premiers Award for Best Stage Play and Centenary Awards for Services to Queensland Theatre and Australian Literature. Michael is also an experienced actor and director who has worked widely throughout Queensland and beyond.
#Have any photos to share?
We'd love to see your photos and publish them in our archive.
Send us photos