Our History
Champagne Memories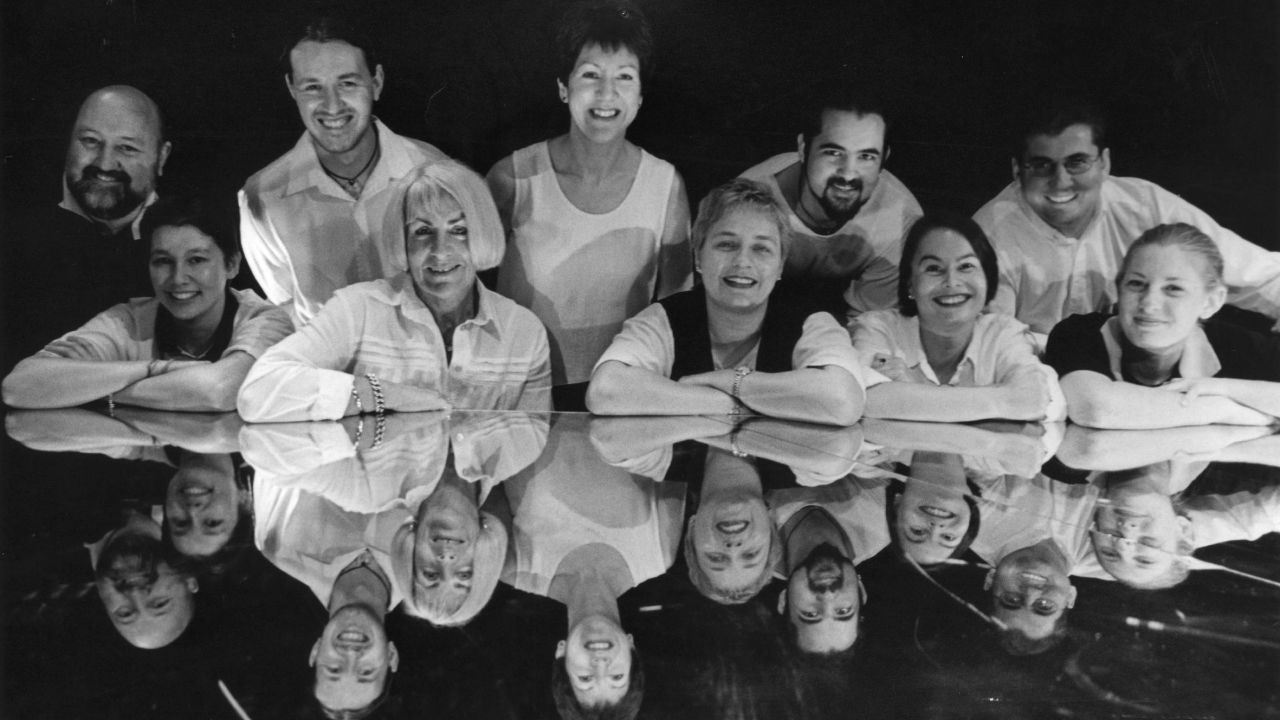 Champagne Memories by Rosemary Walker
During my twenty-two years at La Boite I've worked with lots of great people – Kearney, Annette Kerwitz, Louise Hollingworth, Susan Richer, Louise Gough, Ginny Roberts, Neil O'Brien, Bill Shannon, the Donemans, Tony Auckland, Robby Nason and Mark Lloyd Hunt.
Creatives such as David Walters, Christopher Smith, Alison Ross, Greg Clarke, Bill Haycock, Noelene Hill, Matt Scott and writers such as Stephen Sewell, Michael and Margery Forde, Hilary Beaton, Philip Dean, Nick Earls and David Williamson. From my earliest days at La Boite I have particularly fond memories of Jim Vilé, Jill Standfield and Ian Leigh Cooper. And it's been great to work with six different artistic directors with six different personalities, ideas and views. To me, La Boite has a history of being connected with strong women, from when it was founded in 1925 by Barbara Sisley, to Babette Stephens, Jennifer Blocksidge, Rikki Bourke, Lesley Ricketts, Eileen Beatson, Muriel Watson, Sue Rider and Deb Murphy.
Lots of things happened during my time and I often reckon some of my stories would make a good play. At Hale Street, our offices were flooded many times, there were possums and rats in the roof of the theatre, and patrons getting peed on by possums in the courtyard. And I was always too scared to be at the theatre by myself at night because of Irene the ghost! When we had a fire and one of the cottages burnt down, the insurance company thought we'd lit it deliberately and took ages to pay out. Then we had the community service worker (an ex-accountant) who was in a half way house doing time for fraud – she seemed a really nice person and convinced us she was wrongly imprisoned. And when she offered to do the books and banking it seemed like a dream. Wrong! She stole $20,000 and ended up back in jail. On another occasion we had a community service worker who became the cleaner – he always had the coffee brewing when we got to work. But we didn't know he was an alcoholic and was pinching all the beer from Alice's Hole (a difficult to access storage area). Another time a community service guy was found growing hash in our courtyard amongst the plants!
For many years I did the opening night catering. Gerowyn Lacaze would always cook the fillet of beef, I'd do the quiches and savouries, we'd make sandwiches, do fruit platters - all in that tiny kitchen downstairs in Hale St. I can't forget Da Da La Tarte who made all the savouries for free, Hans Contintental Smallgoods donated the cold meat and Aromas gave us coffee. Then in the mid 1990s I met the wonderful Tom Burke of Caxton St Catering and he became my friend and major La Boite sponsor. One of my fondest memories was coming out to the foyer at the end of the opening night play and just wondering what magical delight Caxton St Catering had come up with.
I've tried to work out just how many opening nights, early weeks, festivals, La Bambas I've been to in twenty-two years and roughly I reckon it's about 208. And - you better believe it – I've never worn the same outfit twice!
Rosemary Walker (formerly Herbert), La Boite's Public Relations Manager and longest serving employee was awarded a Centenary Medal for distinguished service to theatre and the performing arts in 2001 and the following year was awarded the inaugural Ashley Wilkie memorial award for outstanding contribution to theatre public relations. One of her mottos over the years has been "never pay for anything if it can be avoided and certainly never full price". She left the Company in 2007 to start her own business.
#Have any photos to share?
We'd love to see your photos and publish them in our archive.
Send us photos
The classic Rose story was at APAM in Adelaide. Early one morning rose opened he hotel bedroom door to get her room service breakfast. She was of course make.... and as if in a scene from a farce the door closed behind her. She had to steal the paper from out side the next room, wrap it round her and make her way down to the lobby to get another key

So many laughs we had Rose. You were part of the Brisbane theatre DNA. Much love Vera Ding xxxx
—Vera Ding
Submit your story