Our History
The Final Bow at Hale Street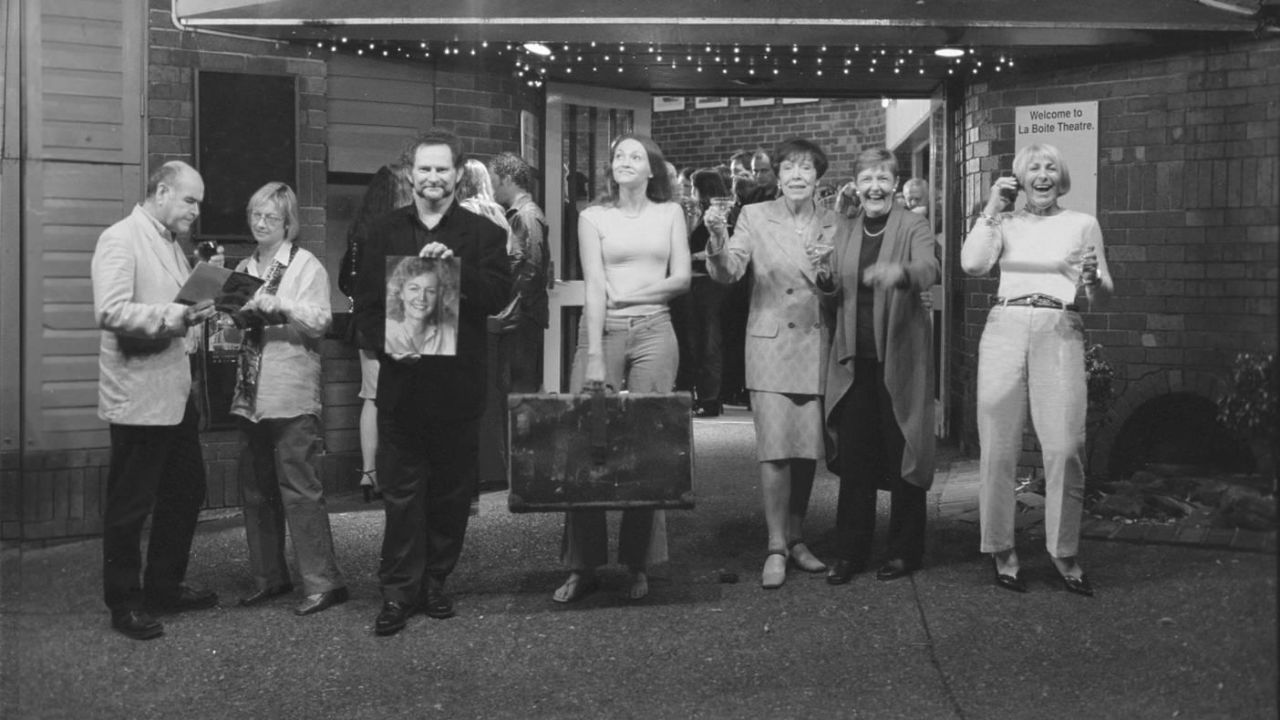 To have 'a home of our own' had been a recurring motif for Brisbane Repertory Theatre from the late 1920s. Long frustrated in its ambition, the Theatre moved strategically towards this goal, first by purchasing real estate in Hale, Sexton and Sheriff Streets in Milton in the 1950s and 60s, then erecting a purpose-built theatre in the round on the Hale Street property in 1973.
The collateral that property ownership gave La Boite sustained it through a number of potentially 'door-closing' episodes up to and including 1992. But soon after, it became increasingly clear that the whole La Boite precinct was becoming a millstone round the Company's neck. The Company had outgrown it and the great march of progress in the immediate environment sounded its death knell.
Facing perhaps the most serious crisis in its history, La Boite was guided by a Board and key staff who weren't afraid of change; who had a strong conviction that if La Boite was cut loose from its Hale Street moorings, it would not sink; that La Boite 'the Company' was stronger than La Boite 'the Building'. A number of times throughout its history, decisions have been made that have gone against the wishes of some of La Boite's constituency. Such was the case in the relocation drama. However, such also was the loyalty it could call upon that there was, eventually, general acceptance of the inevitability of major change. Indeed, the three key leaders of this period – Artistic Director Sean Mee, General Manager Craig Whitehead and Board Chair Athol Young – were adamant that their actions were protecting the integrity of purpose and the "living tradition" of La Boite.[1]
On his appointment as Artistic Director in October 2000, Sean Mee interpreted the Board's call for a new strategic direction to mean "that the theatre company has to be re-located both physically and creatively to a new space"[2]. The first task, the physical re-location of the Theatre, was presented to Mee as a matter of urgency. Coupled with the increasingly overpowering presence and expansion plans of the neighbouring Lang Park Football Stadium (now Suncorp Stadium), the Theatre's physical deterioration and outgrowing of its 200 seating capacity, La Boite had to face a very difficult reality: that its iconic building, unique in Australia, might be reaching the end of its life. When the scope and scale of the stadium re-development rendered any future in its present location virtually impossible after 2003, the Board conceded that the company's days at Hale Street were numbered, and that indeed its days as a theatre company were also numbered if a solution was not found.
The story of its relocation is a long, dramatic and convoluted one! Suffice it to say that a location was found when the Queensland University of Technology agreed to include a theatre building for La Boite in its innovative plans for a Creative Industries Precinct within an 'urban village' setting at Kelvin Grove. The Queensland Government, acknowledging the importance of La Boite to the State's continued cultural vitality, funded the company's move to the Roundhouse at Kelvin Grove.
Fittingly, to coincide with the imminent 'removal' of the Company from its Hale Street premises, the last mainhouse production in that iconic space was The Removalists by Australia's most eminent playwright, David Williamson – a work, his most celebrated, as old as the Hale Street theatre itself. Wrote reviewer Kate Douglas, "The Removalists is as close as it gets to being the quintessential 'New Wave' Australian theatre classic, and as fitting a choice as any for the last show … The decision strikes the right blend of nostalgia and homage for such an occasion."[3] Directed by Lewis Jones, designed by Chris Willems with lighting design by Mark Lloyd Hunt, it featured Paul Denny, Gyton Grantly, Peter Knapman, Barbara Lowing, Zoe Naylor and Errol O'Neill. "Marvel at the performances of six of our finest actors", wrote Brett Debritz, "and pause to reflect on La Boite's immeasurable (and ongoing) contribution to Brisbane's cultural life".[4] The sell-out, extended season, attended by Williamson himself on opening night, was a triumphant way to end thirty-one years of uninterrupted theatrical activity in La Boite's theatre-in-the-round.
The Company's optimism about its move to The Roundhouse was, naturally, tempered by a sense of sadness at having to leave forever such a well-loved building. To the Company's credit however, it turned that final year in the Hale Street premises into one of celebration. Take the valedictory season brochure titled "2003 On The Move" as an example (see the featured photograph in this section). The cover photograph was cleverly composed to draw attention to and celebrate the Company's history in that precinct and, at the same time, to generate a feeling of excitement about moving out and moving on. In the line-up (photographed in the entrance to La Boite) are two long standing subscribers, Bill and Wendy Parkinson, representing decades of audiences as well as sustained constituency loyalty, a characteristic of the Company that harks back to its days as Brisbane Repertory Theatre Society. Next to the Parkinsons stands Sean Mee representing the current 'drivers of change'; he is holding a photograph of Jennifer Blocksidge, the first 'honorary' artistic director of La Boite in its new Hale Street premises, the 'change agent' whose transformation of the Theatre and vision for its future reverberated through the decades. A young actress Kylie Morris is next, standing with suitcase packed, eager to be off and part of La Boite's future, whatever and wherever that might be. Then there is Muriel Watson, distinguished 'elder' of the Theatre and performer in Look Back in Anger, the first play staged in the original La Boite cottage. Standing beside her is Kaye Stevenson, also an eminent member of the La Boite community, former Board member and performer in A Refined Look at Existence, the play that opened the purpose-built La Boite. And finally there is Rosemary Walker, the longest serving employee and public relations manager extraordinaire.
On the eve of departure, the past was honoured in a theatrical 'goodbye' to all the memories associated with the Hale Street theatre and also, for some older members, memories of the original La Boite in the timber cottage. Under the leadership of Rosemary Walker and Jim Vilé, and stage managed by Annette Kerwitz, this 'goodbye' was a celebration – a two night sold-out season of theatrical memories called The Final Bow, created and presented by former and present La Boite theatre makers representing each of the decades since the 1960s.[5] This was a celebration, in Mee's words, of "a unique form of theatre-making, defined by the closeness, the dynamic interaction between audience and actor, the intensity of emotion and the sense of adventure that the space inspires." [6]A highlight of the event was Kaye Stevenson's personal reminiscences about major events in La Boite's 'life' in the Hale Street precinct; as her involvement began in 1968 and included performances in twenty-three productions, she had much to recount. Let her final words on that historic occasion end this part of the story: [7]
Here we are 31 years later saying farewell to this wonderful place which holds so many memories for so many people. So much joy, excitement, expectation, terror, sweat, laughter and tears held in the memory of these bricks, out here in this arena – and boy, if those tunnels could talk.
Many, many actors, designers, stage managers and writers learned their craft here, and many a theatre-goer discovered, or re-discovered the thrill of live theatre in this intimate space, and the even more intimate space that preceded it.
So, as we leave, and close the doors for the last time, don't forget where we came from, and the people who went before us and gave us the opportunity to keep forging ahead.
Let us take out memories with us, so that the ghosts that inhabit this warm and welcoming space, might come with us to our new home, and encourage us to go on to even greater glories.
Thank you to this dear, dear place.
By the end of 2003, after selling the Hale Street property for $1 million, La Boite Theatre Company had moved into the $4.3 million purpose-built 400 seat Roundhouse Theatre complex on a 25 year lease. It was a momentous decision in La Boite's history to sacrifice a much loved Australian theatre building and the security of real estate, for another kind of future in a very different environment. But to have stayed at Hale Street may well have handed a death sentence to La Boite Theatre Company. It had long outgrown the facility. It was definitely time to move on.
Mee's other brief from the Board was to re-locate La Boite 'creatively'. In every one of La Boite's seasons between 2001 and 2009, Mee exclusively programmed Australian works, either commissioned new works, Australian works of contemporary currency, or works that fell into the category of "Australian icons". Under his artistic directorship, the company increasingly embraced the programming of new Queensland works commissioned through La Boite. In fact between 2004 and 2009 Mee's seasons consisted almost exclusively of new or extant Queensland works, a strategy which worked extremely well, with the company's gross box office totalling well over $2 million. For Mee, this was proof that he had found an audience which previously did not go to the theatre and who were relishing seeing their own Queensland stories told on the Roundhouse stage.
Writer: Christine Comans
#Have any photos to share?
We'd love to see your photos and publish them in our archive.
Send us photos
I had the privilege to be in the audience of THE FINAL BOW. If I remember correctly, Sean Mee closed the performance by leading the audience into song...

He sang "Steal Away" and the moment was so beautifully bitter-sweet. Everyone in the auditorium got to their feet and sang and swayed and cried. I always admired that choice of farewell song. It felt like the only way to say goodbye to something you didn't really want to part with.

"Steal Away" by Jimmy Hughes.

Steal away let's steal away
No reason left to stay
For me and you
Let's start a-new
And darling steal away

Steal away and chase some dreams
And hope they never find us
The dreary days
The empty nights
We'll leave them all behind us

(chorus)

We'll leave behind the city streets
The gloom and desolation
The rain the cold
Just growing old
God knows it's a hard old station

(chorus)

We'll leave with just a memory
And make a new beginning
We have to choose
To win or lose
And it's time we started winning
—Shari Irwin
Submit your story