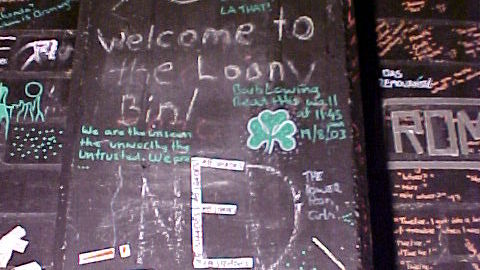 The Tunnel
An iconic space for random acts of graffiti committed by generations of actors and techies!
In 2003, La Boite's last year in its beloved La Boite Theatre in Hale Street, La Boite's Artistic Associate Ian Lawson and actor Barbara Lowing got to work with their cameras. Their mission was to lovingly document the artistic endeavours of generations of actors and techies left behind on the walls of The Tunnel. There was no time to lose. The company's final production of David Williamson's The Removalists was underway. Barbara was playing Kate but found the time, in between rehearsals and the season's run, to take a series of pics of the walls of that iconic space, to preserve it in for posterity. Ian was busy co-ordinating The Final Bow but made it a priority to record in detail the 'art work' on the tunnel walls of the old building before it closed its theatre doors forever. He was able to record for us drawings on the wall dating back to the 1988 production of Soft Targets.
But what, I hear the younger generation say, was so remarkable about the Tunnel and its Walls? Well, you had to experience it to know it! It was in these tunnels beneath the four-sided tiered audience seats, that actors awaited their cues to make their entrances and into which they exited.
With a long wait between entrance cues, what was an actor to do when bare tunnel walls were beckoning and chalk or large felt pens seemed always to be at the ready? Since the building was opened in 1972 until its final bow in 2003, those tunnel walls were drawn upon and written upon, the recipients of many an inspired moment – there were witty comments about the current production, autographs and play titles just to show you'd been there, , dirty ditties about anything at all, suggestive drawings just for a laugh, a love poem for someone you fancied, threats from techies (If you drink or smoke in here you DIE!), cue lines in case you dried just before your entrance, cartoon depictions of each other – all to be periodically painted over or rubbed off the bricks, so that the tradition could start again!
So thank you Ian and Barbara for sending me your tunnel photos.
Writer: Christine Comans
#Have any photos to share?
We'd love to see your photos and publish them in our archive.
Send us photos