Our History
Oodgeroo - Bloodline to Country
2 Jun – 11 Jul 2009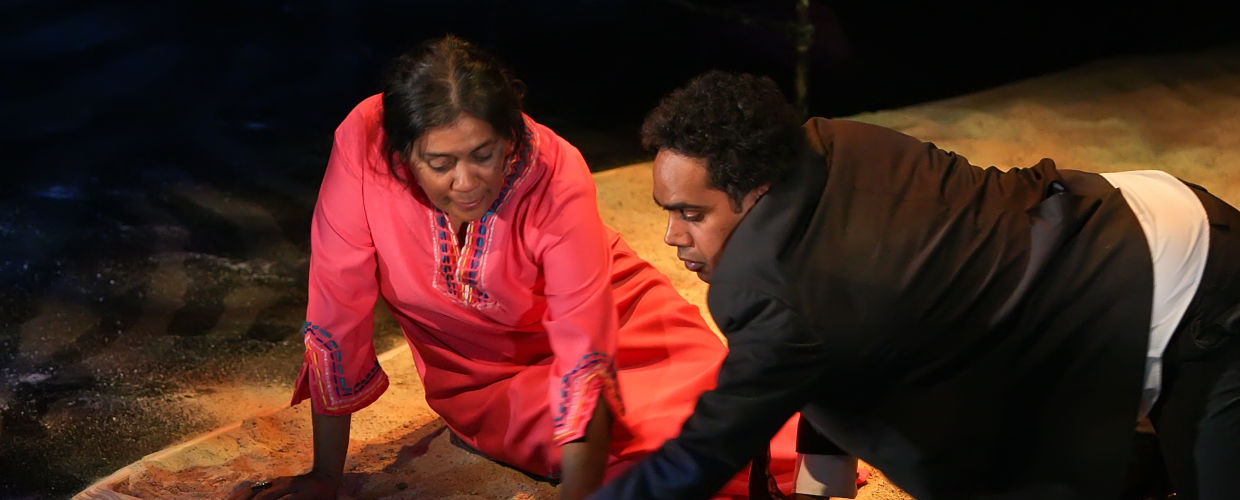 Venue
Roundhouse Theatre, Kelvin Grove
Producer
La Boite Theatre Company
Cast
Roxanne McDonald
Darren Brady
Simon Hapea
Jonathan Brand
Rhonda Purcell
Emma Pursey
Costume Designer
Helen Jacobs
Lighting Designer
Jason Organ
Artistic Director David Berthold wrote:
Oodgeroo, another La Boite commission, took a distinctive and welcome angle on the remarkable life of this great Australian figure of letters and politics. How fantastic it was to witness Roxanne McDonald bring Oodgeroo to such sensitive life, and to have Sam Watson working in our theatre. It drew large audiences, many new to La Boite, and enabled us to forge new friendships with Indigenous artists and organisations.
The critics said:
I doubt any actor other than Roxanne McDonald could have given us this multifaceted Oodgeroo, her restrained anger and pain ameliorated by a compassionate rationality. Simon Hapea, as both Dennis and the terrorist, vibrates with such dangerous anger that you want to duck every time he appears. Jonathan Brand, Rhonda Purcell and Emma Pursey are a fine supporting cast. - Sue Gough, The Courier Mail
One cannot but be moved by the passion of the piece… Oodgeroo is an important piece of theatre. Far too important for the short season it has been given at the Roundhouse Theatre. Make sure you see it. - Nigel Munro-Wallis on 612 ABC Brisbane
Source: La Boite's 2009 Annual Report
#Have any photos to share?
We'd love to see your photos of this show and publish them in our archive.
Send us photos