Our History
The Final Bow
27 Sep 2003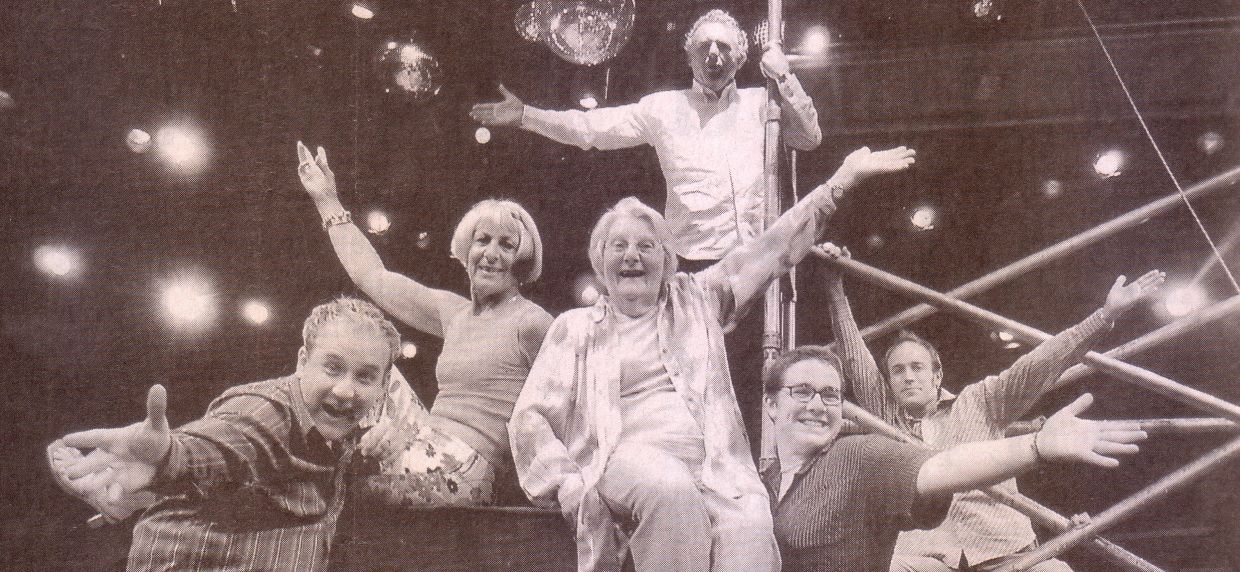 Venue
La Boite Theatre, Brisbane
Cast
The Final Bow Cast & Crew:
Paul Dellit, Jim Vilé, Kaye Stevenson, Rosemary Herbert, Annette Kerwitz, Mark-Lloyd Hunt, Carita Farrer, Kym Ford, Sharon-Lee Marlin, Chris Maver, Hayden Spencer, Christine Comans, Dianne Eden, Carita Farrer, Jennifer Flowers, Sally McKenzie, Errol O'Neill, Rod Wissler, Chris Burns, Katrina Devery, Patrick Leo, Tony Longland, Kym Lynch. Narelle McCoy , Sean Mee, Betty Nicholson, Rosamund Vidgen, Margie Brown-Ash, Sue Dwyer, Michael Forde, Margery Forde, Elise Greig, Donald Hall, Peter Knapman, Bev Langford , Allen Laverty, Barbara Lowing ,Veronica Neave, Yalin Ozucelik, Anne Roylance, Renae Simpson, Ian Lawson, Andrew Buchanan , Liz Buchanan, Karen Crone, Paul Denny, Barbara Fordham, Kevin Hides, Josh McWilliam, Danny Murphy, Andrew Nason, Sarah Ogden, Gary Nunn, Ross Smith, Tamara Kalocsai, Patricia Miller, Denbee Newton, Anika Vilée, Rick Caskey, David Pyle, Toni Mott, Ewen MacKenzie.
The Final Bow
On the eve of departure, the past was honoured in a theatrical 'goodbye' to all the memories associated with the Hale Street La Boite theatre and also, for some older members, memories of the original La Boite in the Sexton Street timber cottage. Under the leadership of Rosemary Walker and Jim Vilé, and stage managed by Annette Kerwitz, this 'goodbye' was a celebration – a two night sold-out season of theatrical memories called The Final Bow, created and presented by former and present La Boite theatre makers representing each of the decades since the 1960s. This was a celebration, in Artistic Director Sean Mee's words, of "a unique form of theatre-making, defined by the closeness, the dynamic interaction between audience and actor, the intensity of emotion and the sense of adventure that the space inspires."[i] A highlight of the event was Kaye Stevenson's personal reminiscences about major events in La Boite's 'life' in the Hale Street precinct; as her involvement began in 1968 and included performances in twenty-three productions, she had much to recount. Let her final words on that historic occasion end this part of the story: [ii]
Here we are 31 years later saying farewell to this wonderful place which holds so many memories for so many people. So much joy, excitement, expectation, terror, sweat, laughter and tears held in the memory of these bricks, out here in this arena – and boy, if those tunnels could talk.
Many, many actors, designers, stage managers and writers learned their craft here, and many a theatre-goer discovered, or re-discovered the thrill of live theatre in this intimate space, and the even more intimate space that preceded it.
So, as we leave, and close the doors for the last time, don't forget where we came from, and the people who went before us and gave us the opportunity to keep forging ahead.
Let us take out memories with us, so that the ghosts that inhabit this warm and welcoming space, might come with us to our new home, and encourage us to go on to even greater glories.
Thank you to this dear, dear place.
Writer: Christine Comans
#Have any photos to share?
We'd love to see your photos of this show and publish them in our archive.
Send us photos
I had the privilege to be in the audience of THE FINAL BOW. If I remember correctly, Sean Mee closed the performance by leading the audience into song...

He sang "Steal Away" and the moment was so beautifully bitter-sweet. Everyone in the auditorium got to their feet and sang and swayed and cried. I always admired that choice of farewell song. It felt like the only way to say goodbye to something you didn't really want to part with.

"Steal Away" by Jimmy Hughes.

Steal away let's steal away
No reason left to stay
For me and you
Let's start a-new
And darling steal away

Steal away and chase some dreams
And hope they never find us
The dreary days
The empty nights
We'll leave them all behind us

(chorus)

We'll leave behind the city streets
The gloom and desolation
The rain the cold
Just growing old
God knows it's a hard old station

(chorus)

We'll leave with just a memory
And make a new beginning
We have to choose
To win or lose
And it's time we started winning
—Shari Irwin
Submit your story