Our History
The Popular Mechanicals
10 – 27 May 2000
---
Venue
Brisbane Powerhouse, New Farm
Playwright
Keith Robinson, William Shakespeare &
Tony Taylor
Cast
Andrew Buchanan
Carita Farrer
Damien Garvey
Lewis Jones
Lesley Marller
Scott Witt
A.N.Other
Costume Designer
Christopher Smith
Set Designer
Christopher Smith
Lighting Designer
David Walters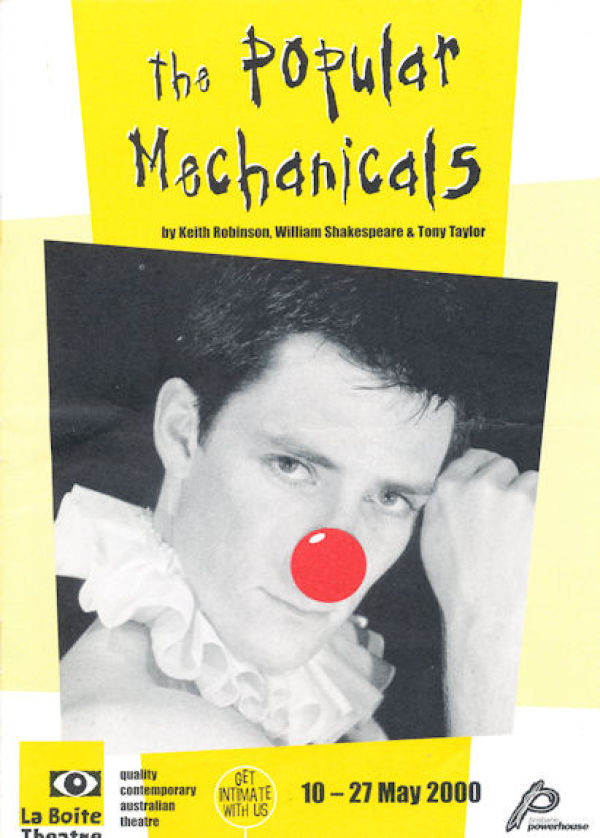 The Popular Mechanicals
Director's Note
Theatre is the place where dreams can happen. a place for aspiration and inspiration. A place where, with trust, imagination, suspension of disbelief, the ordinary can become extraordinary and the mundane, magic.
The new Brisbane Powerhouse brings thrilling opportunities to Brisbane. For La Boite Theatre it provides an exciting chance to extend on our activities in Hale Street, to work our style of playing in a different space, to grow artistically and as a company.
To take the first steps in a new theatre, to initiate the magic-making, is an exhilarating as well as a humbling experience. As we have watched the Brisbane Powerhouse taking shape around us, it has seemed a building site for so long, far removed from the magic of theatre: a different world, in which we as theatre-makers are intruders. As the date nears for us to move in, I wonder how often the people on site have had the chance to step back from their work and consider the potential of what they are creating. Do they conjure lights and sounds? Do they imagine a packed audience and thunderous applause? Do they dream of stepping on stage, of acting a part? In Shakespeare's play, A Midsummer Night's Dream, six workers aspire to present a play for the Royal Wedding. We see their efforts and their antics in the framework of the Royal Court and the supernatural fairy world. We love them for their simplicity, laugh at their homespun ways and forgive their stumbles as they perform their play in the royal presence. In the marvellous irreverence of The Popular Mechanicals, Keith Robinson and Tony Taylor have thrown Shakespeare to the mercy of Australian larrikin humour and placed the lowly workers centre stage. This is A Midsummer Night's Dream without the Royals. Shakespeare's mechanicals become the stars, the kings of their own world, where dreams can come true, if only for a moment. With the innocence of clowns they love life, feel joy, know fear, bear sadness. In the end it is we the audience who become the Royal presence, to judge them if we dare.
On one level, The Popular Mechanicals is just a whole lot of fun. On another, it is a fairy-tale. On yet another, it is a celebration of the magic of theatre and the fulfilment of dreams. Our production in the Powerhouse Theatre is also a celebration of all who have contributed to the creation of that magic. Planners, producers, performers, spectators, constructors of the venue in which we gather and connect, this is for you - for we are all builders of dreams.
Sue Rider, Artistic Director
#Have any photos to share?
We'd love to see your photos of this show and publish them in our archive.
Send us photos