Our History
The Removalists
7 – 30 Aug 2003
---
Venue
La Boite Theatre, Brisbane
Producer
La Boite Theatre Company
Director
Lewis Jones
Stage Manager: Anika Vilee
Assistant Stage Manager: Daniel Sinclair
Playwright
David Williamson
Cast
Paul Denny
Gyton Grantley
Peter Knapman
Barbara Lowing
Zoe Naylor
Errol O'Neill
Costume Designer
Marada Manussen
Set Designer
Chris Willems
Lighting Designer
Mark Lloyd Hunt
Sound Designer
Campbell Misfeld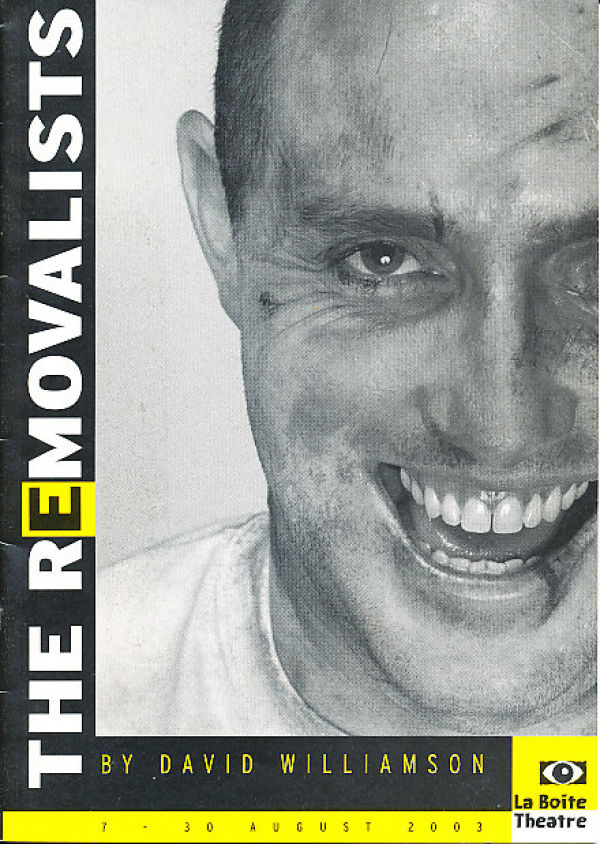 The Removalists
Fittingly, to coincide with the imminent 'removal' of the Company from its Hale Street premises, the last mainhouse production in that iconic space was The Removalists by Australia's most eminent playwright, David Williamson – a work, his most celebrated, as old as the Hale Street theatre itself.
Wrote reviewer Kate Douglas, "The Removalists is as close as it gets to being the quintessential 'New Wave' Australian theatre classic, and as fitting a choice as any for the last show … The decision strikes the right blend of nostalgia and homage for such an occasion."[i]
Directed by Lewis Jones, designed by Chris Willems with lighting design by Mark Lloyd Hunt, it featured Paul Denny, Gyton Grantly, Peter Knapman, Barbara Lowing, Zoe Naylor and Errol O'Neill. "Marvel at the performances of six of our finest actors", wrote Brett Debritz, "and pause to reflect on La Boite's immeasurable (and ongoing) contribution to Brisbane's cultural life".[ii] The sell-out, extended season, attended by David Williamson himself on opening night, was a triumphant way to end thirty-one years of uninterrupted theatrical activity in La Boite's theatre-in-the-round.
#Have any photos to share?
We'd love to see your photos of this show and publish them in our archive.
Send us photos