Our History
The Secret Death of Salvador Dali
5 – 21 Oct 2000
---
Venue
La Boite Theatre, Brisbane
Director
Scott Maidment & Sue Rider
Cast
Julie Eckersley
Trevor Stuart
Stunt violinist: Shenzo Gregorio
Costume Designer
Alison Ross
Lighting Designer
Mark Lloyd Hunt
Sound Designer
Justin Tressider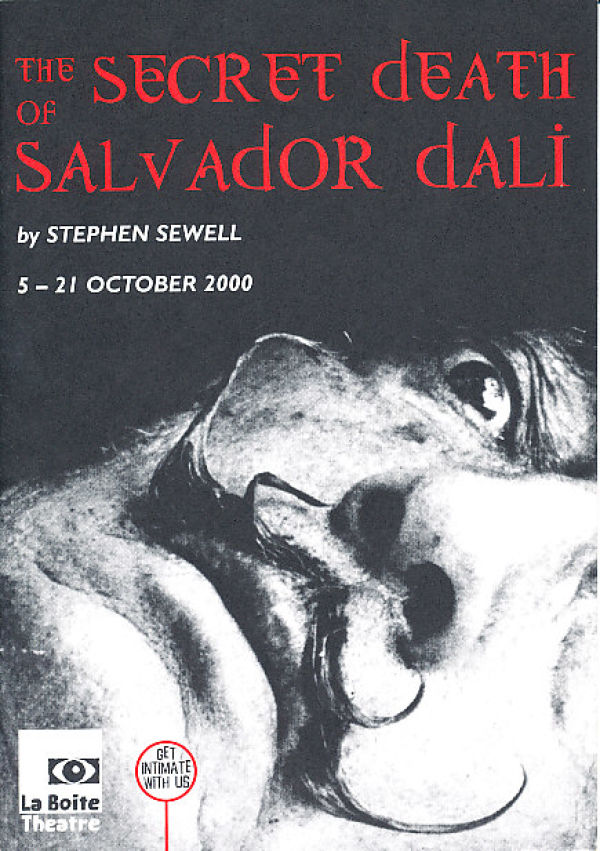 The Secret Death of Salvador Dali
An exciting first-time collaboration between Strut and Fret Production House, La Boite Theatre and the Energex Brisbane Festival, The Secret Death of Salvador Dali drew together established senior theatre artists with some of Brisbane's most exciting young professionals.
This rumbustious romp through the life of the notorious painter Salvador Dali is written by one of Australia's defining playwrights, Stephen Sewell. With rapid doubling and a heightened burlesque style, the play, directed by Scott Maidment, explores themes of surrealism and reality in the face of death as Dali revisits the demons of his life, probing fundamental questions about life, art, sex and the universe.
Acclaimed as a hit of the 2000 Brisbane Festival, The Secret Death of Salvador Dali was outrageous theatre which pushed the boundaries of public expectations and good taste to take the audience on a rollercoaster ride of grotesquerie, bawdiness, supreme arrogance and, finally, human vulnerability. Critics praised the inventive direction, imaginative design and lighting which evoked Dali's paintings, as well as the performances of Trevor Stuart and Julie Eckersley, who, in a dazzling tour de force, both played the eccentric painter and poseur (with trademark moustache) as well as all the people in his life, musically supported by the brilliant and enigmatic Shenzo Gregorio.
It excited excellent media interest and played to packed houses easily exceeding its expected income.
"Imaginative, clever and repulsive all at the same time" TIME OFF
"You are going to love the romp through the life and madness of this notoriously eccentric artist. This is a lobster of a performance" SCENE MAGAZINE
"This is the type of provocative, challenging and stimulating theatre we look to La Boite for." RAVE MAGAZINE
Reference: La Boite Theatre: 2001 Annual Report
#Have any photos to share?
We'd love to see your photos of this show and publish them in our archive.
Send us photos