Our History
Zigzag Street
18 Feb – 13 Mar 2004
---
Venue
Roundhouse Theatre, Kelvin Grove
Playwright
Philip Dean adapted from the novel by Nick Earls
Dramaturg: Sean Mee
Cast
Mark Conaghan
Caroline Dunphy
Cara McIlveen
Melissa McMahon
Yalin Ozucelik
Costume Designer
Bill Haycock
Lighting Designer
David Walters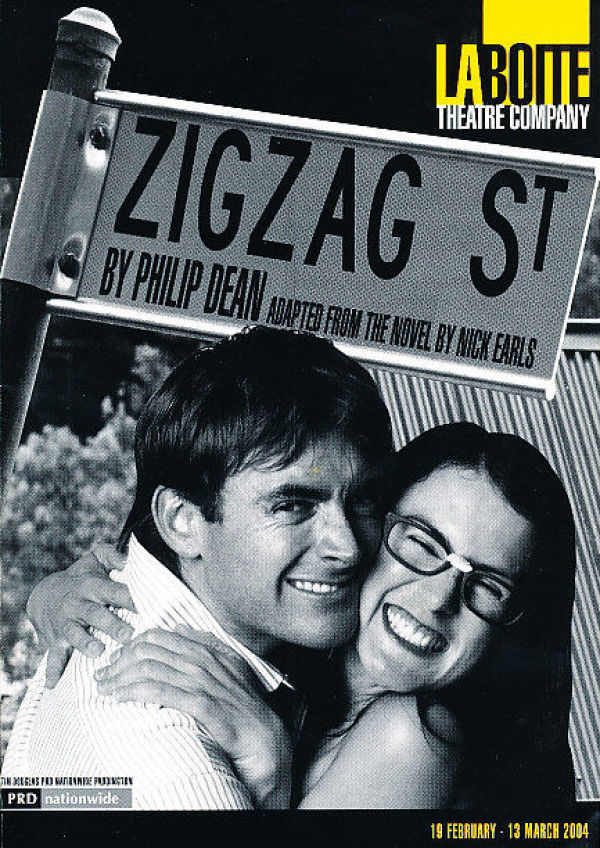 Zigzag Street
In 2004, for the first time in the Company's history, audiences were presented with an entire season of new plays by resident Queensland writers – "our voices, our stories, our journeys", as Mee described them.[i] The first production in The Roundhouse signalled this new direction. It was Nick Earl's Zigzag Street adapted for the stage by Queensland playwright Philip Dean. An international best-seller as a novel, it was a 'best-seller' play for La Boite. Directed by Jean-Marc Russ, designed by Bill Haycock with lighting design by David Walters, Zigzag Street was a brilliant debut for the Company in its new home.
Zigzag Street was followed by three more La Boite commissions in 2004: The Mayne Inheritance by Errol O'Neill, James & Johnno by Margery Forde and Michael Forde, and Urban Dingoes by Norman Price. The final production for the year was Wicked Bodies by Angela Betzien, a co-production with Zen Zen Zo Physical Theatre Company. By 2005 subscription numbers had increased by a healthy 20%, a great start for the Company in its new home.
Writer: Christine Comans
---
[i]2004 La Boite Season Brochure.
#Have any photos to share?
We'd love to see your photos of this show and publish them in our archive.
Send us photos