Our History
Boy Girl Wall
March 30th, 2011 - April 17th, 2011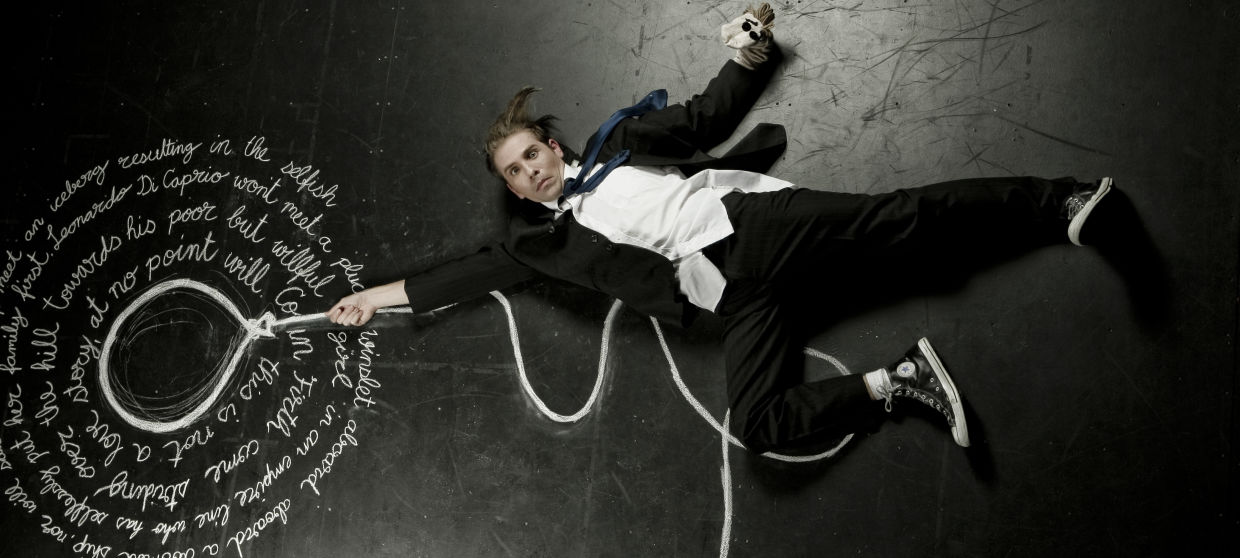 Venue
The Roundhouse, Kelvin Grove
Producer
The Escapists
La Boite Theatre Company
Director
Matthew Ryan
Lucas Stibbard
Neridah Waters
Sarah Winter
Playwright
Matthew Ryan
Lucas Stibbard
Set Designer
Jonathon Oxlade
Lighting Designer
Keith Clark
Artistic Director David Berthold wrote:
La Boite sits at the nexus of many practices and so it is important to us, and to others, that we provide good pathways for artists and projects. It is very easy for a small, fledgling show to disappear and it is good news when companies such as La Boite can give new life to small things to help make them stronger. Such was the case with boy girl wall.
We saw a small version of the new piece from The Escapists at Metro Arts in 2010 and thought it had potential. We helped reshape the show for our much bigger space, encouraged a new design and some rewriting, and placed it in our main season. It turned out to be wonderful success, with Lucas Stibbard's brilliant performance becoming the talk of the town and earning him a national Helpmann Award nomination for Best Actor. The April season sold out, and we were then able to find space in the theatre for a further eleven performances in September in collaboration with the Brisbane Festival. This was also on its way to selling out when Lucas fell ill, meaning that we had to cancel the final three performances – about $20,000 worth of tickets. A disappointing end to a great success story – but not really an end, for boy girl wall tours to 25 venues across Queensland, New South Wales, Victoria, Tasmania, the ACT and the Northern Territory in 2012.
The critics said:
He could do stand-up at the Olympics for Australia - I'm sure he'd get a Gold...This is one that could genuinely go anywhere - New York, London, the Edinburgh Festival - and I am sure he would have a worldwide hit. A great show, a great achievement... (Lucas Stibbard) is a great talent. 612 ABC
You must see this show...There are a million magical moments... The Escapists have created a production that will live in audiences' memories for many years, make them smile, and never look at their socks in the same way. artsHub
I felt like my favourite flash animations and local indie films had joined forces to produce a stage play… the ride has you grinning, arms in the air, already dying to go again. Rave
Source: La Boite's 2011 Annual Report
#Have any photos to share?
We'd love to see your photos of this show and publish them in our archive.
Send us photos
We actually played twice that year. The show came back for a return season as part of Brisbane Festival from the 15th to the 25th of 25th of September 2011.
—Lucas Stibbard
I'd worked for La Boite for 11 years. Not until the Brisbane Festival return season of BOY GIRL WALL had I ever seen 300+ patrons line up to take their seats - a giant snake of people stretching out the theatre doors, through the foyer, into the parade ground, past the QUT offices and down to the fashion design studios. I remember standing back and just admiring the enormous queue - it was astounding - everyone happy, chatty and eager to see the show. I thought, and maybe I even said it out aloud, "This is what a 'hit' looks like!"
—Shari Irwin
Submit your story