Our History
The Harbinger
August 11th, 2012 - September 1st, 2012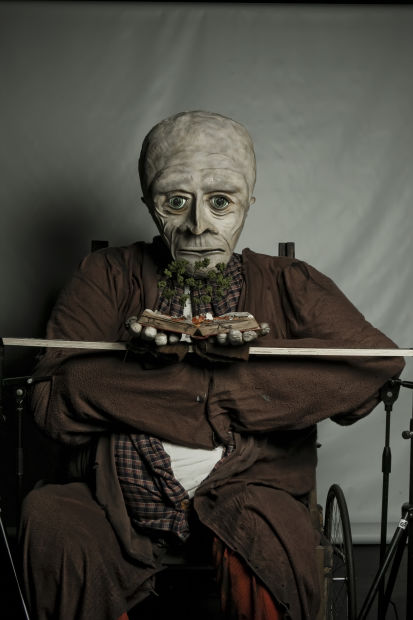 Venue
Roundhouse Theatre, Kelvin Grove
Producer
Dead Puppet Society
La Boite Theatre
Director
David Morton
Matthew Ryan
Playwright
David Morton
Matthew Ryan
Cast
Kathleen Iron
Barbara Lowing
Niki-J Price
Anna Straker
Giema Contini
Costume Designer
Noni Harrison
Lighting Designer
Whitney Eglington
Sound Designer
Tone Black Productions
Artistic Director David Berthold wrote:
The Harbinger displayed the value of La Boite Indie and the flair of Dead Puppets Society. When we saw this piece as part of La Boite Indie in 2011, we thought it had real prospects. We invited the DPS team to rework the show and to deliver it in our mainhouse. I'm so glad we did. We thought this considerably revised version might still sit as a boutique experience, but it ran the box office hard. This has given DPS a huge boost as a creative outfit, and we are proud to have contributed so fully to their ongoing life, which is likely to include substantial touring.
The critics said:
It's a beautifully choreographed ensemble, with frequent staging surprises. A rich and lush design makes this production a delight to watch. It's another exciting development in the growth of the unmistakably recognisable Dead Puppet Society. Greenroom
Diverse allusions from fairytales to 19th-century royalty are interwoven with the contemporary. The audience is teased to find more. Beautiful yet unsettling moments abound as the characters and the puppets 'search for the watery you'. The Australian
The beauty of this piece lies deep within the visual spectacle, the storytelling itself and the way this talented ensemble challenges and seduces the audience to surrender their disbelief, and believe – believe not only in the life of the actors' characters but also of the puppets, as flesh and bone beings that live and breathe their lives and their stories on the stage. Australian Stage
Source: La Boite's 2012 Annual Report
#Have any photos to share?
We'd love to see your photos of this show and publish them in our archive.
Send us photos