Blog
How Jennifer Blocksidge changed the course of La Boite's future
What were you doing in the '60s and the '70s? Maybe you were a teen rocking to AC/DC, maybe you weren't born, or maybe you were busy demonstrating on the streets of Brisbane … for the right to demonstrate! (It was after all the era of Premier Joh Bjelke-Petersen).
If you were lucky enough, you may have been involved in an extraordinary burst of La Boite-ian energy that thrust La Boite into a period of unprecedented change and development. And who was leading the charge, you ask? It was none other than newly-appointed Theatre Director, Jennifer Blocksidge.
This is her story, the story of her vision for La Boite and its realisation.
A 'British Raj' Background
But first, a little bit about Jennifer and her background. A tall and imposing woman, she carried herself with such an air of confidence that she could have a daunting effect on those who encountered her. She herself put it down to the 'British Raj background' and the terribly proper finishing school, but claimed that a lot of it was 'bluff'.
You see, she was born in India of English parents in 1932 - her father was Manager of Shell for India. It was at her primary school in Kashmir that she experienced her first stage role. When the family returned to England towards the end of World War Two, she finished her schooling at the excellent, rather posh Queen Anne's School at Caversham, where she was Head Girl in her final year – an early sign of budding leadership qualities. It was at Queen Anne's that she developed a real passion and talent for theatre, and performing in or directing school plays. Such was her talent that she went straight from school to the Central School of Speech and Drama in London, qualifying as a Drama teacher.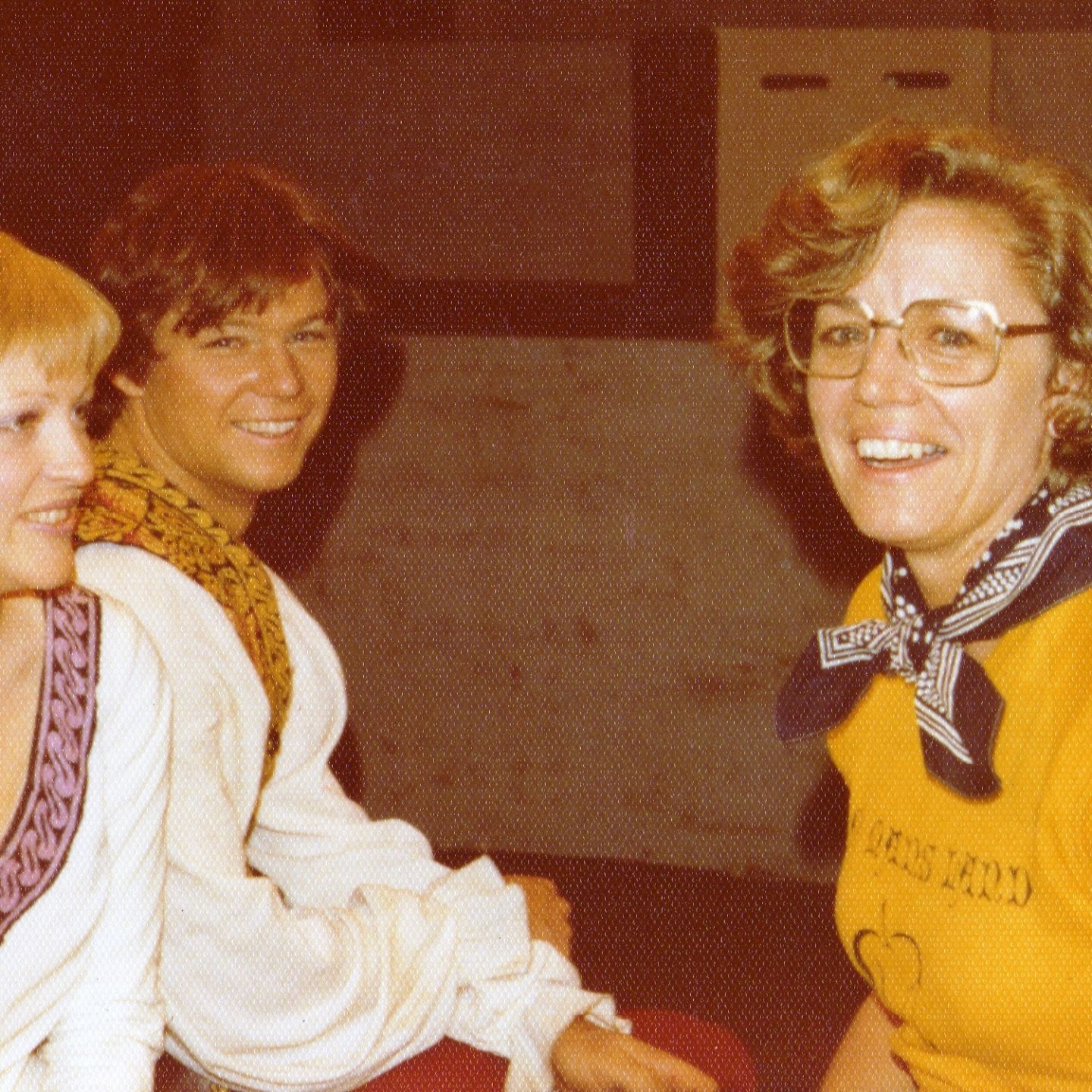 Jennifer Blocksidge at La Boite directing Romeo and Juliet, starring Peta Gottschalk & Graeme Hattrick:
From London to Brisbane via Armidale
And then, the travel bug bit her! In a spirit of adventure, she applied for and won a teaching position in Armidale NSW at the New England Girls School (NEGS). She loved her job at NEGS and stayed there until 1956. The headmistress, no doubt impressed by her training, elegant demeanour and strong personality, gave her free rein and she had a ball producing plays such as Pygmalion and The Rivals. It was during a visit to Brisbane that she met her husband-to-be Bruce Blocksidge, who had been delegated to entertain her during her city stay.
For a while it was good-bye Brisbane and hello London for the couple! There, Jennifer worked in the Make-Up Department at the BBC, while Bruce studied and worked for an estate agency. They married in England, returned to Brisbane in the late 1950s, and proceeded to produce a family of three children.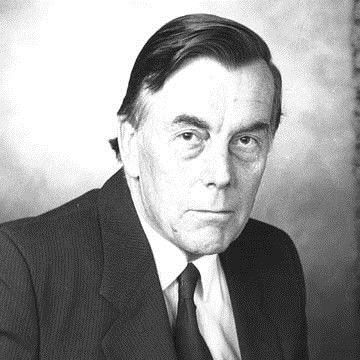 Jennifer's husband, Bruce Blocksidge:
Influencers Babette Stephens and Gloria Birdwood-Smith
It was not long, though, before Jennifer signed up as a Brisbane Repertory Theatre member and came under the influence of two great women of Brisbane theatre, Babette Stephens and Gloria Birdwood-Smith. In 1962, she performed her first role in Peter Ustinov's Romanoff and Juliet, directed by Babette. The following year she had the lead role in Agatha Christie's The Unexpected Guest, directed by Gloria. Her first directorial role in 1967 was David Turner's Semi-Detached, the last production to go into Albert Hall. Over the next twenty years, she directed fifteen more productions for La Boite and performed in many too.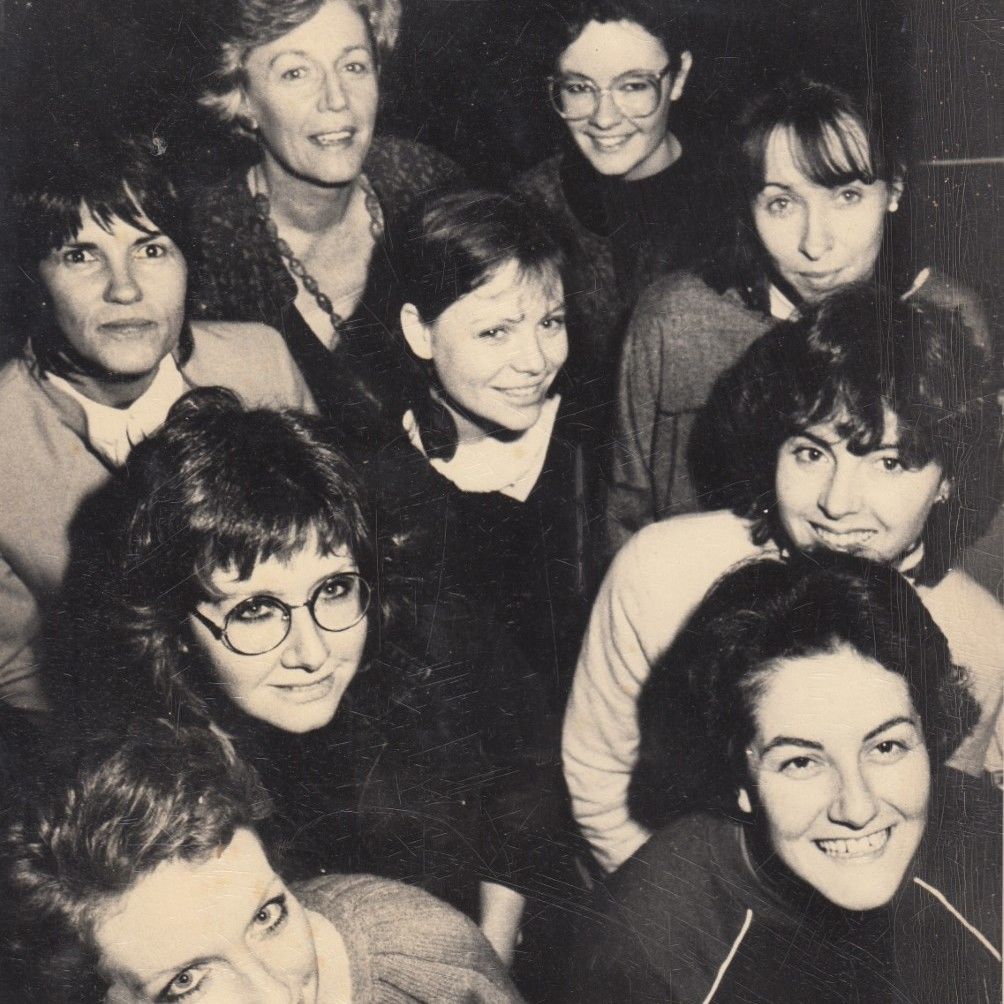 Jennifer and cast of 'Top Girls', in 1984:
An Ambitious and Risky Project: A New Theatre is Built
Elected La Boite's Theatre Director in 1969, Jennifer lost no time in initiating a period of change and development unprecedented in its history. Her first big challenge was an ambitious one involving a building and a lot of money. Some back history is necessary, here!
Since 1942, Brisbane Repertory's main-house productions were all performed in Albert Hall. During this time, the Rep's Council had cleverly bought houses in the Hale Street, Milton area and, when news came in the mid-'60s that Albert Hall was to be demolished, even more cleverly decided to convert one of them into a theatre. Under newly-appointed Council President Bruce Blocksidge's leadership, walls were knocked out and there it was – a perfect little theatre space in-the-round measuring just 23 feet and 4 inches square! Actually, it was more like theatre-in-the-box, hence the very suitable French name of La Boîte. So classy! (Note: the French 'umlaut' eventually disappeared into the too-hard basket!) It was very much an actor's space and audiences loved it, but with an audience capacity of around 80, after five years it was economically unsustainable.
In its place, Jennifer envisioned a new style of theatre building to meet her evolving vision for La Boite. She was excited by the electrifying change that was afoot in the guise of a 'New Wave' of theatrical activity in Sydney and Melbourne that was nurturing a new generation of writers, actors and directors. She wanted Brisbane to join the action, ideally in a new building designed for new and innovative theatre. This is where Bruce Blocksidge's property know-how came in very handy, as did the Blocksidge's friendship with Architect Blair Wilson (later also a Council President). Bruce could see the potential for demolishing the first little La Boite theatre to build a radical new theatre on their own property, that would meet Jennifer's dream of producing radical new works. But how to pay for it? This is where generous Government support comes in!
You see, while Premier Joh Bjelke-Petersen may have had little interest in matters cultural, the Treasurer and Leader of the Queensland Liberal Party, Sir Gordon Chalk, was well-disposed towards La Boite's ambitions. Connections are helpful – the Blocksidges were senior members of the Queensland Liberal Party - but in the end, according to Bruce, it was Jennifer's well-crafted funding application that secured a Queensland Government $40,000 subsidy to be matched dollar for dollar by La Boite.
Blair Wilson and his company headed the project. It was both a pragmatic decision to build a theatre-in-the-round (a proscenium theatre was beyond their budget) and an artistic one. Jennifer could see that an intimate performance space, already a proven success in the first La Boite, was just right for the alternative theatre she was most interested in producing.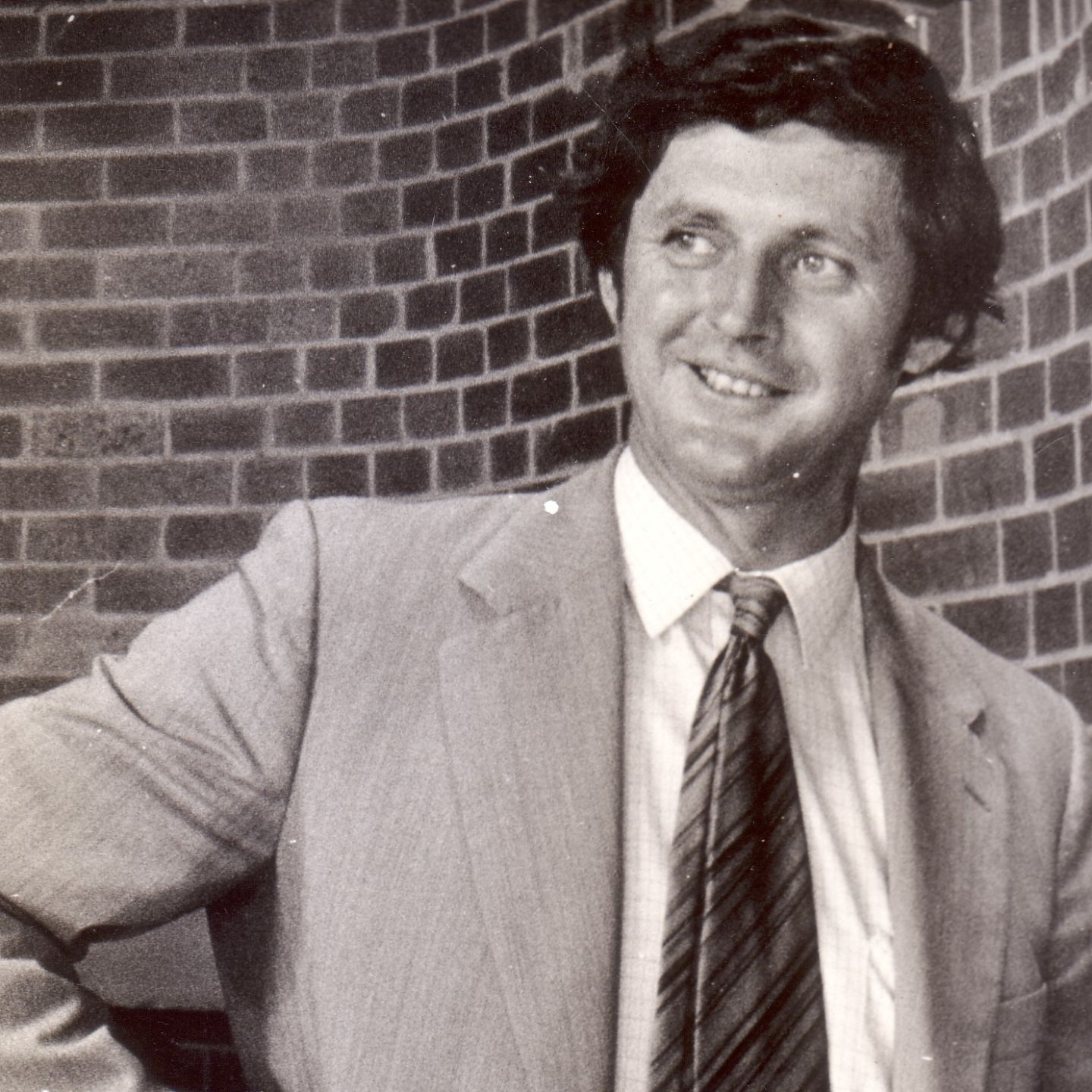 Architect Blair Wilson, that built the infamous theatre at Hale Street:
The Realisation of a Dream – La Boite Theatre Officially Opens
What an occasion it must have been! La Boite Theatre at 57 Hale Street, Milton was officially opened on Sunday 4 June 1972 by the theatre's patron Governor of Queensland, Sir Colin Hannah. A gala performance of a new Australian play followed a few days later; Rodney Milgate's A Refined Look at Existence, directed by Jennifer Blocksidge and starring Bille Brown. The Australian theatre critic, Katharine Brisbane, was excited by this 'interesting space', commenting:
"It gives a satisfying feeling of being enclosed in the same space as the characters and their problems, while at the same time being securely above them. This makes for an excellent play-audience relationship."
It was an extraordinary achievement for an amateur Brisbane theatre group in the early 1970s; to build a 200 seat purpose-designed theatre-in-the-round. It was a first for Australia and a very bold move indeed. But La Boite has never lacked confidence, nor inspirational and determined artistic directors of the calibre of a Jennifer Blocksidge!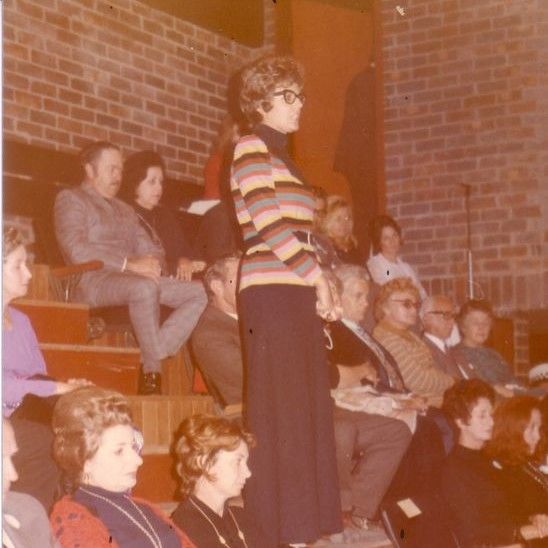 Jennifer Blocksidge in 1972, amongst the audience in La Boite's new theatre space at Hale Street:
Her Artistic Leadership
From the moment she succeeded Babette Stephens as Theatre Director in 1969, Jennifer was determined to challenge La Boite's membership with her play choices - but had the good sense to refrain from too much change too quickly! In her first year she programmed only one confronting play; Harold Pinter's The Homecoming. And yes, it upset some audience members. How tricky it must have been, walking a fine line between alienating loyal supporters and pursuing a more challenging repertoire for new audiences and eager new actors and directors.
Her other determination was to return the Australian play to the repertoire. For the opening of the new theatre, she deliberately chose an Australian play and followed that with the new smash-hit from Sydney's Nimrod, Biggles by Michael Boddy & Co. and the sexually explicit The Chapel Perilous by Dorothy Hewett.
Don't worry though, she didn't go overboard with Aussie plays! Instead, she settled on an interesting mix of Australian, American and English plays, some challenging and some pure entertainment. Wonderful box office successes included The Anniversary directed by Jennifer, Noel Coward's Hay Fever and Fetch Me A Figleaf directed by Graeme Johnston, and Riffi Burke's production of The Women. On the more risky side was Jennifer's intense and memorable portrayal of menopausal Olivia in Alma De Goen's The Sweatproof Boy, and Barry Otto's much praised performance in Jack Hibberd's A Stretch of the Imagination.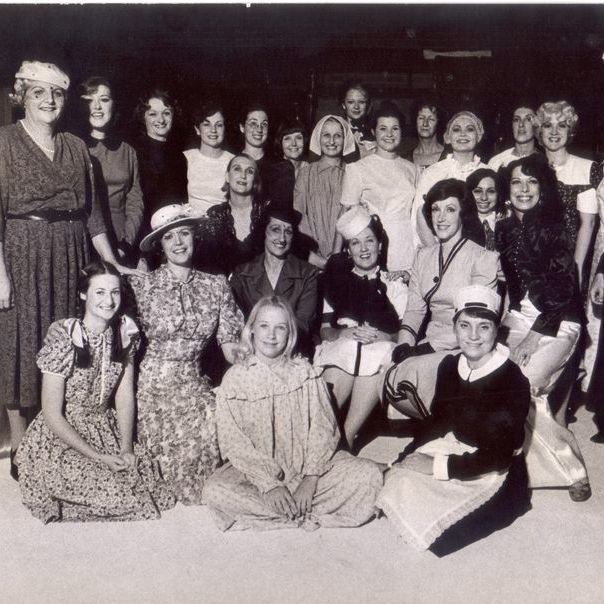 Jennifer Blocksidge, left in front row (second the from end), with broad-brimmed hat in The Women in 1975:
Controversies!
Inevitably, such innovation and experimentation was going to attract controversy, and it did!
Without going into too much detail, the following productions created quite the stir:
Jack Hibberd's Captain Midnight V.C., directed by Lindsay Smith, was reviewed as both 'the most exciting theatre in years' and a 'shocking waste of good talent'.
Jennifer's production of This Story of Yours' featured a violent police scene, which led to a Queensland Police group booking cancellation;
Edward Bond's confronting play Saved, directed by Nick Enright, led to fifty Lions Club members walking out half-way through the performance - but reviewed by The Australian as 'an outstanding success … and first-class ensemble playing'.
La Boite, under Jennifer's steely, determined direction had become, in critic Katharine Brisbane's words "the place to go to see the red meat of theatre".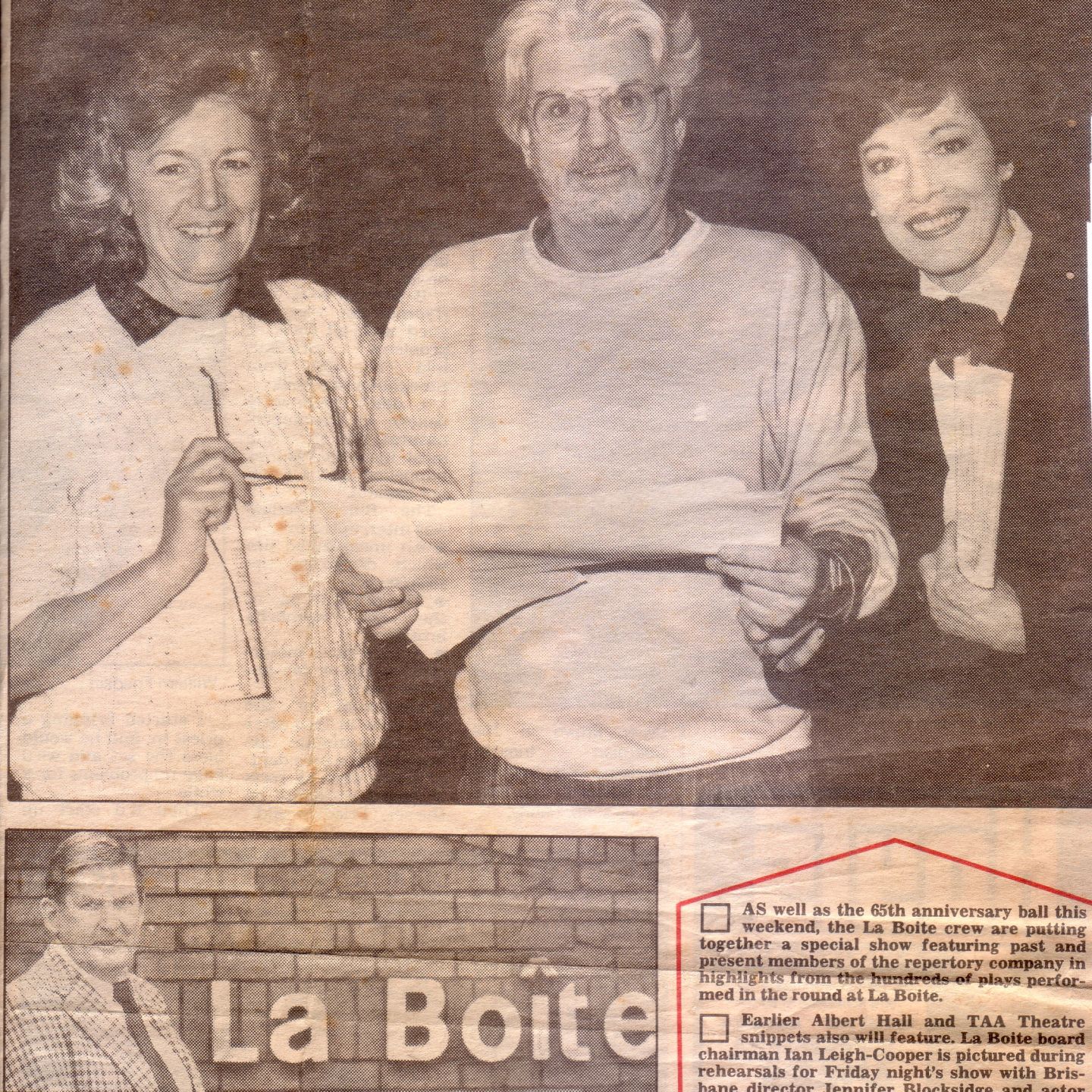 Jennifer Blocksidge, Ian Leigh-Cooper & Muriel Watson planning La Boite's 65th anniversary in 1990:
Jennifer's Vision for a Professional Company
There were, of course, loyal La Boite members who didn't want to see 'red meat', didn't much like the new preference for Australian plays, and were concerned that La Boite preserved its 'amateur' status. So, at this point in time, Jennifer showed her hand and declared at the 1974 AMG that "for financial reasons … and for reasons of diplomacy, we must remain amateur for the time being, but our eventual aim must be professional in the fullest sense". It took almost two decades before La Boite reached that goal.
However, a professional company within La Boite was in fact created by Jennifer and that was its ground-breaking Early Childhood Drama Project (ECDP). Supported by State Government and Australia Council grants, it became in her own words 'the first true Theatre-in-Education Team to be working in Queensland'. It continued to be an important part of La Boite until 1982, employing many Brisbane actors and teacher artists, and was praised by the Australia Council as 'unique in Australia'.
One more 'professionalisation' was on her agenda.... Like her predecessors Barbara Sisley and Babette Stephens, Jennifer's position as Theatre Director was 'Honorary' - i.e. service rather than salary. But it was time for that to change. After seven years of Jennifer's inspired artistic direction and the Council's excellent financial management, La Boite was now well placed to afford the new professional position that Jennifer so strongly supported.
And luckily, her wish was granted! On her resignation at the end of 1975, the appointment was announced of La Boite's first full-time salaried Artistic Director, Rick Billinghurst, considered at the time 'one of Australia's most talented directors'. Jennifer and her far-sighted vision can take enormous credit for this historic move forward. It set La Boite well and truly on the trajectory towards becoming the fully professional theatre company she had always envisaged and steadfastly believed was possible, a goal finally achieved in 1993.
Her artistic role may have finished, but Jennifer stayed on as La Boite's President for three more years. Then free at last to pursue her professional acting career, she spent the next ten years winning critical acclaim for her performances with TN! Theatre Company and the Queensland Theatre Company. Sadly, Jennifer Blocksidge died too young at the age of 63 in 1995.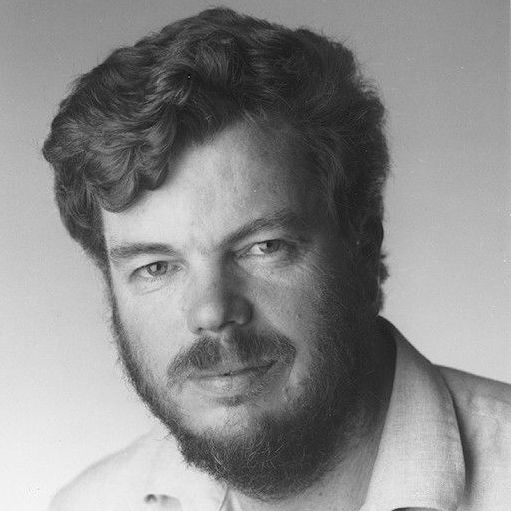 Rick Billinghurst, Artistic Director 1976-79 (courtesy QPAC Museum):