Blog
La Boite's charismatic influencer of the 50's & 60's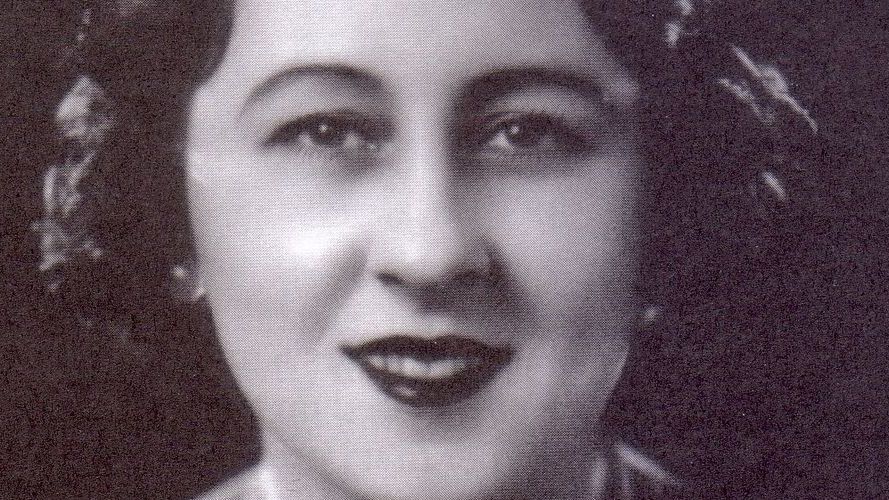 In my series of stories, I've featured two extraordinary women without whom La Boite would not have flourished with such determination and stamina to be the company it is today: Barbara Sisley and Jennifer Blocksidge.
But … there's one missing! And this one reigned supreme in-between the Sisley and Blocksidge eras.

Who is she? Here's a hint from The Courier-Mail's coverage of her funeral in 2001, attended by five hundred mourners: "A sustained round of applause echoed in St John's Cathedral, Brisbane, yesterday as mourners paid their last respects to one of the most significant figures in the history of Queensland theatre."
It's Babette Stephens, the woman who steered Brisbane Repertory Theatre with steely determination and professional artistic leadership through the 1950s and 1960s. Here is her story.
Early History – From London to Townsville
Phyllis Babette Fergusson was born in London, 1910, into an upper-middle class family. Both her parents were singers, but the marriage was short-lived and her mother remarried when Babette was still a small child. As her step-father Philip James Robin had been badly gassed during World War One, a warmer climate was recommended so the family (which now included a half-brother) emigrated to Townsville in 1925, sponsored by Mr Robin's brother Bryan, then Sub-Dean of the Townsville Cathedral.
What a dramatic life change it must have been for the fifteen year old Babette (she discarded 'Phyllis' early in her life)! Courtesy of her well-connected grandparents, she'd been enjoying the cultural and social life of London and her schooling at Coen School of Dancing, which combined general education with deportment, dance, elocution and acting. But, how would she take to Townsville? Very well, as it happened.
Fortunately for Babette, her step-father had worked in London for one of the top producers of the time and knew a lot about theatre. So once installed in Townsville, he lost no time in forming an amateur group called the St James' Players. There, Babette experienced an early apprenticeship in theatre, where you 'learned on the job'.
Then, in 1928, she joined the Townsville Repertory Theatre and it was through that association that she experienced a life changing event, that galvanised her desire to be an actor. The Brisbane Repertory Theatre Society brought to Townsville's Theatre Royal their production of Dear Brutus, directed by Barbara Sisley and featuring Rhoda Felgate in the lead role. Nineteen year old Babette knew immediately that she wanted to be involved with this dynamic theatre group, so when the opportunity came to live and work in Brisbane, she did not hesitate.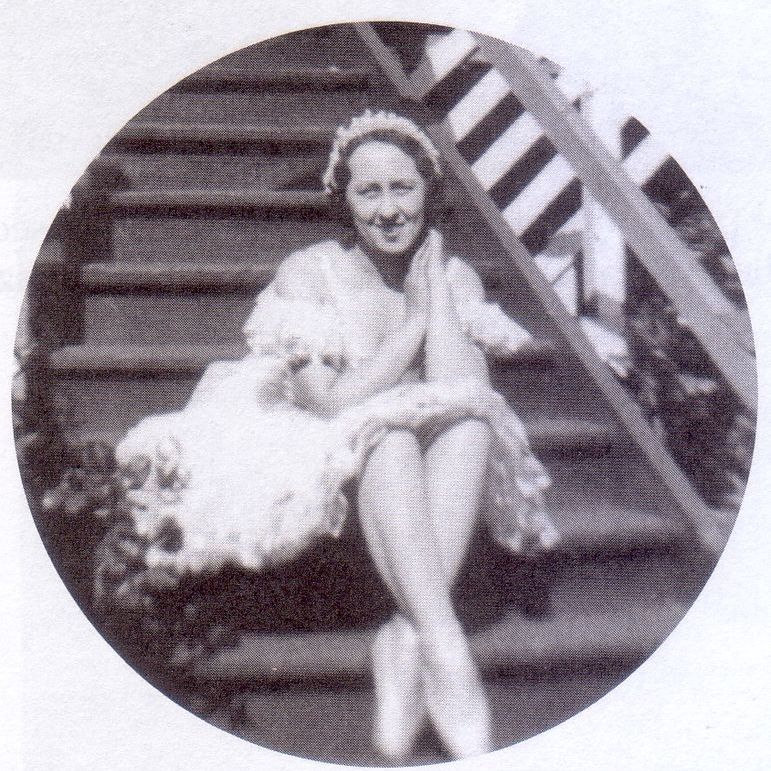 PICTURED: Babette Fergusson, ballerina in her late teens, at home in Townsville in the late 1920s.
Brisbane Here She Comes!
A chance meeting in 1930 on a Brisbane tram, with Repertory member Cecil Carson, encouraged Stephens to attend a casting for the English drama Rutherford and Sons, a dark family saga to be directed by Rhoda Felgate. Despite Carson's warning that no newcomer ever got a part – he told her she would have to prove herself to Senior Producer Miss Sisley through play readings and one act plays and hope to be noticed – she turned up. Determined to get the part she wanted, she showed no fear, an early sign of that unflinching self-confidence that was soon to become such a personal trademark:
"I was asked to read a particular role which was the housekeeper in a Scottish household and I said "No, thank you, I don't think that's me!" I don't think anyone had ever said "no" in the history of time! And because of this they offered – I think just to slap me down – they offered me the lead to read. Which I got! And that was my first show with Repertory!" - Interview with Babette Stephens, 1991.
It was in fact a supporting role that she secured, but as far as the press was concerned, she was the leading lady. The Daily Mail reported that "The acting honours go unreservedly to Miss Babette Fergusson". And Stead's Review stated, "Hail to a real actress at last among the cohorts of engaging and accomplished amateur players!".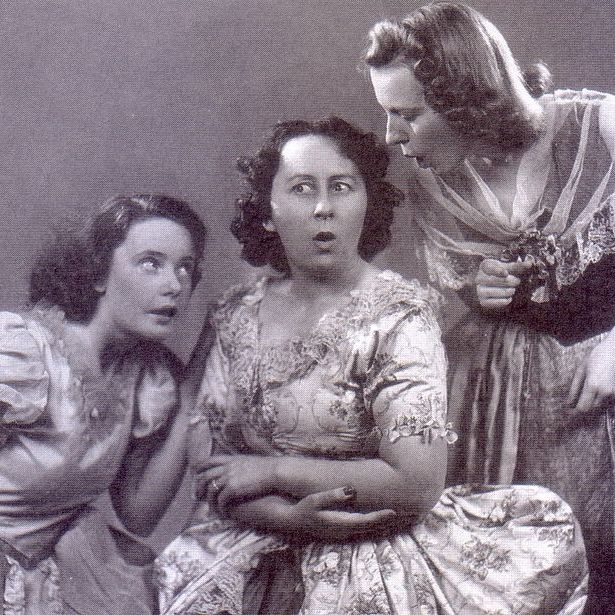 PICTURED: Babette Stephens in an early ABC Radio production.
Life Flourishes in the 1930s & 1940s
Then … romance! In 1931, she scored the lead role in Shaw's You Never Can Tell, playing opposite Tom Stephens - a young solicitor from a prominent Brisbane family. Reportedly disliking each other at the outset, they nevertheless fell in love and married in 1935, enjoying a long married life until Tom Stephen's death at the age of 97 in 1997.
Throughout the 1930s, her personal, theatrical and professional life flourished. Not only did she give birth to her daughter Wendy, but the decade saw her working as theatre critic for The Courier-Mail, social reporter for The Telegraph, The Sunday Mail and Teleradio, public relations for the ABC, and a sought after actress for ABC Drama broadcasts. In 1939, she made her professional stage debut with Will Mahoney and Evie Hayes' Production Company in The Lilies of the Field. She was also intimately involved with setting up Twelfth Night Theatre in 1936, and she directed her creative energies there for a number of years.
A year after the birth of her second child Christopher, Babette turned her attention once again to Brisbane Repertory. In 1946, she made her directorial debut with Emlyn Williams' He Was Born Gay, described as 'an outstanding success'. The following year, she played the lead in the psychological drama Black Limelight to excellent reviews, The Courier-Mail critic stating that "As far as performances went, it was Babette Stephens' night".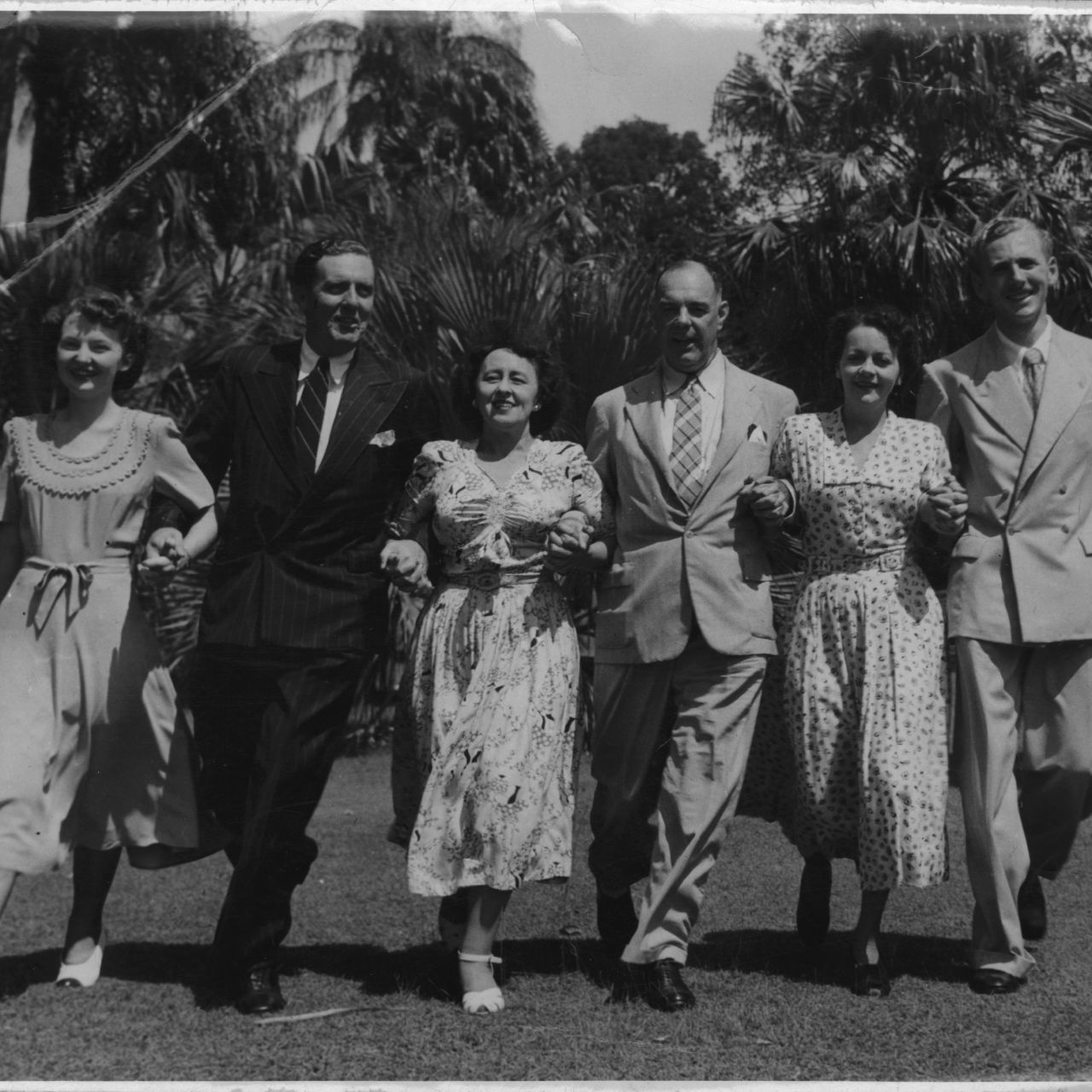 PICTURED: Brisbane Rep personalities in 1952, including Blair Heffernan, Keith Howard, Babette Stephens, Alex Foster, Gwen Wheeler, Tony Slocock. Courtesy QPAC Museum.
Programming for Rep's Success in the 1950s & 1960s … Her Way
It was in the '50s that Babette really emerged as the major 'influencer' for the direction Brisbane Repertory Theatre was to take, particularly in relation to programming choices which were not always to everyone's satisfaction. In 1951, for example, Daphne and Carl Roemermann, active members for many years, resigned in protest over Barbara's choice for Rep's Commonwealth of Australia Jubilee play. She chose Berkeley Square, a 'costume' drama by an American playwright set in London, which she directed. Hard to argue that this play was grossly unsuitable for the celebration of the nation's 50 years since Federation!
But this small hiccup did nothing to deter Babette or the Brisbane Repertory's Council, who recognised her star potential as actor, director and organiser par excellence. The plays that she chose were mainly British or American, and drew heavily on what was successful in London's West End or New York's Broadway. She favoured new, contemporary plays – dramas, thrillers, comedies, romances – and box-office wise, this was a winning combination. Gone were the Ibsens or Shaws or risky Australian plays!
You see, in those pre-Government subsidy days, amateur groups could program what they liked, answerable to nobody except their members and audiences. And it was Stephens' talent for choosing well-crafted, audience-pleasing works, which were achievable within the many constraints posed by an amateur organisation, that kept Brisbane Repertory's reputation high and the organisation artistically and financially successful during her long association.
Sharing directorial duties with Babette was another 'star' and great personality, Gloria Birdwood-Smith. The Stephens/Birdwood-Smith domination became complete when, in 1956, they directed all six major productions between them, a pattern which continued with very few exceptions for the next ten years. In that period, they directed an extraordinary 50 of the 56 mainhouse productions. This was a deliberate move by Babette to 'quality control' productions and to develop more of a 'house style' that would always guarantee the audience a polished and entertaining evening at the theatre.
The success of her artistic leadership can be gauged by the number of actors from her era whose professional careers were generated and developed out of their Repertory experiences and her inspiring mentorship. She was committed to stagecraft training for young actors and directors, and developed an apprentice actor training model that she and Gloria ran. Professional careers that they nurtured included Barry Creyton, Elaine Cusick, Ray Barrett, Rowena Wallace, Barry Otto, Nonie Stewart, Timothy Cohen and Rosalind Seagrave.
By 1957, she'd been appointed Rep's Council President, and under her astute stewardship the organisation certainly prospered: theatre membership increased from a healthy 509 to an extraordinary 920; she doubled the number of performances per play from four to eight nights; and between 1958 and 1965 she and her Council had purchased four adjoining houses in Hale, Sexton and Sheriffs Streets, Milton.
Having been Rep's defacto Artistic Director throughout the '50s, a new role of Theatre Director (with an accompanying annual fee of £250) was created for her in 1960. As she chose to interpret it, this position went far beyond artistic matters and for the next eight years she dominated all aspects of Repertory's artistic and organisational life, including the vexed question of finding a home of its own.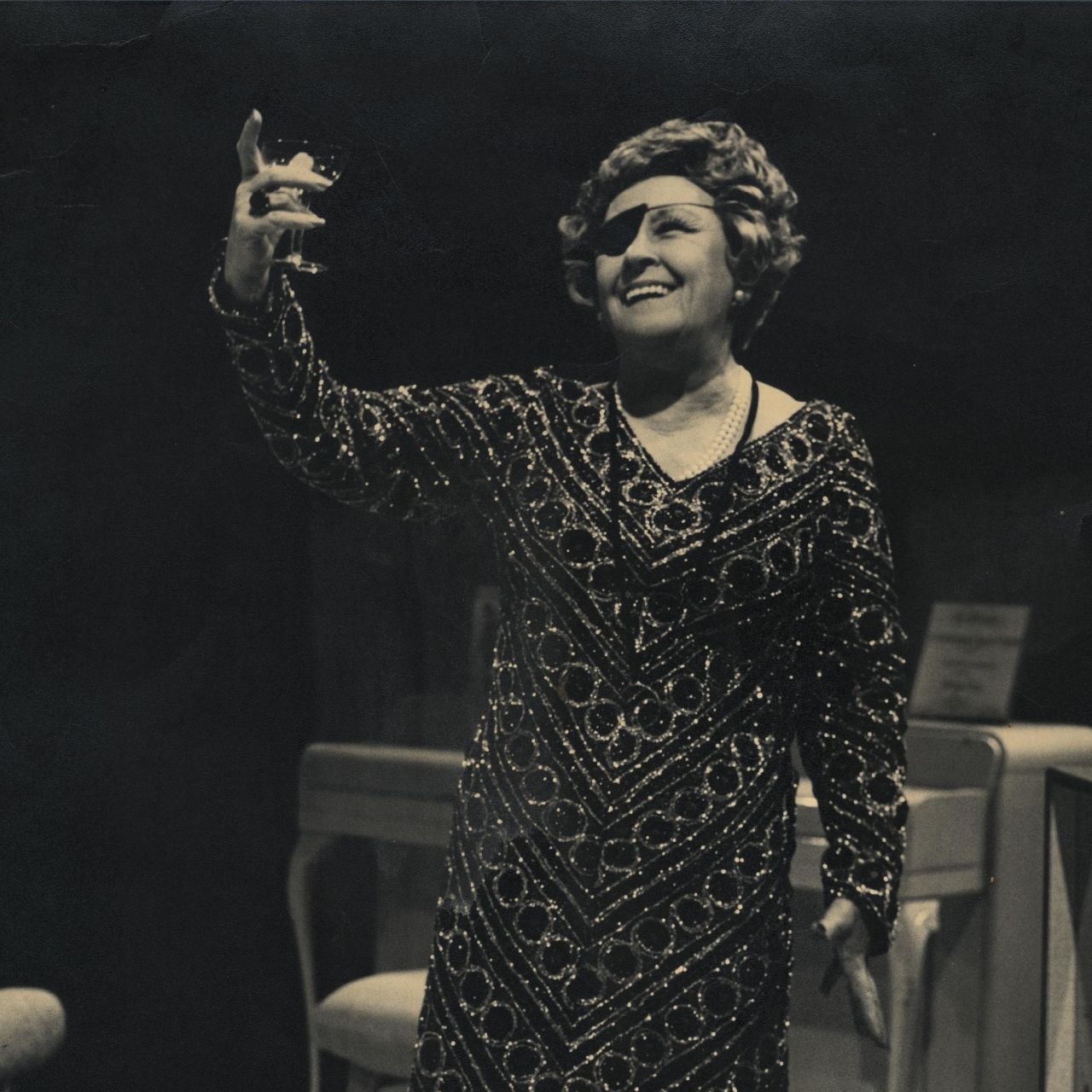 PICTURED: Babette Stephens, in The Anniversary in 1973. Courtesy QPAC Museum.
'A Home of Our Own' – Found!
Babette desperately wanted Brisbane Repertory to have a home of its own, to better capitalise on its success. Her dream theatre was one comparable to Her Majesty's Theatre in Queens Street, but of course that was financially out of the question! Then a crisis situation arose – the impending demolition of Albert Hall, where almost every play since 1942 had been performed. Action had to be taken.
"Why not convert one of their four houses into a theatre space?" suggested prominent member Bruce Blocksidge, and Babette and the Council said "Yes". On June 23, 1967 La Boîte 'Repertory in the Round' opened at 57 Hale Street with a production of John Osborne's Look Back in Anger, directed by Babette Stephens. It was of course the precursor of the iconic, purpose-built La Boite Theatre at the same address, later replaced by The Roundhouse at Kelvin Grove.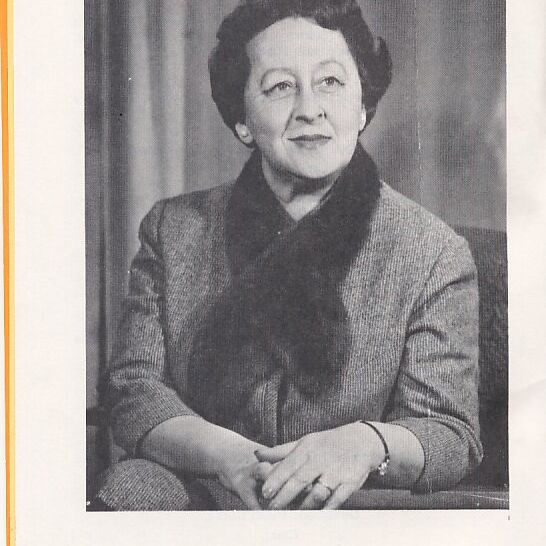 PICTURED: Babette Stephens, having directed 40 productions between 1951 and 1967.
Her Professional Career Takes Off
Don't for a minute think though, that Babette Stephen's days were totally absorbed by Brisbane Repertory Theatre. By this time, Babette was such a well-known Brisbane personality that she was invited to join Reg Grundy's game show I've Got a Secret, with Brisbane's Channel Nine. Anyone remember that? The show made her a television star and before long she was celebrated for her acerbic wit and regal presence across many programs, earning her the nick-name 'The Queen Mum of Television'.
Her final role for Brisbane Repertory Theatre was in Jennifer Blocksidge's 1973 production of The Anniversary, playing with great panache the domineering matriarch. Thereafter, she turned her attention to her flourishing professional career with Queensland Theatre Company under its foundation Artistic Director Alan Edwards, and later Aubrey Mellor. If you're old enough, you might remember her wonderful Lady Bracknell in The Importance of Being Earnest in 1975.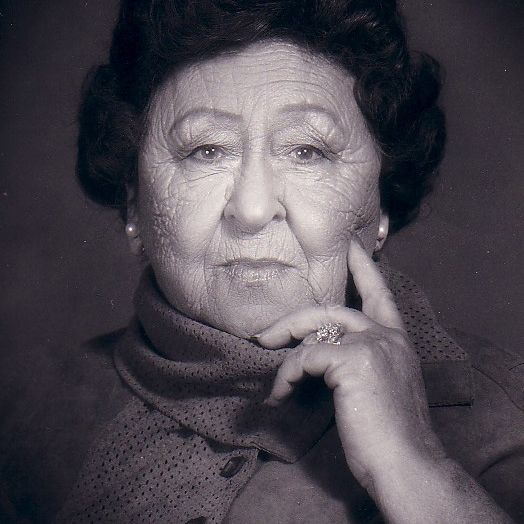 PICTURED: Babette Stephens, circa late 1980s.
Babette Stephens – Living Treasure of La Boite Theatre
On her retirement as Theatre Director in 1969, she was conferred a Life Membership and in 2000, Artistic Director Sue Rider named her a "Living Treasure of La Boite Theatre". She rarely missed a La Boite Opening Night and was always welcomed like theatre royalty by the late Rosemary Walker, La Boite's long-serving Publicity Officer. In a tribute to her after her death, Sue Rider acknowledged the magnitude of Babette's contribution to theatre in Queensland, and the enormous respect La Boite Theatre has for her part in its development:
"Babette never retired and her services to theatre brought her many distinctions: MBE, AM, Matilda Award, Queensland Theatre Company's Lifetime Achievement Award … Her yardstick was excellence. She had definite views but was never stuck in the past… Babette, thank you for all you did for us, for your courage, your toughness, your passion and your love."
#More from Christine Comans...