Blog
Q&A: designing Capricorn with Peter Keavy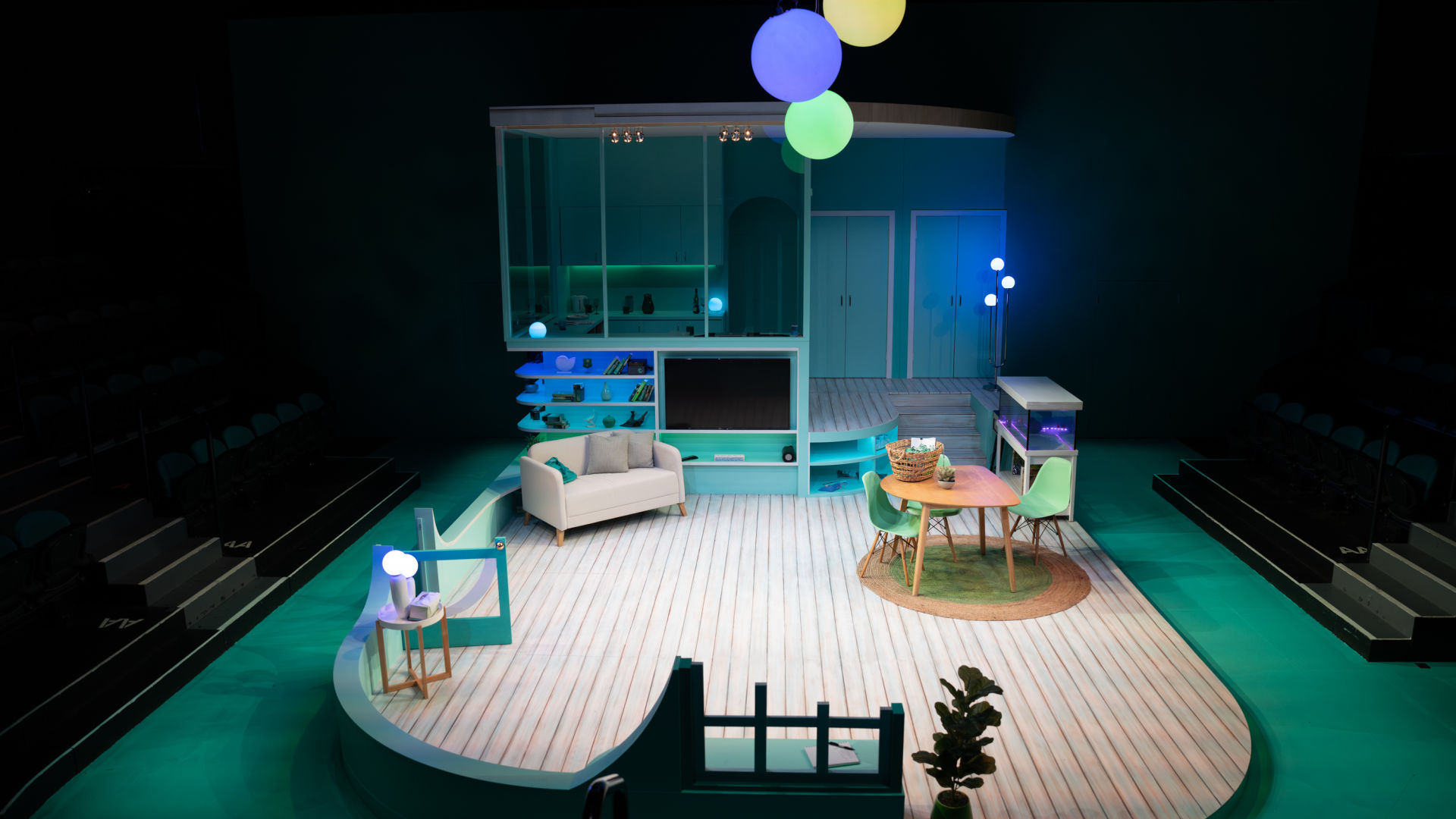 From the cosy interior of Sam and Ally's apartment to the surrealistic elements of their pet goldfish's bowl, Capricorn's set seamlessly blends reality and symbolism through design brilliance.
We sat down with Set and Costume Designer Peter Keavy as he shared insights of how Capricorn was created, and the intricacies of crafting a tale of two worlds—the quaint and nostalgic interior inside Sam and Ally's apartment and the grieving world outside their home—all while weaving the perspective of their pet goldfish from its fishbowl.
#This being your first time designing for a world premiere theatre production, can you tell us about your experience as a Designer for Capricorn? What part of the process have you found most challenging and rewarding?
Aidan Rowlingson and I had been wanting to work together for the longest time and I was thrilled when he approached me with the opportunity to work on Capricorn. I had been working at La Boite as an usher and so the prospect of a mainstage debut at the Roundhouse felt like a natural progression. It has been so rewarding to present my design ideas to a room full of people I consider family.
It has been challenging also, working for a theatre company means there is a considerably large number of contacts that need to be kept up to date on things and sometimes that isn't the easiest thing to stay on top of. Fortunately, the team here has been so supportive in guiding me and my process and I honestly couldn't imagine my mainstage debut anywhere else.
#What inspired you in creating the set and visual concept for Capricorn? Can you describe the overall aesthetic you aimed to achieve?
The layout of the space is inspired by a fish tank, the inspiration drawn from the fish tank is subtle and not immediately noticeable, but present in certain design elements. For example, the furniture has fluid and organic lines that resemble shapes of swimming fish.
The colour palette for the design is quite strict and focuses on shades of teal and turquoise. These cool, calming colours create a serene and tranquil atmosphere, perfect for a performance setting. The use of these colours will also tie in with the natural elements that inspire this design, such as the ocean.
#Capricorn is a unique and intriguing play. How did the script and themes influence your design choices?
For me, I see Capricorn as a tale of two worlds, there is the closed-in world of Ally and Sam's troublesome relationship; and the apartment has harboured the trials and tribulations of their relationship. In the confined space, their flaws and insecurities seem magnified, amplifying the arguments that often erupt over the smallest of disagreements. Ally and Sam's story takes place entirely within their apartment and is seen through the perspective of their pet goldfish Here Fishy Fishy Fishy. Therefore, the design itself is an apartment which is made to resemble a fish tank.
Then we have the world of other people's heartaches. On one channel, lovers quarrel, and relationships unravel before our eyes. Meanwhile, on the news, bizarre incidents unfold with a hint of absurdity—reports of pet goldfish disappearing from their bowls overnight. As we watch these heartaches and peculiar events unfold from the comfort of Sam and Ally's apartment, we become acutely aware of the shared human experience.
It is a reminder that while our troubles may seem unique and insurmountable within the confines of our personal spaces, the world outside carries its own burdens and oddities. Therefore, the world of other people's heartaches comes in the form of pre-recorded vision content which is displayed on multiple projection surfaces throughout the space.
#Can you speak to the collaborative process with the Director and other members of the creative team in bringing your design vision to life?
Aidan and I are often on the same page when it comes to catching ideas which is such a beautiful thing. Often it is difficult to see eye-to-eye with a Director's vision, this was not the case with Capricorn. From day one Aidan and I have been, as I said before, on the same page. I believe it might have something to do with the fact that we studied acting together at the same institution prior to working on Capricorn.
A lot of our training has informed the way we think and approach theatre-making. This has also, most likely, influenced the rhetoric we use when discussing the text. We talk a lot about world building, we also use the word "slay" a lot but that is unrelated…
#Were there any challenges you encountered while designing for Capricorn? How did you overcome them?
The biggest challenge I encountered while designing for Capricorn? To answer this question let me read you one of the stage directions from the script, "A goldfish drops from the sky and lands in the fishbowl. Lights Fade."… That is all I will say on that.
#What are some key elements or details in your design that you believe will enhance the audience's experience and immersion in the world of Capricorn?
We wanted to create an overall feeling of intimacy and coziness, so we installed a false wall in a glorious shade of teal to make the space smaller and this same shade carries onto the stage and into the audience.
This serves to bring the audience into the action of the play and reinforces this idea that the patrons have a front row seat to the demise of Sam and Ally's relationship.
#As a Designer, what do you hope audiences will take away from your visual interpretation of Capricorn?
This idea that a fish tank is a metaphor for a troublesome relationship—Sam and Ally keep going back and forth with one another in their little apartment in the same way that a goldfish swims back and forth in its little tank.
#How does designing for a mainstage and world premiere theatre production differ from other design projects you have worked on?
It is such a pleasure to design for a new work because there are no preconceived notions as to what the show should look like. Most of all, it has been so exciting to have a dedicated build team to realise my vision for the stage. The team at the workshop are so talented and they deserve all the praise in the world.
For so long, I have limited my design ideas due to budgetary constraints and limited resources available, so I am overjoyed to be working on a mainstage show where I can think big!
#Can you share any insights or memorable moments from your journey of designing Capricorn that have influenced your growth as a Designer?
What I have learnt from this experience is the importance of the design presentation.
For me, I like to think of the design presentation as performance. It is not enough to simply show plans for the set and costumes, you need to interrogate the feeling that each design element evokes, and you need to portray that in your delivery of your pitch.
I felt that the Capricorn design presentation really excited the team and hopefully triggered an onslaught of creative ideas.
#Could you share with us some of your favourite designs in the show and what makes them special to you?
Here Fishy Fishy Fishy's first costume is very special. HFFF's first costume was designed with an emphasis on capturing the fluid and graceful movement of a goldfish.
We commissioned independent First Nations artist Delvene Cockatoo-Collins to create the dress. Delvene's fashion designs are characterised by their unique blend of Indigenous art and contemporary fashion, as well as their commitment to sustainability and ethical production. Her designs feature bold prints and earthy colours that are inspired by natural beauty.
Discover The Artist