Blog
Q&A: composing The Poison of Polygamy with Matt Hsu's Obscure Orchestra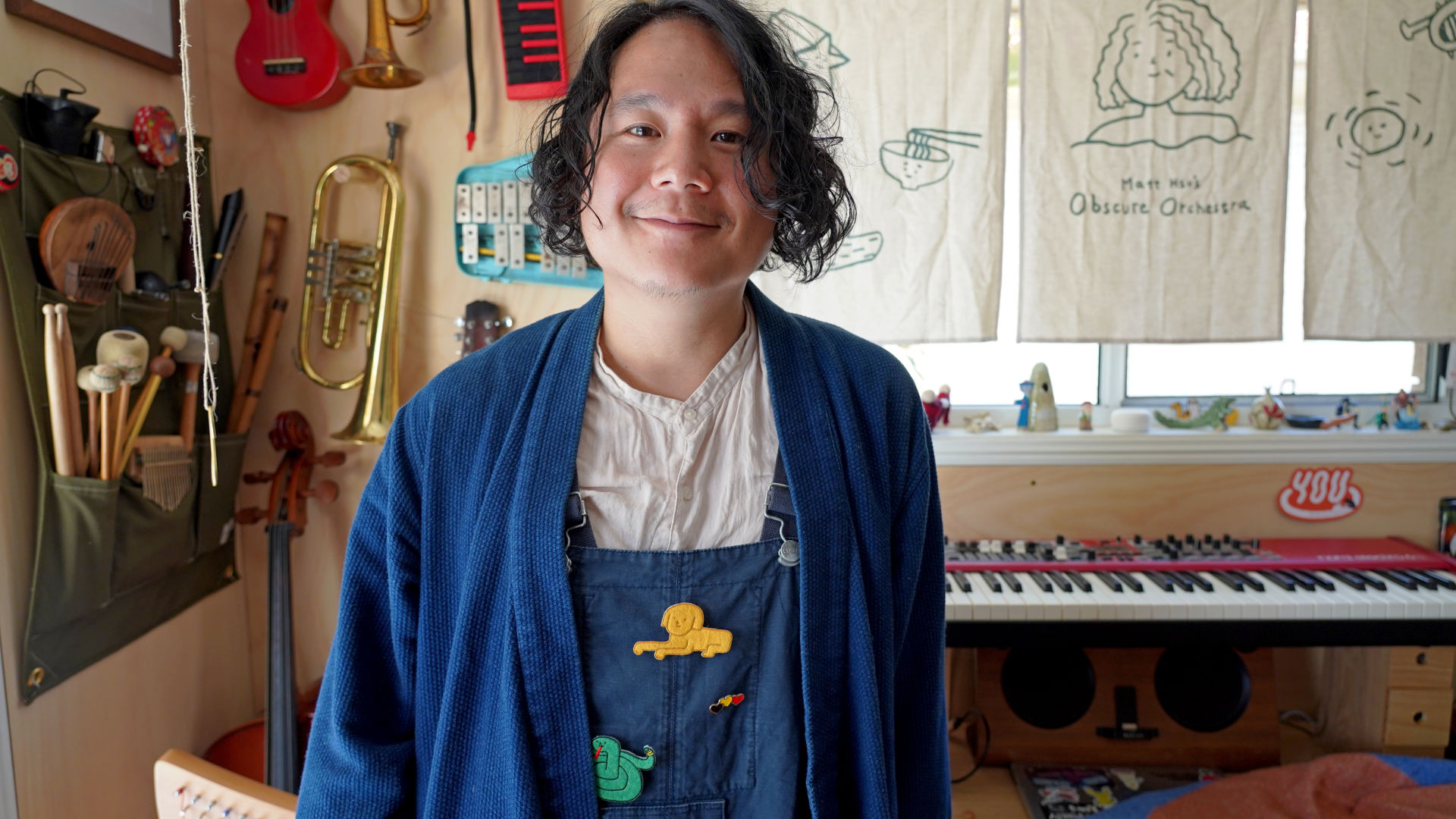 An epic tale needs an epic composer. Matt Hsu is a Taiwanese-Australian composer and musician who blends world and orchestral instruments with field recordings and everyday objects. As a multi-instrumentalist, he plays over 20 instruments.
We chatted to Matt about creating the composition for this timeless story that travels between the worlds of East and West.
#Can you tell us a bit about Matt Hsu's Obscure Orchestra?
Matt Hsu's Obscure Orchestra is both my solo artist/composer moniker, and the 22-piece alt-orchestra that I run. It was a bit of a joke name as a solo project because of the absolutely too many instruments I used to perform alone with, but it's grown very fitting for the 'gnome-core' experimental ensemble that we've become.
I started this project at a time when I was exploring my cultural identity, growing up in an Australian dominant culture that categorised me as foreign, despite being born in Australia. I dealt with that by downplaying my Taiwanese-ness to better fit in. While exploring music in my 20s, I was also unlearning the embarrassment I'd developed around being Asian, and so making music, writing songs, performing them, came hand-in-hand with undoing that internalised racism, decolonialising myself, and embracing every part of myself.

When the Obscure Orchestra became a 22-piece, I think that ethos and learning has informed the culture of the ensemble; a radically-inclusive orchestra. The people in the orchestra came to it naturally, but also it's no accident that every single one of them have a deep understanding of being on the margins and a shared appreciation of feeling accepted. The Obscure Orchestra is made up of BIPOC, First Peoples, disabled, trans, non-binary and queer artists.
#Where did your love for composing stem from?
From childhood I've always been drawn to sounds in nature, the organically arising soundtrack of a forest or seaside. I also loved music from Studio Ghibli films and the comfort of TV music from Rugrats, Hey Arnold and Avatar: The Last Airbender. It was also really interesting hearing pop music on Australian radio, and then a completely different set of Taiwanese pop music my parents listened to, like an alternate music reality where there are clear commonalities in musical language, but the language, instrumentation, aesthetics, themes and sonic choices are used so differently.
With all that, I never thought I'd actually become a composer as a career. I'm not a professionally trained musician and I was just 'okay' at trumpet and drums I learnt during school. What I 100% attribute to my love of composing for is playing in a folk-punk band called The Mouldy Lovers through the 2010s, where I essentially learned to compose through jamming. As I fell deeper in love with playing with the Mouldies, I started learning more instruments. I got obsessed with trying out different sounds and textures, borrowing instruments, things from friend's travels. With all these instruments around me, I started making these little music experiments, writing songs that came out sounding really wonky and kooky — and that's what I'm still doing today!
#The Poison of Polygamy is a complex and emotionally charged story. How do you plan to capture the mood and tone of the show through your music?
It sure is! It's been so exhilarating and interesting digging deep into the histories of Asian people in Australia both pre and post British colonisation, the world of traditional Chinese instruments, and in the process inadvertently excavating my own cultural identity.
Sound-wise, I've been finding such a diversity of textures and sound qualities in this deep array of traditional instruments, learning sounds that perfect represent certain characters, environments and feelings. There are drones, bright searing instruments, powerful percussion, extremely emotive strings, horns and woodwinds, all with their unique meanings that have afforded a huge palette that I've used for creating mood and tone.
For certain scenes where I wanted to represent the ferocity of women pushing back against layers of oppression, I brought in Naaki Soul, volcanic powerhouse of primal noise and genius music instinct who has these hardcore/weird/noise vocal free-ness that I wanted. It was a pleasure working with her!
#Can you tell us about your creative process and inspiration for the show's music composition?
Just before composing got underway, I sat down with my parents and asked them about our family history, my ancestors, life in Taiwan and my parents' decision to move to Australia, then the progression of Sunnybank into an Asia centric suburb. I poured over old family photos, noticing things like my grandparents wearing traditional Taiwanese clothing for wedding photos and then Western clothes in their day to day, then my parents 80s disco perms, these continual exchanges of culture have been fascinating to retrace.
As those stories and extra reading percolated and settled in my mind, I started creative dumping, just trying ideas and composing as many different pieces for all kinds of moods, settings and characters. I then went back through the material and matched them to scenes and filled in any gaps, made new combinations, and transformed pieces to fit mood changes.
I've idolised Ryuichi Sakamoto, a composer and activist who recently passed away for a long time, and explored the way he addressed cultural specificity in his film scores, specifically for The Last Emperor. Joe Hisaishi's Spirited Away and Mononoke soundtracks were also gorgeous touchstones. I also rewatched a bunch of Jet Li's 90s films like Tai Chi Master and Kung Fu Cult Master, because they're so fun, but also the incredible music. I also rewatched some Last Airbender and Korra to hear how Asian culture was presented through a Western music rooted lens. I love those shows! Oh, also listened to a bunch of Taiwanese Jay Chou who combines traditional instruments for contemporary pop tastes.
#What is your approach to creating music that supports and enhances the storytelling of the play?
I think about environment, mood, characters in action, but probably most importantly, whose emotional moment we're following, because it might not necessarily be the person doing the 'most' on stage. I like to create signature sounds for specific characters. I'll also use any instrument to that end, beyond what would be considered a musical instrument.
For the scenes set in the goldfields of Melbourne for example, I completely switched the instrument set from traditional Asian instruments, and drew on my folk-punk days with the The Mouldy Lovers, and used skiffle homemade instruments, banjo, accordion and tin can instruments, and created pieces that matched the exhaustion of working in the goldfields and the cultural differences to navigate.
Guy Webster the Sound Designer is my partner in crime in this. He's been a treasure trove of knowledge, experience and calmness. Working with him to weave together atmospheric sounds with the music, and his depth of theatre know-how, has been a dream.
#What instruments will be used during the composition process? Can you talk about any experimental or unconventional approaches you're using?
Over the last decade, I've collected musical instruments from around the world, they're hanging up all around me in my studio so I have a library of sounds within reach, and for things too rare to find, I dug into some lovely samples.
I used a hulusi, dizi, shakuhachi, clarinet, trumpet, flugelhorn, trombone, a tin can shamisen, guzheng, bowed vibraphone, mbira, miniature gong, pots and pans, harp, banjo, accordion, furulya, sleigh bells, pots and pans, cello, ocarina, t'rung, gamelan, double bass, musical saw, wind chimes, my cousin's erhu, a Nord keyboard with a bunch of samples, and a yangqin that was gifted to me from a West End dad.
#How do you think the music in The Poison of Polygamy contribute to the overall experience of the show for audiences?
There are so many amazing creatives working on this, from the direction, the costuming, set design, cast, sound design and lighting, it's all so sparklingly beautiful. I'm so proud to be among them, supporting each other to build a sense of place, mood, crack the emotional moments, and take audiences to a heightened theatrical representation of historical China and Australia.
#How do you collaborate with the other members of the creative team to ensure that all the elements come together?
Guy Webster has become my absolute crutch in this — as well as being a sound designer and composer, and we've mind-melded so much. He's always cheerful and optimistic which makes the experience so pleasant, as it should be, and I learn so much from him.
I've been trying my best to share my time between theatre rehearsals and time in my studio composing. It's really exciting when I get to the rehearsals and test out pieces that I've composed with the actor running scenes. It's incredible watching it come to life. Every one of them are magnetic to watch! Little moments like watching actors sing the melody to 'Oh Crow' makes it feel so real, 'Wow! I'm really composing for a La Boite production!'
Courtney Stewart has been absolute dream to work with, her vision, warmth and enthusiasm is infectious, and moments where she'll hear music to a scene and exclaim 'oh, that's perfect' feel amazing.
#What has been your favourite part of working on The Poison of Polygamy so far, and why?
It's really incredible to be part of a team of key creatives that have personal cultural connections to this story and its characters. There's a level of cultural authenticity that has been championed by our our Director Courtney Stewart that I'm so honoured to be part of.
I'm so honoured to put my creative efforts to something that speaks to Asian-Australian identity, that people will see themselves and their histories represent in, and contribute to the stories of place in the cultural fabric of so-called Australia.
# Anything else you want to add?
Thanks for having me!! I'm so excited to sit in the audience seats and enjoy it with everyone else!