Media Release
Purple reign: The world premiere of Tiddas delivers a love letter to Brisbane at La Boite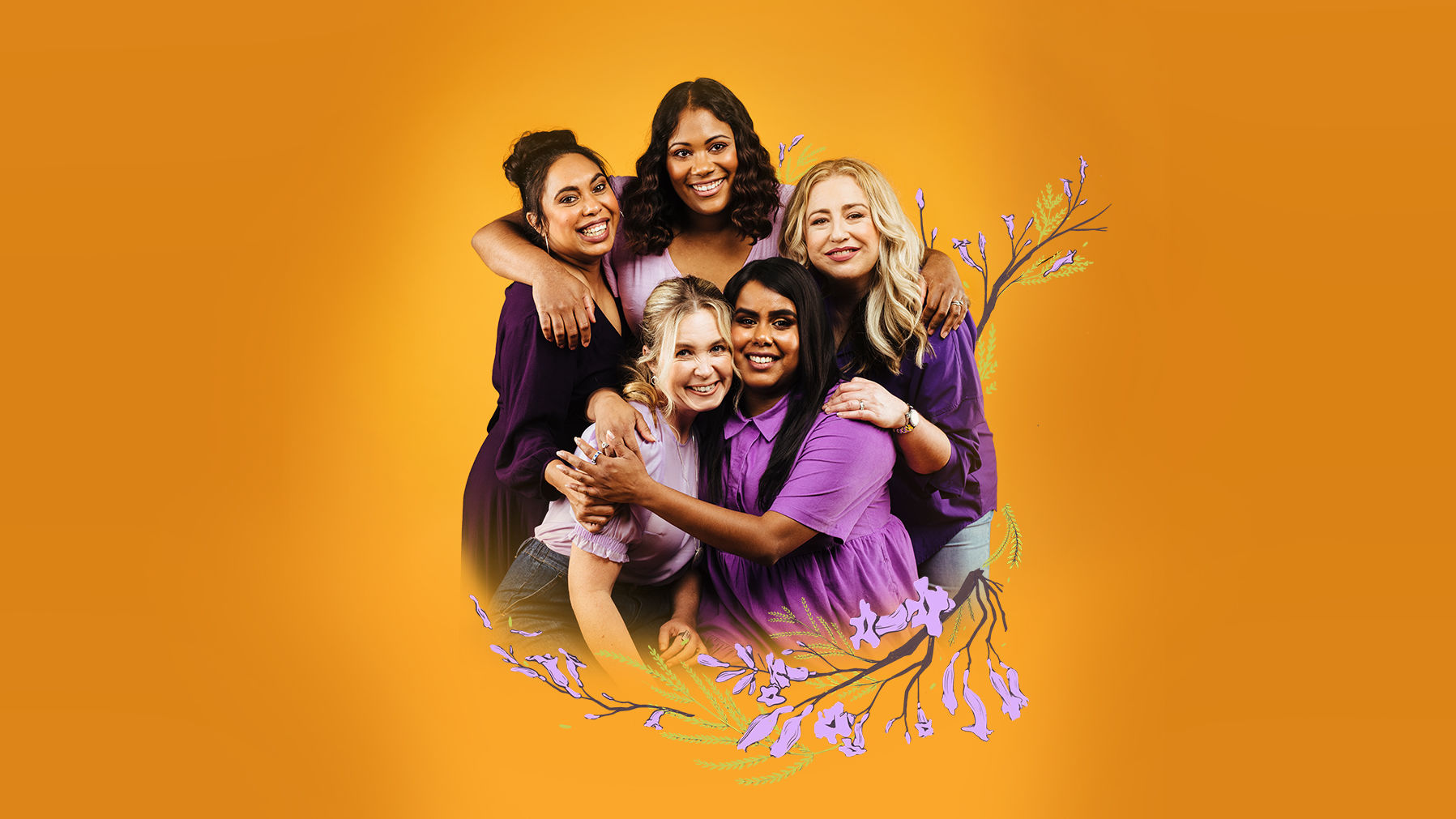 Brisbane's jacaranda season blooms early with the purple carpet premiere of Anita Heiss' highly-anticipated page-to-stage adaptation of Tiddas, presented by La Boite Theatre, Brisbane Festival and Queensland Performing Arts Centre (QPAC).
Billed as a "love letter to Brisbane", the stage version of Heiss' best-selling novel premieres 5 to 24 September at La Boite's Roundhouse Theatre after three years of creative development.
Tiddas, a commonly used term in the community for "women who are like sisters", is a First Nations-led work about five best friends since childhood – Izzy, Veronica, Xanthe, Nadine and Ellen – whose monthly book club meetings cover life, love, literature and everything in between.
These women from diverse backgrounds are bound by decades of friendship until their long-held secrets bubble to the surface and threaten to fracture everything, forcing the group to question whether they truly know each other and if their sisterhood is enough to keep their bond intact.
A powerhouse cast of homegrown talent breathes life into the revered and relatable characters with Chenoa Deemal as Ellen, Anna McMahon as Veronica, Louise Brehmer as Nadine, Phoebe Grainer as Izzy and Shakira Clanton as Xanthe.
Supporting them on stage is Queensland theatre luminary Roxanne McDonald as Mum/Noon and the versatile Sean Dow playing the roles of Richard, Asher, Spencer, Craig and Rory.
Also bringing the acclaimed novel to the stage is Brisbane-based Heiss in her playwriting debut.
"At its heart, Tiddas is a story about enduring, unconditional friendship, women supporting women, sisterhood and the beauty of living in Brisbane," Heiss said.

"A lot of locals say they love the way Brisbane is portrayed in Tiddas and how they can relate to it: from jacaranda season to the suburbs the characters live in to how the Brisbane River is very much part of the story."
Brisbane Festival Artistic Director Louise Bezzina said Tiddas inspired audiences to engage dynamically with a story that was distinctly Brisbane.
"Storytelling plays a powerful role in this year's Festival, and I am absolutely thrilled to welcome Anita Heiss to the Festival family," Ms Bezzina said.
"The deep sense of place that Anita creates in Tiddas was one thing that really captured me and is one of the reasons this work sits so well in a Festival program that shows the world who we are through the sharing of our stories."
QPAC Chief Executive John Kotzas said it was gratifying to see the new First Nations work make its mainstage premiere.
"QPAC began conversations around the stage adaptation of Tiddas in 2019 and we're immensely proud to have supported Anita in her playwriting debut through a number of script and creative developments and showings," Mr Kotzas said.
"At QPAC, we value the opportunity we have to enable stories to be shared with our community, especially stories such as Tiddas that foster a greater understanding of some unique First Nations experiences, as told through Anita's lens."
La Boite Executive Director Roxane Eden acknowledged the impact Dr Heiss made as the company's Artist-in-Residence and described her as "a literary powerhouse".
"This work has been in development for years and I can't wait to take my seat in the Roundhouse Theatre and see it finally make its debut," Ms Eden said.
"This partnership with Brisbane Festival marks the latest in a long line of co- productions and we are thrilled to be working together again.
"We are also grateful to QPAC's First Nations program for the years of support it contributed towards the development of this work."
Director Nadine McDonald-Dowd said the depth and complexity of Tiddas' characters will resonate with fans of the novel and new audiences alike.
"If you've ever been in a relationship with a group of people you consider to be family, this will hit you in the heart," McDonald-Dowd said.
"While Tiddas is a love story to Brisbane, it's also a love story to women in their 40s and those really solid relationships we have.
"We don't get to see many stories on stage about women in their 40s or 50s that don't depict us in a certain, socially stereotyped way: married with kids, focused on a career, and having everything in place by then.
"These women are complex, they are challenged, they feel every rigour of emotion, they have a really important bond and, in the end, they don't have it all but leave us ultimately questioning what 'all' really is."
Heiss and McDonald-Dowd began collaborating in January 2020 to adapt Tiddas for the stage as part of La Boite's Artist-in-Residence program, conducting play readings and workshops remotely when COVID struck.
"I was looking for something to challenge me in my art form and this was a fantastic opportunity where I was learning every step of the way," Heiss said.
"When you're writing a novel, it's just you with your editor and publisher but when you're writing a play, it's the director, producer, dramaturg, actors – sometimes up to 12 people at once – giving you feedback on your writing.
"It was fantastic to see so many extraordinary actors being part of the process of fine-tuning my play and I am grateful to them for bringing their skills, experience and knowledge to help me make the best theatre I could."
Tiddas is co-produced by La Boite, Brisbane Festival and QPAC and will host a purple carpet opening night performance on Wednesday 7 September.
The world premiere stage adaptation of Tiddas coincides with a re-print of the novel by Simon & Schuster Australia, featuring brand-new cover art.
Audiences will have the opportunity to purchase ticket and book bundles and attend a program of book signings and artist talks throughout the season.
For more information, and to purchase tickets, visit https://laboite.com.au/shows/t...
ENDS